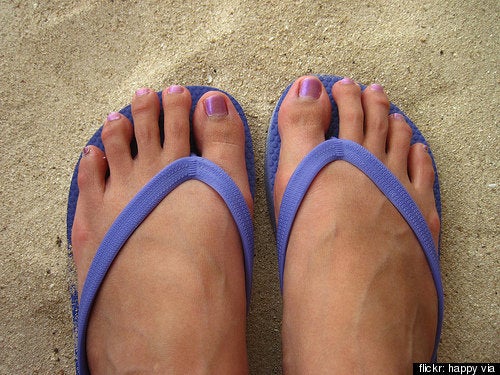 Send all your eco-inquiries to Jennifer Grayson at eco.etiquette@gmail.com. Questions may be edited for length and clarity.
Help! I am drowning in old flip-flops. Can they be recycled? I'm having a hard time finding any options.
Finding an environmentally friendly way to dispose of flip-flops may not seem like the most pressing issue on the planet, but if you're anything like me, being stuck with those difficult-to-recycle items can be nothing short of infuriating. I'm pretty much obsessed with finding a way to recycle, repair, compost, or creatively reuse practically everything: Hence, my reserve of rubber bands made from an old bicycle tube; my stash of seasoned socks for dusting; and the parcel of packing peanuts I've been toting around in the trunk of my car until I have time to deliver them to a Peanut Hotline-designated drop-off center.
Those things for which I haven't been able to uncover an aforementioned solution, I vow never to purchase again as I throw them, wracked by green guilt, into the trash. (Buh-bye, mold-filled ice cream scooper! So long, hideous and broken suede picture frame!)
But back to your flip-flops. Surprisingly, the flimsy footwear pose more of an ecological conundrum than at first it would seem. Beach-bound Americans, you see, aren't the only ones in love with their thongs (the ones on their feet, of course); the breezy footwear are also ubiquitous in developing countries, since they're so low-cost and easy to manufacture.
The cheaper they are, however, the faster they break, which means that every year, millions upon millions of them wind up either discarded in landfills or worse -- adding to the mountainous tide of plastic waste clogging our oceans and threatening marine wildlife. (Flip-flops, you might be interested to know, are a frequent sight in the Texas-sized floating landfill known as the Great Pacific Garbage Patch.)
Once thrown away, the stale sandals can leach dangerous chemicals into the environment, thanks to the variety of non-recyclable plastics like PVC and polyurethane most commonly used in their manufacture. A report last year by the Swedish Society for Nature Conservation, for example, found hazardous chemicals in 17 of the 27 plastic shoes it tested, including the endocrine-disrupting phthalate DEHP, as well as toxic metals like mercury, lead, and cadmium.
Pretty serious stuff for such an innocent-looking sandal. But fortunately, you do have a few recycling options:
Send them to UniquEco. Founded by a marine biologist, UniquEco accepts shipments of flip-flops from around the world and repurposes them into colorful, handmade pieces, including art, jewelry, and toys. This innovative organization is also socially responsible, providing much-needed jobs to local artisans. The only problem? UniquEco is based in Kenya, which means that if you're in the US, the energy expenditure of shipping your flip-flop collection halfway around the globe is likely to negate any recycling benefits. My suggestion: Organize a flip-flop drive, or just collect a whole bunch of unwanted pairs from your friends and family and send them over in one large shipment.
Discover DIY projects. This may be a stretch, but I've found that flip-flops cut into small rounds can work nicely as protective gripper pads for your furniture legs. Or take a knife, shred them into thin strips, and use the bits to stuff cushions. You could also create a craft project for your kids: Have them use the soles to make their own custom rubber stamps.
Next time, buy wisely. Before you snap up another pair of second-rate sandals that'll barely make it through another summer season, consider purchasing a longer-lasting pair from an eco-minded company that uses less toxic textiles. A good choice: Ocean Minded, which incorporates greener materials like recycled car tires, hemp, and water-based glue into its designs. Or Feelgoodz, which makes its biodegradable sandals from 100 percent natural rubber (note: not for those with a latex allergy). Even better: Buy from a company that offers a mail-in recycling program for its footwear, a la Okabashi.
Here's to stepping out in sustainable style!