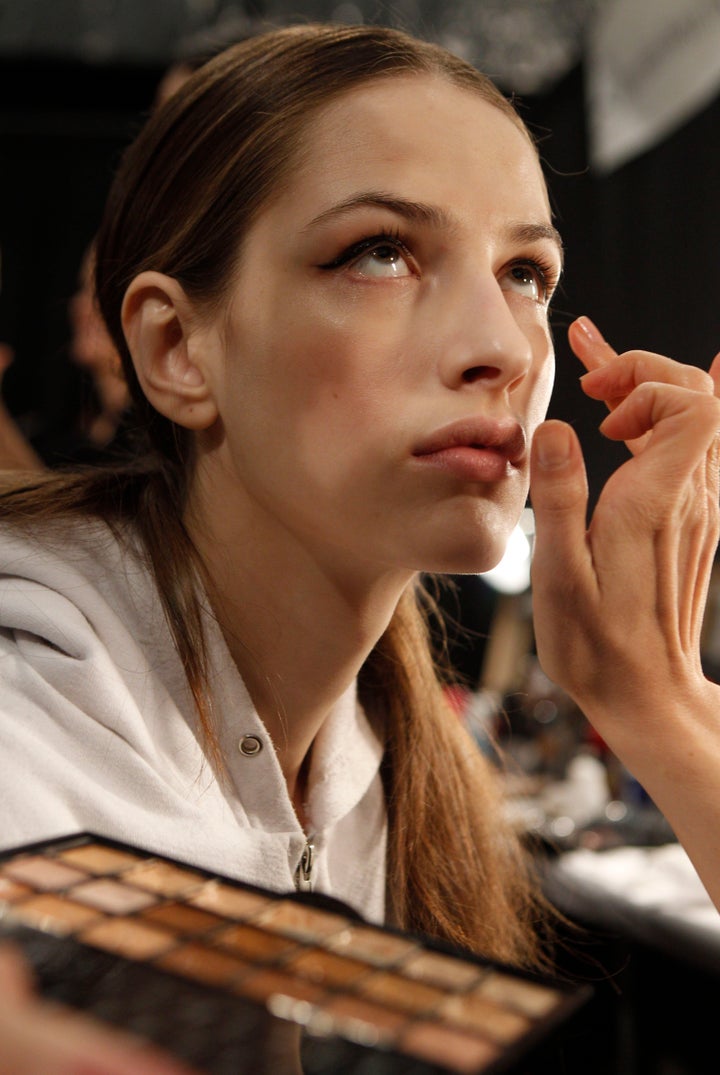 Send all your eco-inquiries to Jennifer Grayson at eco.etiquette@gmail.com. Questions may be edited for length and clarity.
I've been reading your column and I love it! I've recently been trying to go green so all your tips are fabulous. I was also wondering if you knew the most eco-friendly makeup companies out there? I need some new makeup but don't want to buy it from a company that may be using harmful chemicals and such.
Thanks, Elise! If you had marched up to a cosmetics counter even five years ago asking for green makeup, you might have been asked why you wanted to look like the Wicked Witch of the West; today, green beauty is big business, with mass retailers like Target and Walmart stocking shelves with sustainable finds.
The Wizard of Oz, incidentally, could have benefitted from a bit of eco beauty. The green visage acclaimed makeup artist Jack Dawn created for actress Margaret Hamilton was copper-based and toxic, not to mention highly flammable -- it accidentally ignited while filming, burning the actress severely. Buddy Ebsen, the original actor slated to play the Tin Man, suffered a life-threatening allergic reaction to the aluminum dust in his makeup and had to be replaced after his lungs collapsed.
Today's makeup, of course, isn't likely to cause such an immediately dramatic reaction, but the chemicals some brands contain may get you, my pretty in the long run.
There are estrogen-like parabens that can disrupt delicate hormonal systems; BHA, a preservative and probable human carcinogen; talc, closely related to the deadly asbestos; and aluminum powder (we know from poor Buddy Ebsen how that one goes).
Hard to believe, but those are just some of the ingredients in one measly drugstore-brand eyeshadow. Add base, blush, and bronzer, and all of a sudden you've got a veritable witch's brew of toxins sitting on your skin, day in and day out.
We don't know the long-term cumulative effect of many of these chemicals, since less than 20 percent of those on the market have actually been assessed for safety. We do know, however, that chemicals slathered on the skin can be absorbed into the body.
We also know that cancer rates have risen dramatically over the last several decades: Nearly 41 percent of Americans will be diagnosed with cancer in their lifetime. So if safer makeup alternatives exist, why not err on the safe side?
When I was growing up, a good friend of mine used to keep a sliced beet in the refrigerator to rub on her cheeks as an all-natural blush. You, however, do not have to resort to such rudimentary rituals (though the effect was pretty); there are now fabulous eco makeup finds everywhere you can imagine, and at every price point:
Go green online. For one-stop shopping on the web, check out eco-beauty emporium Futurenatural.com, which features organic brands that are free of petrochemicals, parabens, synthetic colors, and fragrances. Need non-toxic nail polish? Go Natural is formulated without dangerous chemicals like toluene and formaldehyde.
Boutique brands. Devoted green glamazons willing to spend a bit more might want to check out eco-cult fave Jane Iredale, which contains no talc, parabens, or controversial nanoparticles. Supermodel Josie Maran packs her eponymous makeup line with organic and age-defying argan oil.
Drugstore finds. I get my California glow with Physicians Formula Organic Wear bronzer, made with non–genetically modified cornstarch and sans synthetic preservatives and fragrances. Sold everywhere from CVS to Duane Reade, this makeup line's packaging is recyclable right down to the mascara wand.
Mass retail options. Even Walmart is jumping on the earth-friendly makeup bandwagon -- it debuted its Geogirl beauty care line in stores earlier this year. While the line is marketed toward tweens, those looking to snap up phthalate- and paraben-free makeup for under six bucks might want to overlook juvenile product names like BCNU ("be seeing you") eyeshadow.
Ready to give your makeup a complete makeover? Stick to these few final tips:
Reduce consumption by finding out which products are worth replacing via Environmental Working Group's Skin Deep cosmetic safety database.
Don't forget to read labels, since products touting themselves as "mineral" or "natural" often turn out to have questionable ingredients.
If cost is a concern, don't swap out everything all at once; first invest in items that are on your skin every day (powder), then move to special occasion splurges (date-night red lipstick).
Here's to putting your freshest earth-friendly face forward!
REAL LIFE. REAL NEWS. REAL VOICES.
Help us tell more of the stories that matter from voices that too often remain unheard.