The first entrepreneur into the Shark Tank this week was presenting her product Grease Bags. She was seeking $75k in exchange for 25% of the business. She has developed an eco-friendly grease disposal bag that absorbs cooled grease and is made of compostable materials.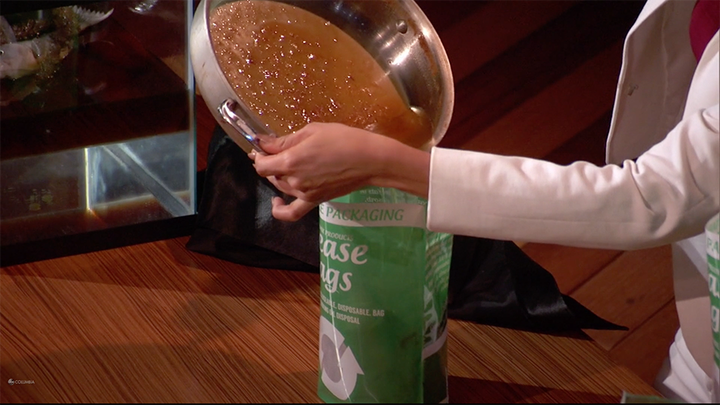 As for her numbers, a pack of three bags is planned to retail for $12.99 and her cost on that three pack is $2.34. She doesn't currently have any sales, but that is because the product is at the tail end of the prototype phase.
Before we jump into what the Sharks thought, I just want to comment on how amazing her presentation was! She was born to sell and she knows her product inside and out. She was calm and collected in the face of every concern that the Sharks had, and even alleviated a few problems they had. Even when they complained about the diminished market that would result from not being able to handle hot grease, she widened the market again by telling them it would work with motor oil and oil based paints.
Despite her fantastic presentation skills, most of the Sharks were not convinced. A number of issues plagued them about this product. Many of them shared the opinion that it really hurts the product to not be able to pour hot grease into it. Mark brought up an interesting point, as well. As an eco-friendly product, it will generally attract a more health conscious demographic. That being said, one of the primary uses for this product would be eliminated. In all this uncertainty, Robert said that he usually has sales to fall back on if he is unsure about a product. In this case, there was no such security. Toward the end, all the Sharks went out and it look like it was over.
Barbara had different plans though. She reconsidered and jumped back in with an offer of $75k for 50% of the business. Without much of a second thought, the entrepreneur took the deal.
This was an interesting one. It seems like a great product, but there are no sales to prove that definitively. I can understand the Shark's concerns about the market for the product, but I can also see the additional markets that the entrepreneur mentioned. Then when it comes to the deal she made, it's tough to say whether giving away half the company was a prudent choice. I have always talked about how sad it is when we hear stories in the Tank of businesses that had to give up large chunks of their equity early on to make it work. In fact, we just heard one of those stories last week with Basic Outfitters. This is a bit different considering that chunk came out in the Tank rather than before the Tank, but this is still a young business that is giving up a large portion of the equity to get off the ground. Barbara is an excellent partner to be giving that equity up for, so it just remains to be seen how far this product can go.
I am definitely optimistic about this product. On an extremely regular basis I have wished for something like this that would make grease and oil disposal easier. I cook with oil on such a regular basis and feel terrible every time I dispose of it in a less than eco-friendly way. So good luck to her and her new partner! I'm excited to see the kind of success they are able to accomplish together!
Related
Popular in the Community