Renowned celebrity hairstylist Chaz Dean was recently honored with the "Angel On The Path" Award by the HollyRod Foundation at its 12th Annual DesignCare fundraising event, held at Ron Burkle's sprawling Green Acres Estate in Beverly Hills. HollyRod provides medical, physical and emotional support to those living with autism and Parkinson's Disease.
In addition to having an A-list clientele, Dean has gained prominence for his all natural line of immensely popular WEN hair, body and bath products, which are free of sulfates and detergents. The Hollywood hairstylist is also involved with many charities in support of causes for women, children and animal rights. I recently caught up with Dean to chat about giving back.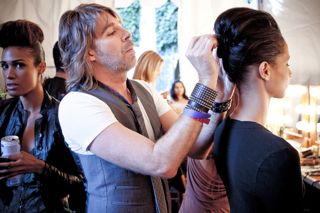 Why is charity work and giving back so important in your life?

Giving back is such an important part of my life because I believe in appreciating what you do have in life and helping out others in need in ways that you can. Giving back is one of the most humbling feelings you can have, knowing that your helping, touching or changing people's lives. Seeing the ripple effect is the most rewarding feeling anyone can experience.
How did you come to get involved with HollyRod?

Holly and I met 10 years ago at HollyRod and we've been working together ever since. I love that she is so gracious and giving. Her focus, motivation and drive have been crucial to the success of her charities.
Which other organizations do you support and why?
Oprah Winfrey's Leadership Academy because they give people who might have never had access to resources the opportunity to expand, excel and develop within their life.
Global Green, which is similar to my concept with WEN. I believe we are at time in our lives that we must be making smarter choices and being environmentally conscious.
Keep a Child Alive because it takes such a small amount for us, a dollar a day, and we can make such an enormous difference with one person's life.
Stand Up to Cancer. I lost my mother to cancer and I believe in empowering and educating women to be proactive and take preventative measures, which can help save your life.
Best Friends Animal Society because they take abandoned and abused animals and help rehabilitate them. They also help find them safe loving homes.
Where did your dedication to giving back start?
I have always been that way, which has helped manifest WEN to touch people by providing them a healthy alternative for a healthier lifestyle. I've always donated my time before I had resources in other ways. The payback is the satisfaction of knowing you helped someone in need.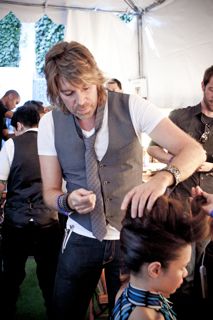 What is up next for you and WEN?
We are finishing up production on our sequel infomercial with host, Alyssa Milano, for WEN. We are continuing to expand and grow with QVC and recently won four Customer Service Choice Awards. Our replenishing treatment mist is receiving amazing reviews and launching in October is our newest addition to the WEN line, our Pomegranate Cleansing Conditioner. I look forward to the continued success of WEN and touching and changing people's lives one head at a time.
Photos of Chaz Dean by Jesse Fiorino
Calling all HuffPost superfans!
Sign up for membership to become a founding member and help shape HuffPost's next chapter