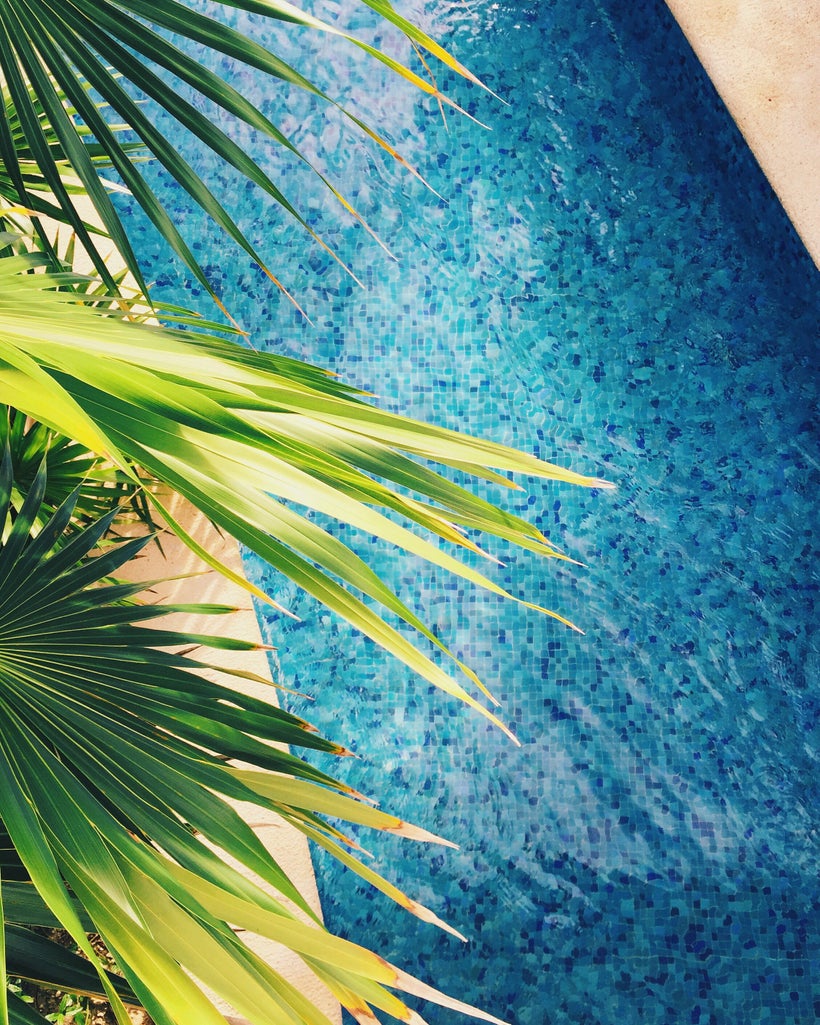 Eco-tourism. For those who are not familiar with the concept, the term was originally defined by the International Ecotourism Society as "responsible travel to natural areas that conserves the environment and improves the well-being of local people."
Eco-tourism has become an increasingly hot topic in the tourism industry over the past decade. Curious about what it actually meant, I decided to experience it. And when it comes to this type of vacationing, an ideal place to start is Tulum, Mexico.
Flavorful food, breathtaking nature, friendly people, rich Mayan history and eco-friendly restaurants and hotels. Yep, welcome to Tulum. Despite the environmental issues faced by the area, like water usage and off-grid power generation, Tulum has managed to make words like "eco-friendly" and "sustainable" cool and trendy.
So without further ado, here are some of my favorite spots to experience this mystical and magical eco-friendly city.
When I think about this restaurant, three things come to my mind: exceptional food, an eco-friendly setting and impeccable service. This restaurant was built using reused and natural materials native from the region and designed to have minimal ecological impact. For example, the energy used is produced by solar panels.
Moreover, we were told that the cooks were recruited in local Mayan communities, then trained at Kitchen Table in order to create economic opportunities for the community. I loved the beautiful wood-fired brick oven located in the open-air kitchen where the staff is passionately cooking local fresh products. In fact, while we were having dinner, a local fisherman came to deliver lobsters, recently caught. Guests are invited to choose a lobster from the fresh catch of the day, which is then cooked in the rustic brick oven.
My favorite dish was the excellent "huitlacoche quesadilla". "Huitlacoche", a fungus described as the Mexican truffle, is basically a plant disease that grows on ears of corn. When cooked and well-seasoned, this ingredient becomes a true delicacy, full of flavors. This quesadilla was so tasty that I had to order a second one. Probably the best dish I had in Tulum.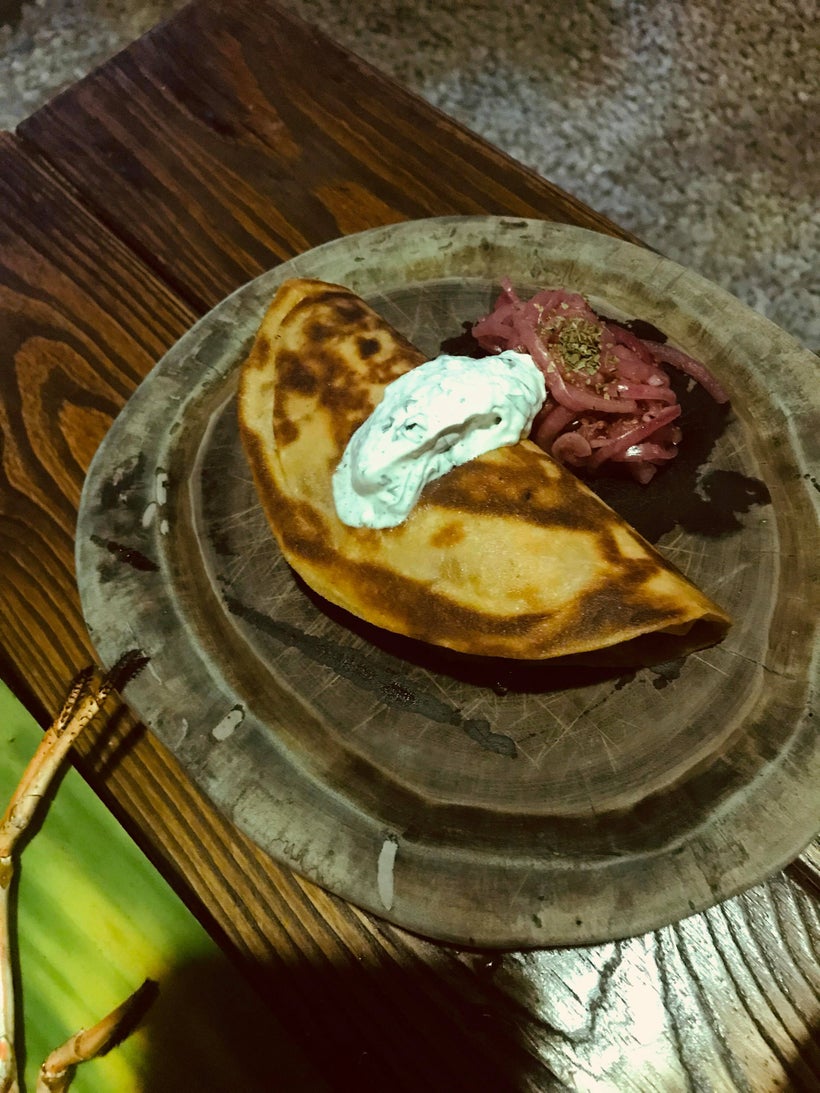 This beautiful restaurant is literally nested in the middle of the jungle. With beautiful, modern decor that blends in with the surrounding nature, it was conceived as a "unique experience that pays tribute to Mexico's diverse habitats of tropical rain forests, lagoons and mangroves."
The restaurant serves fresh local ingredients from the region with a touch of Mediterranean influence, all sustainably sourced. It also supports the local community by working with ingredients and produce from local farmers, producers and fishermen, which is reflected in the flavorful food. I ordered the lamb which was perfectly cooked and flavored. There is one dish that made me speechless: the vibrant purple-colored gazpacho of local organic beetroot, garnished with local jicama & charcoal ash goats cheese and balsamic vinegar. I also recommend trying the "NO MAMES!" cocktail, a magical combination of Mezcal, Toronja, Lime, Mate and Lemongrass Syrup.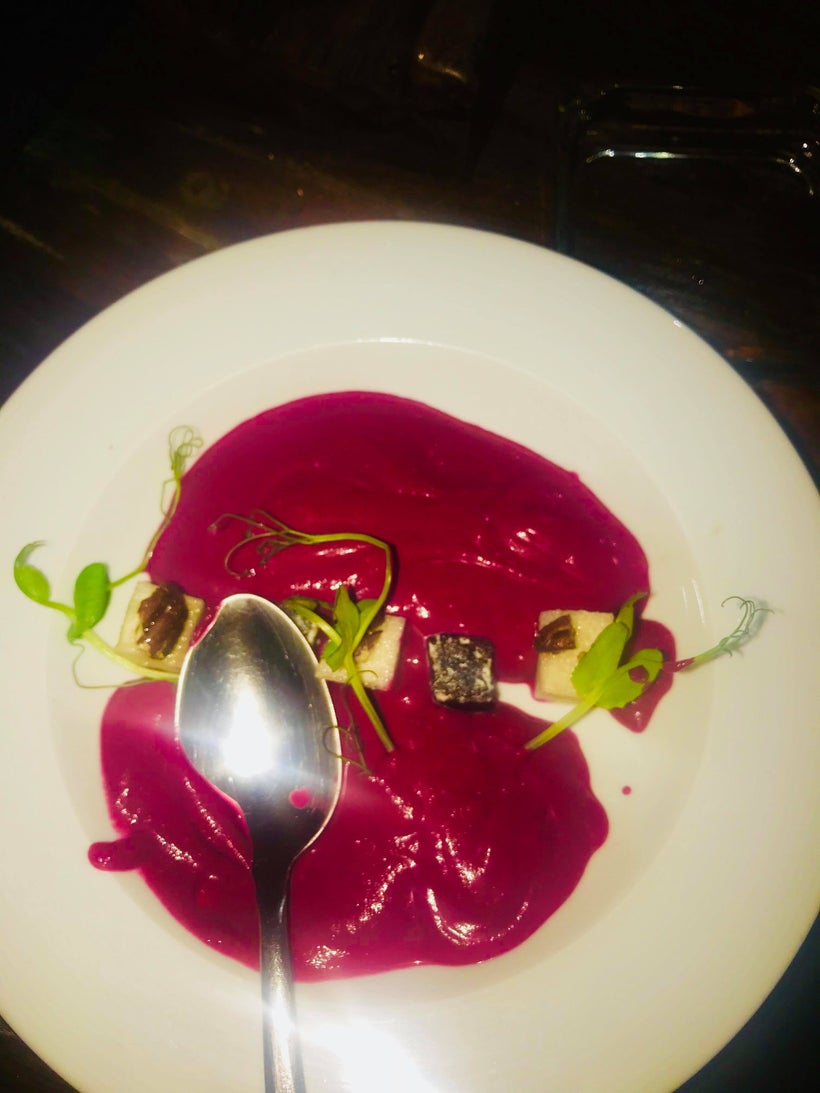 Everything about this place is mystical. The music, the vibe, the decoration, the open-air jungle setting and even the smell. The restaurant regularly burns Copal, an incense from a healer tree family called Bursera that is sacred to the Maya.
I was amazed by the Chechén cocktail, an attention-grabbing mescal-based explosive cocktail with a garnish of dried grasshoppers to add texture to the explosive flavors. Despite the appearances, these insects are absolutely delicious, and some say we should increasingly turn to them as a more sustainable alternative to other food groups, so go for it! The grilled Romero fish was another tasty discovery.
Finally, I have only wonderful things to say about the staff: they went above and beyond to make us feel perfectly at home.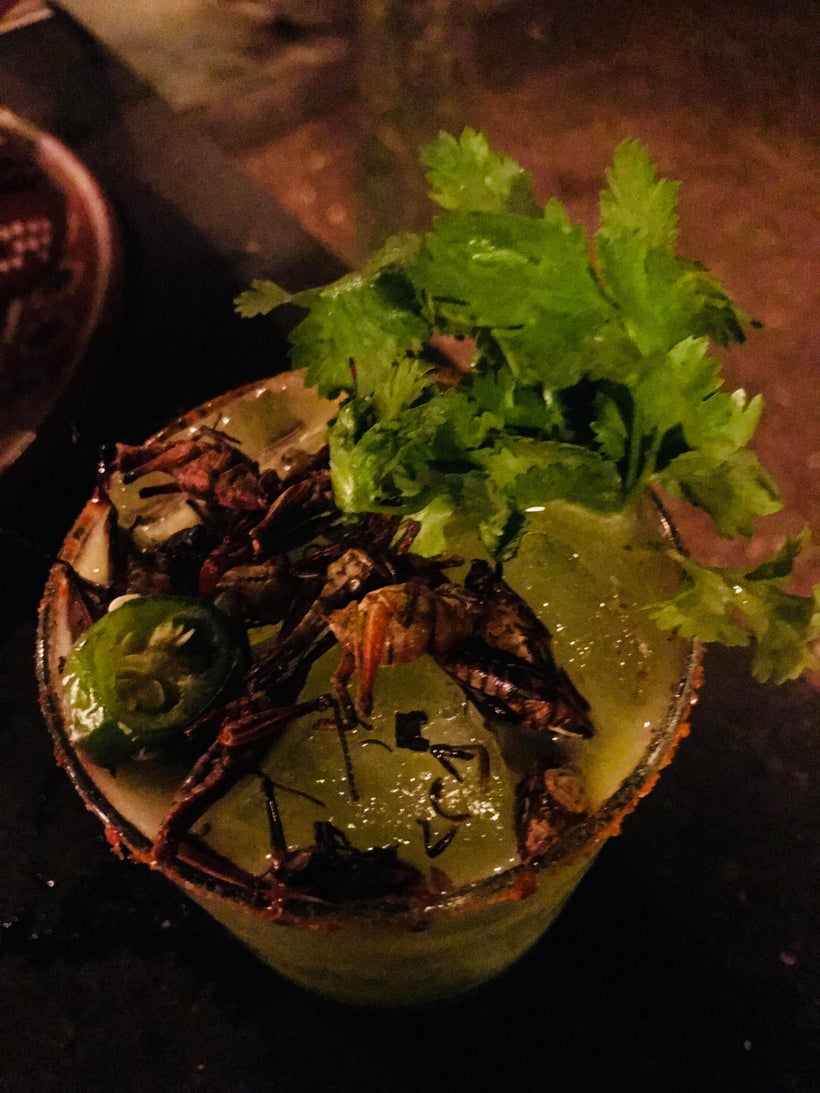 Amazing live music + great food + impeccable service = Gitano. If you are looking for "the" vibe, this is the place to be. We were sitting in front of a live musician mixing exotic melodies with electronic rhythms which added a touch of magic to the atmosphere. The cocktails here are addictively delicious. My favorite was the Wild Child, a cocktail with mezcal, guava, lime, vanilla elixir, and a bourbon floater. I was also amazed by the shrimp taco which was fresh and flavorful. We finished the meal with a wonderful mezcal tasting with different ingredients such as cocoa and coffee. The service here is exceptional: our waiter was very passionate about the food and took time to explain the menu and the thinking behind the restaurant.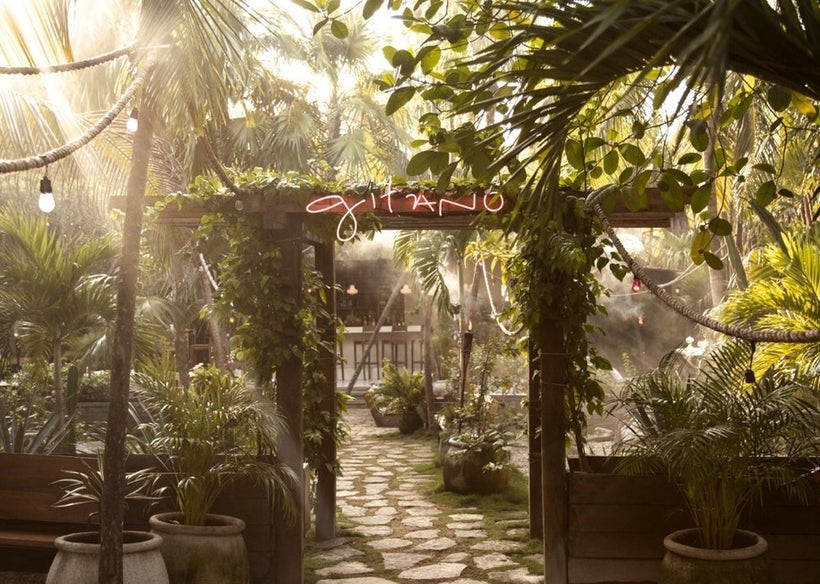 Finally, if you are looking for a wonderful eco-friendly hotel in Tulum, there is only ONE place: Jashita Hotel. This small luxury hotel is located in the turquoise Soliman bay, probably the most protected bay of the Riviera Maya, which allowed us to swim and snorkel safely. I can't begin to say how wonderful this place is. Sophisticated, eco-friendly, comfortable, relaxing and authentic. From the moment you arrive, you will be transported into the magical, exquisite enchantment of this place. Guests are encouraged to reconnect with nature by living the simple life.
The beach was honestly one the most beautiful beaches I have ever seen - and this is coming from a self-confessed beach snob. Diving and snorkeling in front of Jashita beach is an experience you can't miss. The staff is very friendly and attentive. It felt like home away from home.
I really enjoyed our morning routines as well. The hotel serves a healthy but tasty breakfast in front of the sea. The restaurant's hotel not only serves high-quality traditional Mexican cuisine but also delicious Italian food such as homemade pastas, inspired by the Venetian owner's traditional Italian family recipes.
The hotel is ideally located as you feel completely isolated and disconnected from the world, but at the same time, you are also very close to the center of Tulum – the local "pueblo"- as well as the different archeological sites in the area. Our room had a breath-taking view over the ocean and the forest, blending perfectly with nature.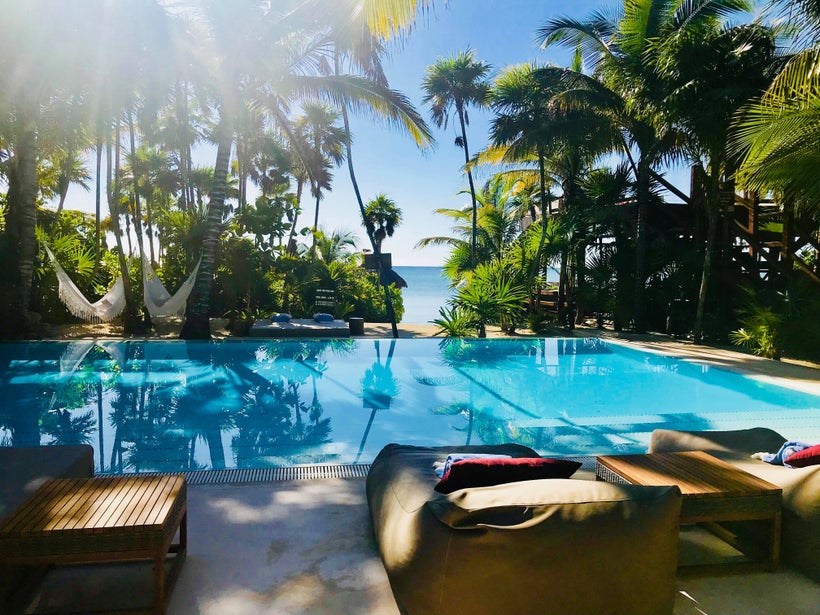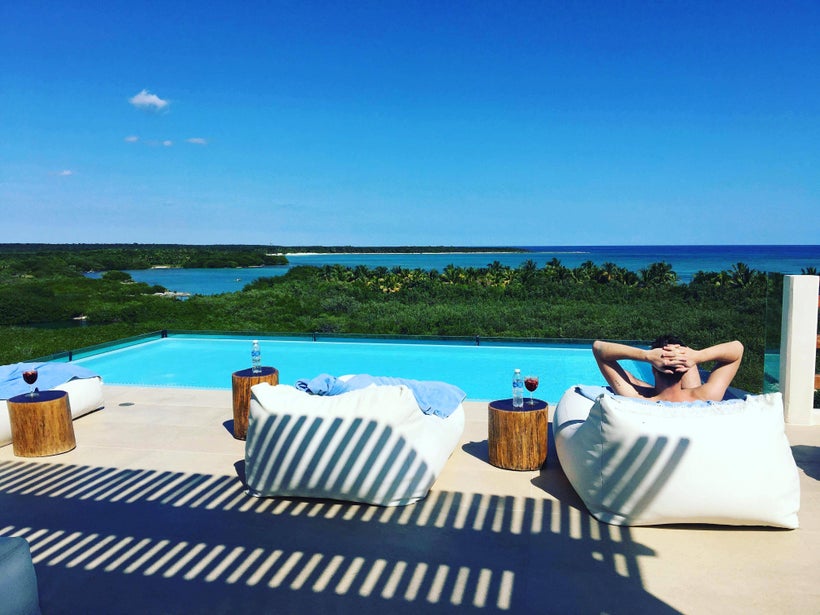 The hotel is about an hour and half away from Cancun airport. To access the hotel, I highly recommend Cancun Airport Transportation, a wonderful transportation company providing private, safe and comfortable transportation from and to the airport. I was impressed by the great service and the professionalism of our driver. He was very kind and reliable and always on time. He even offered us champagne in the car which was the perfect start to our trip.
Anyway, I hope to have conveyed my attachment to Tulum. It was a perfect combination of modernism and traditions, festivities and relaxation, traditional food and international taste. I wouldn't mind going back.
REAL LIFE. REAL NEWS. REAL VOICES.
Help us tell more of the stories that matter from voices that too often remain unheard.
This post was published on the now-closed HuffPost Contributor platform. Contributors control their own work and posted freely to our site. If you need to flag this entry as abusive,
send us an email
.