Traveling can lend itself to eco-unfriendly behavior. But there are many ways you can minimize your carbon footprint while traveling, and the first is by packing smart.
Bringing the right green products on your trip prevents you from buying wasteful items like travel-size toiletries and from needing single-use products, like plastic bottles and bags. Below, seven eco-travel products you must pack on your next trip.
GoToob -- humangear
Don't use travel-size shampoo and conditioner. These containers are single-use, and it is so much earth-friendlier to pack something you can use repeatedly. Go Toobs from humangear are silicone (easy to squeeze) bottles with large openings that make them easy to fill, empty and clean. They are small enough to pass TSA, and are made from food-safe, BPA-free material.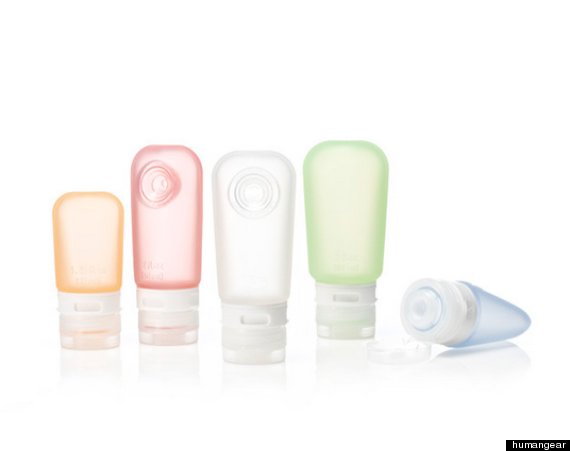 Surf-vival 30+ Mineral Sunscreen -- Smart Girls Who Surf
Unfortunately, recent studies are showing that standard sunscreens can be harmful to people and the ocean. Surf-vival 30+ mineral sunscreen's only active ingredient is zinc oxide. It contains none of the ingredients believed to cause coral reef bleaching and it is free of human-harming chemicals and parabens. Surf-vival is made by Smart Girls Who Surf, which has an entire line of organic sunscreen products for face, lips and body.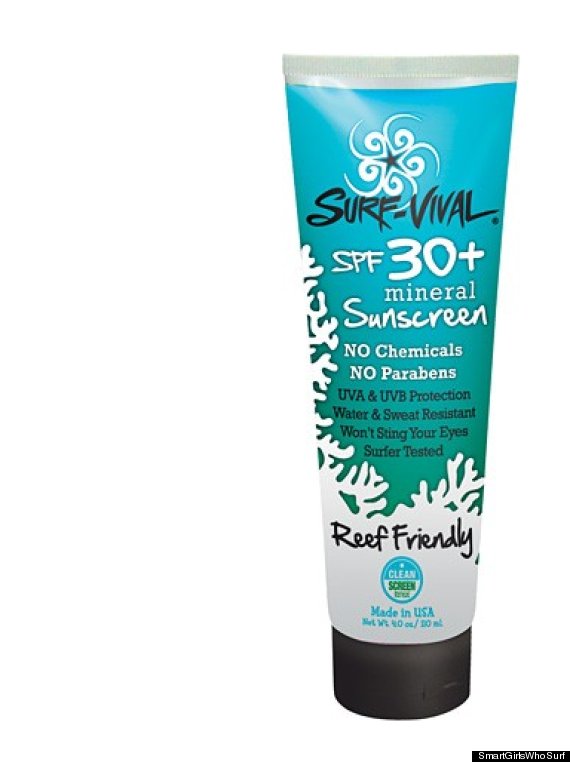 rePETe Bag -- ChicoBag
Take a reusable bag with you to avoid using a plastic bag while shopping for groceries or souvenirs. The ChicoBag rePETe line is made from recycled PET plastic (most plastic bottles are made from PET). The bag folds into its own little mini-sack, and has a mini-caribiner attached so you can clip it to your keys or backpack. The bag is no hassle to pack, but saves the big hassle that plastic bags cause the Earth.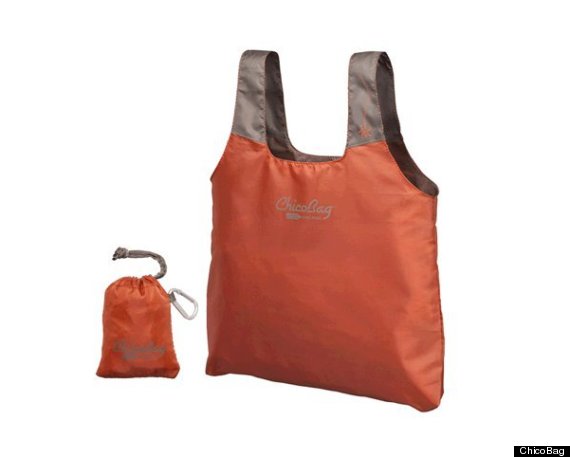 RePEaT Utensil Set -- To-Go Ware
Not only are plastic utensils terrible for the environment (they're non-biodegradable), they really shouldn't be going in your mouth either (they're rarely BPA-free). Bamboo is a highly sustainable material: it grows fast, it's abundant, and it's usually grown without pesticides. To-Go Ware's bamboo utensil set comes with a fork, knife, spoon and pair of chopsticks (disposable chopsticks are a big environmental problem). The compact case is made from recycled plastic and has a carabiner for easy attaching.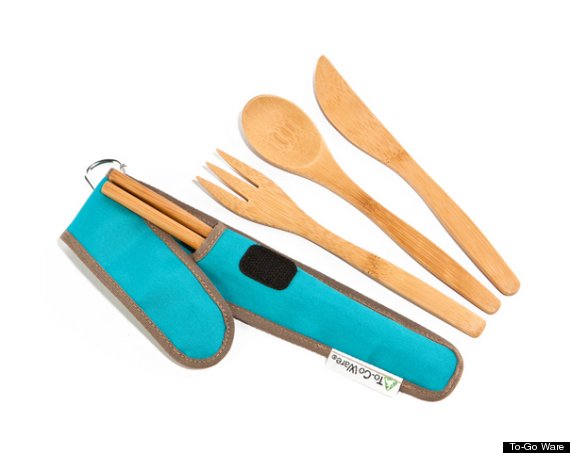 2-Tier Tiffin and Carrier Bag -- To-Go Ware
In America, we waste almost a third of the total food available for consumption. Across the planet, 1.3 billion tons are wasted annually. Don't take that habit with you on your trip. Bring a reusable food container to store your leftovers and have a snack while you're on the road, the trail or the beach. To-Go Ware offers two-tier stainless steel tiffins (so you don't have to mix your munchies) and a recycled cotton carrier bag.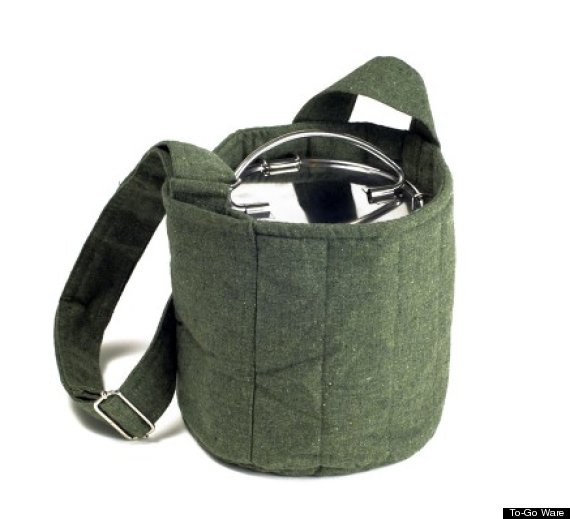 Vacuum Insulated Steel Bottle with 2 Cap Combo -- Kleen Kanteen
It's crucial to stay hydrated while flying, and those itty bitty cups of water they use on the plane don't cut it. It's also crucial to stay caffeinated when you're jet-lagged. Accomplish both without buying single-use bottles and cups by bringing the Kleen Kanteen insulated bottle, which comes with two caps, one for coffee sipping and another for sealing in water. If you want to travel hands free, get a drink sling for your bottle from ChicoBag. Remember, every time you don't use a plastic bottle, one less albatross ends up like this.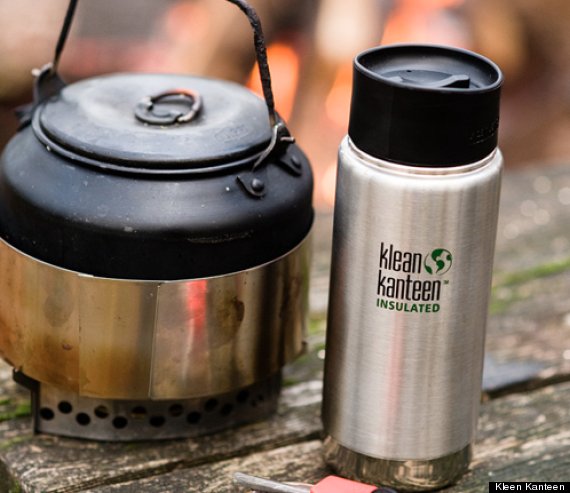 Hoptu Laptop Case -- Looptworks
The best vacations don't include electronics at all, but if you must, at least transport them in upcycled fabric. Looptworks makes iPad and laptop cases made with upcycled neoprene leftover from wetsuit manufacturers.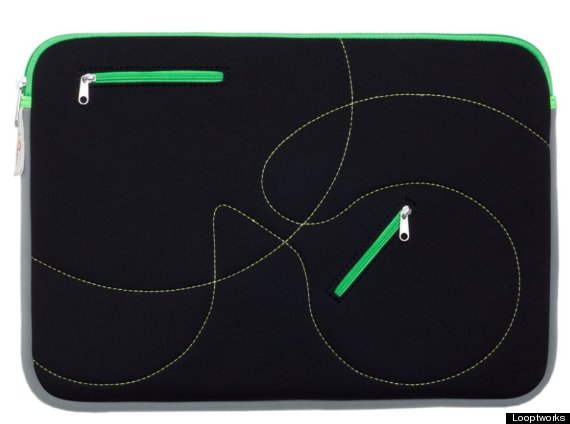 Premium Solar Charger -- XTG Technology
If you're going to bring every iGadget you own, make sure to pack this solar-powered device charger. Use a USB cable to connect the device to your phone, iPad, or whatever else you couldn't leave home without, and give the carbon-spitting power plants a vacation too.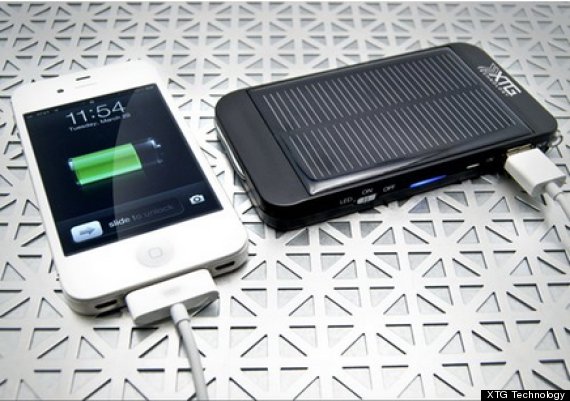 Weekender Duffel -- Rareform
And finally, where does one pack all these green essentials? Try a Weekender Duffel from Rareform, constructed with upcycled advertising billboards. No two bags are alike as the materials come straight off the billboards. Plus, they're made in California, so you don't have to sweat all that CO2 created by shipping your bag from a factory overseas.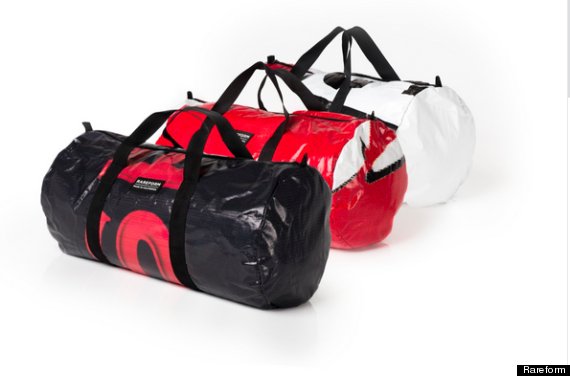 Related
Before You Go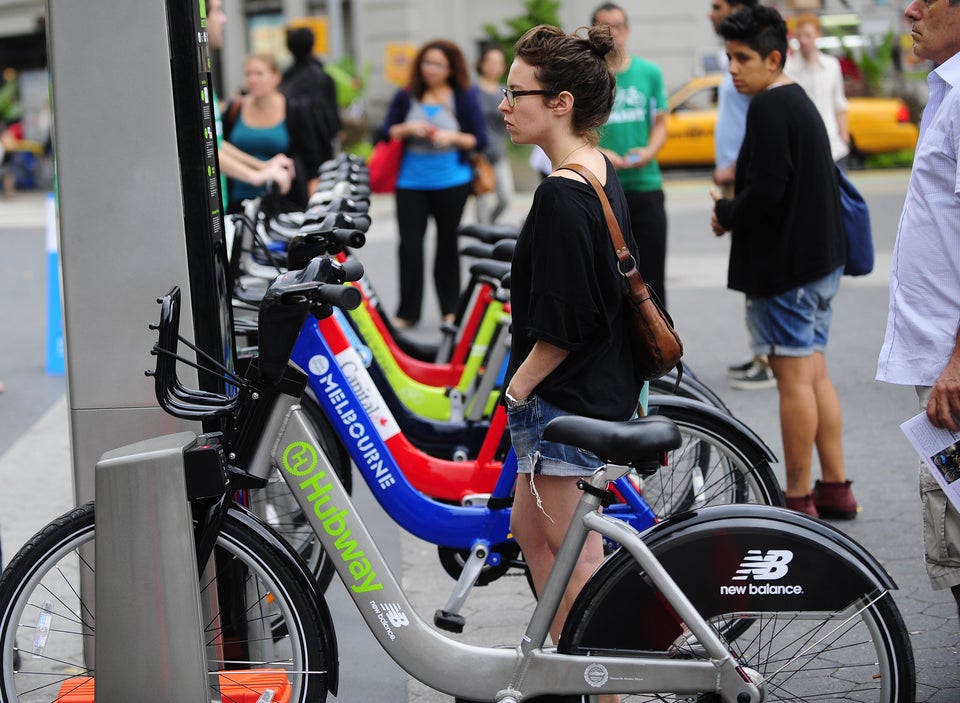 10 Hot Green Innovations