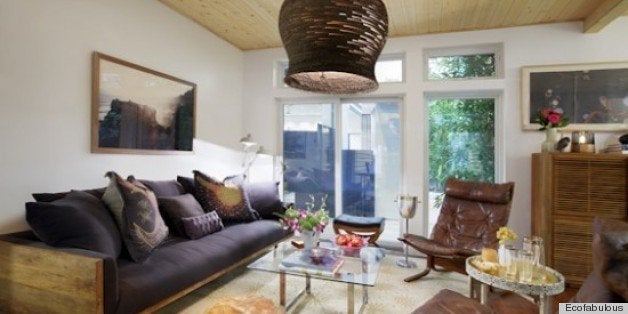 The Huffington Post is proud to present a story originally published on Ecofabulous.com
For the past four years Ecofabulous has been partnering with exemplary pre-fab architects and builders to design the Dwell on Design showhouse. The abode always promises to be the highlight of the highly acclaimed event. This year, Ecofabulous teamed up with LivingHomes to assemble an LEED platinum Cradle to Cradle inspired, 1232 sq ft C6 home in the LA Convention Center. I enlisted the help of my loft design partner Kimberly Rider to create a show-worthy home. Visitors always expect a recap, and those who couldn't make it want to know what we chose where and why. We hope this helps satiate you until the much-anticipated photo tour is posted.
On the other side of the patina, behind the liquid copper front door with a William McDonough-designed handle, awaited a chic yet comfortable living room. The beautiful and inviting sofa from Environment Furniture -– made of reclaimed peroba rosa frame and vintage army tent fabric –- and the exquisite veggie-dyed rug beckoned visitors to sit. The rest of the oogle-worthy mid-century vignette pieces can be found on eBay (vintage danish leather chairs, glass coffee table, glam ice bucket, leather rococo stool, faux snake skin side table and art glass). The recycled cardboard Gray Pants Scraplight "chandelier" washed the room in a warm glow, and the sustainably harvested teak Hide Square Console looked even better in our C6 than it does on the set of "Mad Men."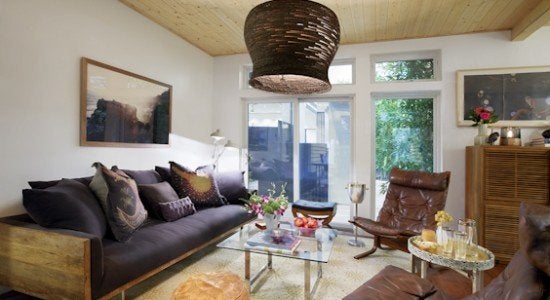 Ecofabulous Dwell On Design Show Home
If you don't have kids or are uninterested in the cutest room in the house, skip this paragraph and no tears will be shed. In the nursery, the persimmon-hued non-VOC chalkboard wall (Sydney Harbour Paints) got a lot of action. I asked my father to draw a tree as an invitation for visitors to "etch" their names into the art. Children sat at the pre-loved table and chairs, liberally making their mark, while adults tended to playfully draw hearts or sign their names (photos were taken before the tagging began). Every baby needs a safe, sturdy and long-lasting (convertible) crib and changing table. We found an eco-friendly, affordable version at Giggle. The room was drenched in soft LED light by the retro yellow Astron Tri from Rejuvenation. Beautiful 4-piece crib bedding by RashaBella Organics complemented the saturated wall color beautifully. The corner beckoned parents with a curvaceous Bevara Design cream wicker chair accented with tiny vintage pillows made by redesignista Faith Blakeney. Across the room is an all eBay vignette lighting up the space. And of course, every house I have ever done has at least one Sage Vaughn painting.
With so many nooks and crannies to examine, the photo tour makes exploration a magical treat. Stay tuned and feel free to email info@ecofabulous if you have any specific questions. A special thanks to the design team and the generous sponsors that made this house a reality. Cheers! Zem Joaquin & Team Ecofabulous