Senator Rockefeller released the results of an investigative report into "Aggressive Sales Tactics on the Internet and Their Impact on American Consumers" in advance of a hearing on the subject by the US Senate Committee on Commerce, Science, and Transportation.
The research examines "controversial e-commerce business practices that have generated high volumes of consumer complaints" and focused on sales tactics that "charge millions of American consumers for services the consumers do not want and do not understand they have purchased," according to the Staff Report.
A controversial practice known as "post-transaction marketing" was at the center of the research into the e-commerce business practices.
TechCrunch offers context on how "post-transaction marketing" works (also see the senate committee report's illustration of the steps involved in an "Aggressive 'Post-Transaction'" sales):
Background: hundreds of well known ecommerce companies add post transaction marketing offers to consumers immediately after something is purchased on the site. Consumers are usually offered cash back if they just hit a confirmation button. But when they do, their credit card information is automatically passed through to a marketing company that signs them up for a credit card subscription to a package of useless services. The "rebate" is rarely paid.
The report reveals that numerous well-known e-commerce companies have earned millions of dollars through post-transaction marketing "scams", including sellers such as 1800Flowers.com, Fandango, FTD, Orbitz, Priceline, Shutterfly, Buy.com, Barnes & Noble, Expedia, as well as many, many more.
The chart below, taken from the committee's report, highlights a number of the companies that have received income from post-transaction marketing, along with an approximation of how much money they've received through the practice: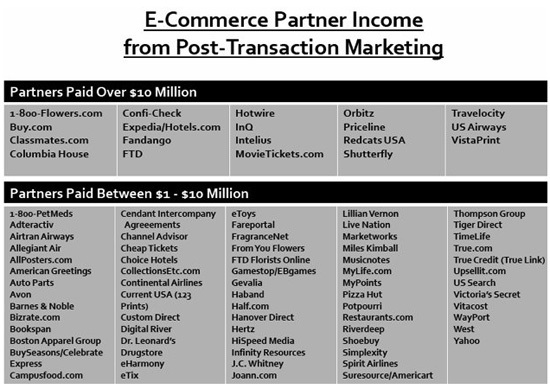 In the Staff Report summarizing the investigation's findings, the committee writes,
Eighty-eight e-commerce companies have earned more than $1 million through using these tactics, including 19 that have made more than $10 million. Classmates.com has made more than $70 million using these controversial practices.
Senator Rockefeller issued a statement on the report, saying:
After six months, this Committee has found that the companies we are investigating have figured out very clever ways to manipulate consumers' buying habits so they can make a quick buck. American consumers have been complaining for years about these misleading practices and asking for answers - and rightly so. [...] Millions of Americans are getting hit with these mystery charges every month - we have to do all we can to protect the hard working families relying on us to look out for their wallets and well-being.
Get the full report and read the Press Release from the US Senate Committee on Commerce, Science, and Transportation here.
TechCrunch has additional reporting on the committee's findings.
Read comments from customers about post-transaction marketing scams here.
The chart below, taken from the senate committee's report, illustrates "Aggressive 'Post-Transaction' Sales Tactics in an Online Purchase":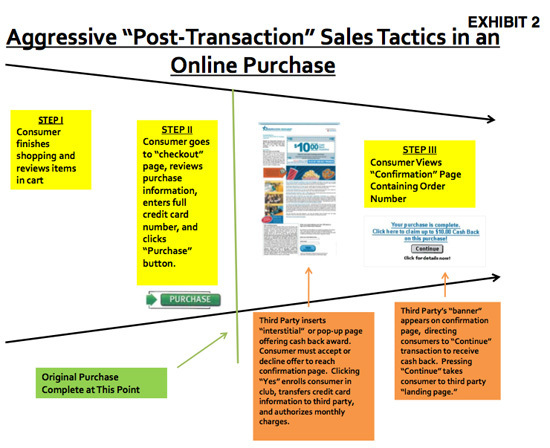 Popular in the Community