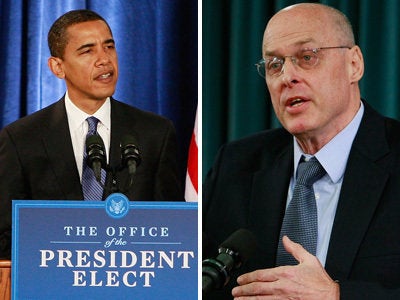 The Treasury and Fed added to the ever-growing confusion over various bailout plans by announcing two new multi-billion dollar efforts today. At the same time, President-elect Barack Obama urged fiscal restraint while announcing additional members for his economic team. Obama plans to push through a stimulus package that has it's own price tag of $500 billion to $700 billion over two years.
Paulson says key markets for consumer debt such as credit cards, auto loans and student loans essentially came to a halt in October. He says the new programs are aimed to get lending back to more normal levels.

Paulson says all the government programs have been aimed at supporting the lending that is vital to the economy.
According to The Washington Post, Paulson's plan "is largely separate from the $700 billion Troubled Asset Relief Program, administered by the Treasury Department and focused on shoring up the country's financial system."
The Fed said it will purchase up to $100 billion in direct obligations from mortgage giants Fannie Mae and Freddie Mac as well as the Federal Home Loan Banks. It also will purchase another $500 billion in mortgage-backed securities, pools of mortgages that are bundled together and sold to investors.

The $600 billion effort on mortgages came as the Fed also unveiled a new program to help unfreeze the market that backs consumer debt such as credit cards, auto loans and student loans.
Finally, President-elect Barack Obama held his second economic press conference today and introduced Peter Orszag as his budget director saying, ""Budget reform is not an option. It's a necessity."
Obama's focus on careful federal spending marked something of a contrast from Monday, when he declared that restoring the economy to health took priority over the budget deficit. He called on Congress to prepare an economic stimulus program for him to sign as soon after Inauguration day as possible. Estimates of the measure range from $500 billion to $700 billion over two years.

"We are going to have to jump-start the economy ... but we have to make sure that those investments are wise. We have to make sure we are not wasting money in every area," he said Tuesday, defining the two objectives that will guide his economic program.
Popular in the Community