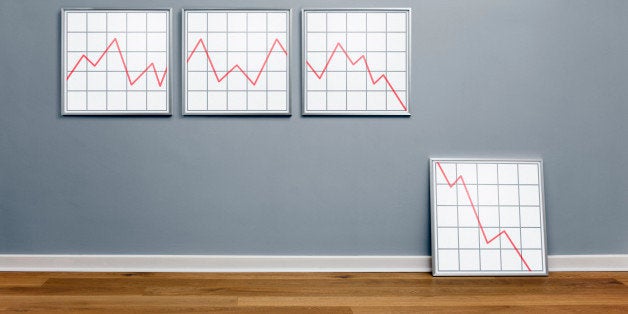 Economic confidence takes a sharp hit following the government shutdown. Voters say their opinions of everyone in Washington have grown worse. And partisans back their side in the controversy, which leaves Democrats ahead on "blame game" polls. This is HuffPollster for Friday, October 4, 2013.
SHUTDOWN SPARKS DROP IN ECONOMIC CONFIDENCE - Frank Newport: "Americans' confidence in the U.S. economy has dropped sharply as the partial government shutdown caused by Congress' inability to pass a spending bill has become reality. Gallup's Economic Confidence Index's three-day rolling average stands at --34 for Oct. 1--3, down 14 points from Sept. 27--29, and the lowest such average since December 2011. Economic confidence had already been dropping prior to this week's official shutdown, with a slide to --19 for the month of September, compared with --13 in August. But a significantly sharper decline in confidence has been evident over the past three days just as the government partially closed down -- leading to the current --34 three-day average. [Gallup]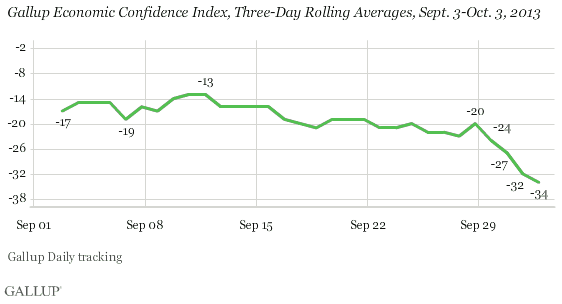 SHUTDOWN SEEN AS MORE SERIOUS THAN '95 - Art Swift: "As non-essential parts of the federal government remain closed, 70% of Americans view the shutdown as a crisis or a major problem, even higher than the 56% saying the same at the height of the last shutdown in 1995." [Gallup]
Anger at lawmakers from both parties - From the same Gallup release: "Leaders looking to gain ground in public opinion are not succeeding. A majority of Americans report feeling more negatively about the Republican and Democratic congressional leadership since the shutdown began, as well as about President Barack Obama. The negative reactions toward Obama are higher than Gallup recorded toward President Bill Clinton during the 1995 shutdown, while they are about the same toward the Republican leaders in Congress. Gallup did not ask about the Democratic leaders in 1995."
GOP BEHIND ON 'WHO'S TO BLAME' POLLS - The first three polls conducted since the government shutdown on Tuesday all show more Americans blaming Republicans in Congress for the closure than than President Obama and Democrats in Congress. The surveys found pluralities naming Republicans as most to blame by margins of 42 to 32 percent (Fox News), 44 to 35 percent (CBS News) and 50 to 39 percent (YouGov). The Washington Post's Scott Clement: "While the initial reaction is worse for Republicans, their share of blame is not as lopsided as during the 1995 shutdowns when Bill Clinton was in office, and polls disagree on whether Obama is gaining popularity or just holding steady as the standoff progresses." [WaPost, CBS News, Fox News, YouGov]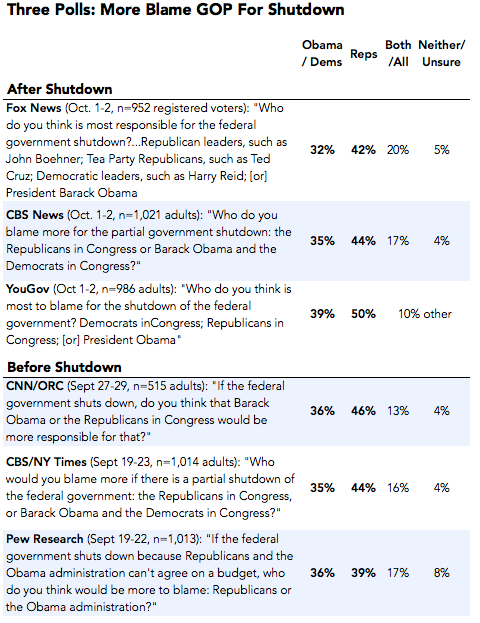 But...reactions still follow partisanship - The results on these questions are essentially unchanged from what Americans told pollsters in late September about who they expected to blame in the event of a shutdown. CBS News, the one organization so far to test reactions using a similar question before and after the shutdown found no change at all in the 44 to 35 percent plurality blaming Republicans. More important, a willingness to assign blame continues to correlate strongly with partisanship, Democrats overwhelmingly blaming Republican leaders, Republicans overwhelmingly blaming Obama and the Democrats and independents split down the middle. GOP leaders trail on the "blame" questions largely because more Americans identify as Democrats than Republicans.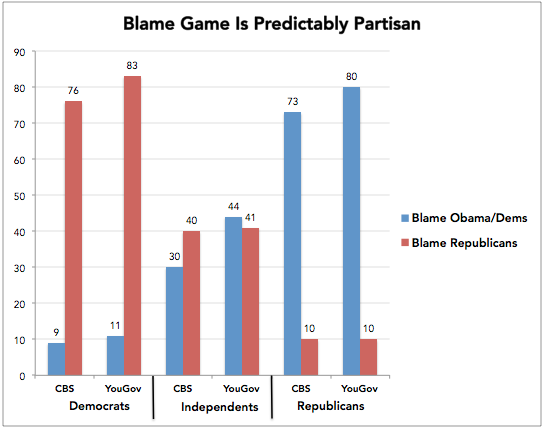 AMERICANS FAVOR BACK PAY FOR FURLOUGHED WORKERS - Emily Swanson and Dave Jamieson: "Americans are more likely than not to think that furloughed federal employees should receive back pay whenever the government shutdown is over, according to a new HuffPost/YouGov poll. The poll found that 47 percent of respondents believe government employees who aren't able to work during the shutdown should be paid for the time they miss, while 38 percent said they should not be. Another 15 percent weren't sure. The survey showed a sharp divide along party lines on the back pay issue. By a 64 percent to 21 percent margin, most Democrats said furloughed workers should be paid for the time they miss. By a 55 percent to 29 percent margin, most Republicans said they should not be. Independents were about evenly divided, with 42 percent supporting and 44 percent opposing back pay." [HuffPost]
IS POLARIZATION REAL? PART II - Via email, Emory University political science professor Alan Abramowitz responds to a report summarized in yesterday's HuffPollster that an apparent jump in political polarization found in the 2012 American National Election Study (ANES) survey was due to a change in polling methods: "The question raised by John Sides and Markus Prior [and co-author Lori Bougher] is a legitimate one. But this discussion misses a larger point--regardless of how one interprets the 2012 data on ideology or party feeling thermometer ratings, there is a long term trend toward increasing polarization. The divide in party feeling thermometer ratings and the party divide on ideology (and on a variety of policy issues) has been growing sine the 1970s along with a growing racial divide between the parties. And there is no question that the racial divide increased further in 2012. The national exit poll also shows big differences between Democratic and Repubilcan voters on the role of government, health care, same sex marriage and abortion. So let's not lose sight of the forest for the trees (I hope I got that saying right)." Abramowitz also forwards the chart, reproduced below, that shows a rising difference in the way Americans rate the two parties since 1980 using only face-to-face interviews. [See also WaPost, HuffPollster]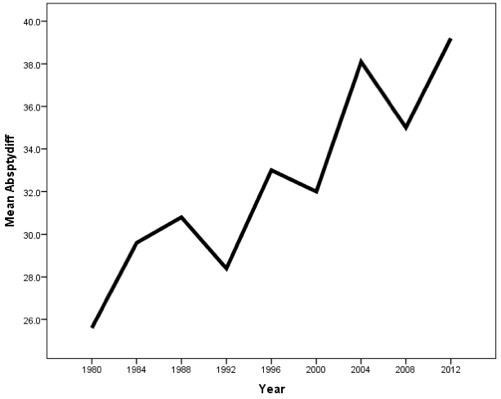 HUFFPOLLSTER VIA EMAIL! - You can receive this daily update every weekday via email! Just enter your email address in the box on the upper right corner of this page, and click "sign up." That's all there is to it (and you can unsubscribe anytime).
FRIDAY'S 'OUTLIERS' - Links to more news at the intersection of polling, politics and political data:
-Frank Newport offers 10 data-driven observations about the government shutdown situation. [Gallup]
-Harry Enten says Americans blame Republicans most for the shutdown, but think there is plenty of blame to go around. [Guardian]
-Nate Cohn argues that gerrymandering is not the source of the government shutdown. [New Republic]
-Ron Brownstein finds the uninsured spread throughout red states and congressional districts. [National Journal]
-Barack Obama's approval rating falls to 39 percent in Iowa. [Register]
-Andy Kohut sees a perilous future for news organizations as Millennials and Gen Xers pay less attention to news and "so far [show] little indication that that they will become heavier news consumers as they age." [Poynter]
-Global Strategy Group (D) analyzes Twitter's reaction to Breaking Bad and Homeland. [The Hub]
Calling all HuffPost superfans!
Sign up for membership to become a founding member and help shape HuffPost's next chapter