I am a stickler in my classroom about how rude it is to text while guest speakers are present. I forbid my students to use their cell phones during class, and I remind them often to give their full attention to our guests. If I catch someone in the act of texting, I don't hesitate to admonish him or her on the spot. But in October 2016, while visiting Strasbourg, France with some MBA students during a fall break trip, I broke my own rule and pulled out my phone to send a text message during a presentation. I wasn't playing Pokemon Go, however.
I was in Strasbourg for a week teaching a Perspectives in European Management course for my graduate students at the Weatherhead School of Management at Case Western Reserve University. A city near France's border with Germany, Strasbourg is more than 2,000 years old. With its charming medieval architecture, black and white timber-framed buildings, and sandstone Gothic Cathedral, I didn't think this ancient city had much in common with my hometown of Cleveland, Ohio, a city that's a mere 220 years old, famous for our basketball star LeBron James and 2016 world champion Cleveland Cavaliers, and the birthplace of Rock and Roll. But as the days passed on our trip to Strasbourg, I learned, in fact, that the two cities share several commonalities, most especially their economies.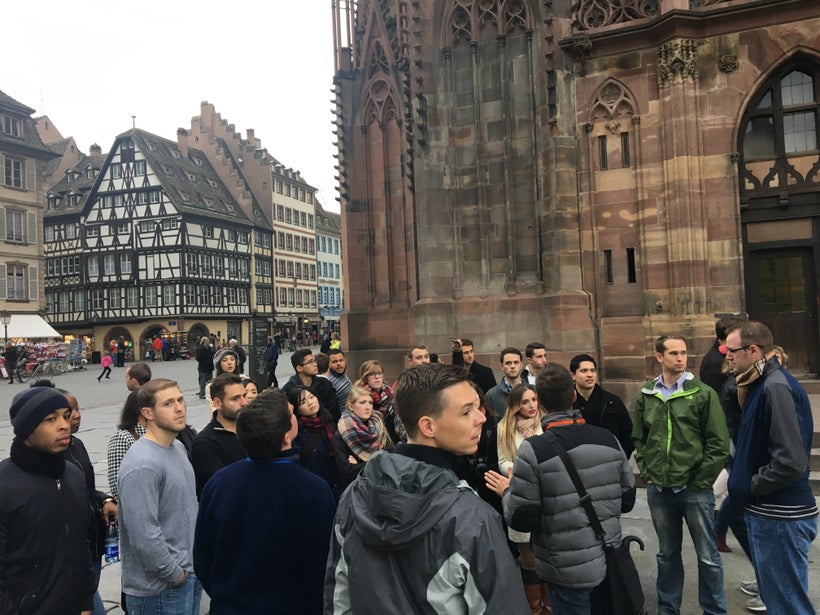 Both Strasbourg and Cleveland had a history of success in manufacturing and industry. In the last 50 years, the impact of globalization and improved efficiency in manufacturing damaged the economies of both cities.
On the second day of our visit, we were invited to participate in a seminar about supporting entrepreneurship organized by the United States Consulate General in Strasbourg. This is a familiar topic in Cleveland as we have poured significant governmental, philanthropic, and private sector resources into our start-up community over the past decade. With preeminent medical institutions like the Cleveland Clinic and University Hospitals, much of Cleveland's support for entrepreneurs has naturally been focused on the healthcare field. I know many of these healthcare entrepreneurs well—I even highlight several of them in the massive open online course (MOOC) that I developed for Case Western Reserve on Coursera called "Beyond Silicon Valley: Growing Entrepreneurship in Transitioning Economies."
The Research Institute Against Digestive Cancer (IRCAD) hosted the seminar in Strasbourg. Dr. Lee Swanstrom, the Chief Innovation Officer at the Institute for Image Guided Surgery (IHU Strasbourg), welcomed us to IRCAD and provided an overview of the impressive array of initiatives and programs that positioned Strasbourg as a global leader in the field of surgical simulation and training. As he spoke, it occurred to me that our cities had even more in common. Cleveland, like Strasbourg, had new companies in surgical simulation and training as well. These are super small, super niche fields. What a coincidence! I wonder if anyone in Cleveland knows about this, I thought to myself.
Jeffrey shared with me that he had indeed lectured at IRCAD on several occasions, and he was extremely impressed by the work they were doing around surgical simulation and training. It turned out that Dr. Swanstrom was his good friend.
It was under Jeffrey's leadership that Cleveland, like Strasbourg, focused on growing as a hub of surgical simulation and training innovation. Jeffrey also helped recruit Simbionix, an Israeli virtual reality surgical simulation and training startup, to set up their US operations in Cleveland in 2002. While the company was excited about collaborating with Jeffrey and his colleagues at the Cleveland Clinic, the critical piece in attracting Simbionix to Cleveland was helping them attract capital through investments and grants. Simbionix received an investment from local Cleveland venture capital fund Early Stage Partners, which was backed by a number of leading corporations, foundations, and governmental entities in Ohio. Simbionix also received grant funding from the State of Ohio's innovative Third Frontier technology commercialization program as well as loans from local government. Simbionix was acquired by 3D Systems for $120 million in 2014, providing an excellent return on investment to the company's founders, employees, and investors. Another surgical simulation and training company, Surgical Theater, also was founded in Cleveland (in 2010) and has raised over $9 million from venture capital investors to date to fund its growth. Similar to IRCAD and IHU Strasbourg, at the heart of Cleveland's support of surgical simulation are centers of excellence created at our local hospitals and educational institutions such as the Mt. Sinai Skills and Simulation Center at the School of Medicine at Case Western Reserve University.
In addition to learning about IRCAD and IHU Strasbourg, my students and I also saw a demonstration of the technology being developed by the startup company Visible Patient, a spinout of IRCAD. Dr. Luc Soler, the Director of Research and Development at IRCAD, showed us how the Visible Patient technology allows for customized 3D mapping and modeling. Visible Patient has attracted over $3 million in funding so far and is currently in the process of raising additional capital to continue to develop the technology and increase market penetration.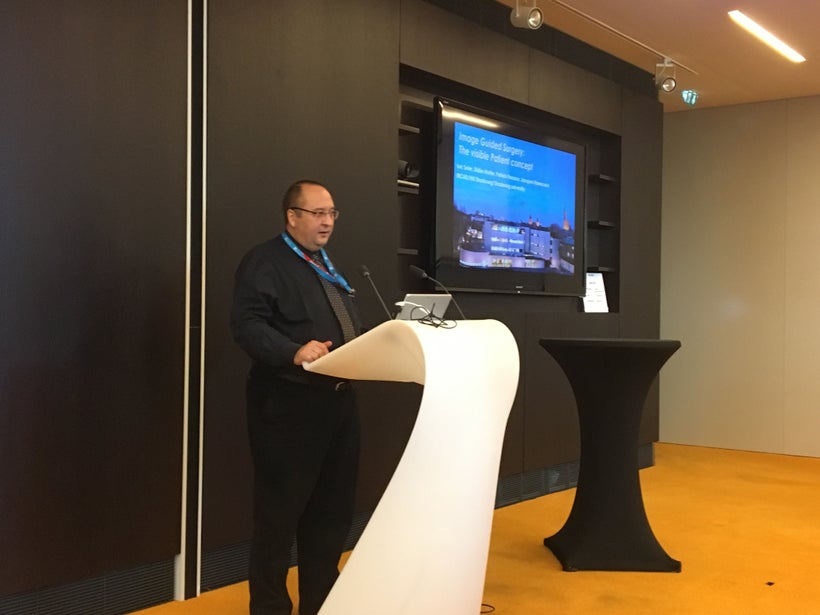 It was exciting to see the parallels between Strasbourg and Cleveland's surgical simulation and training sectors. Academic research and training remain at the core of what both communities do to help improve patient care. But startups such as Simbionix, Surgical Theater, and Visible Patient, if successful, can help drive economic development and job creation in communities like Strasbourg and Cleveland which are struggling to transition their manufacturing-based economies.
REAL LIFE. REAL NEWS. REAL VOICES.
Help us tell more of the stories that matter from voices that too often remain unheard.
This post was published on the now-closed HuffPost Contributor platform. Contributors control their own work and posted freely to our site. If you need to flag this entry as abusive,
send us an email
.