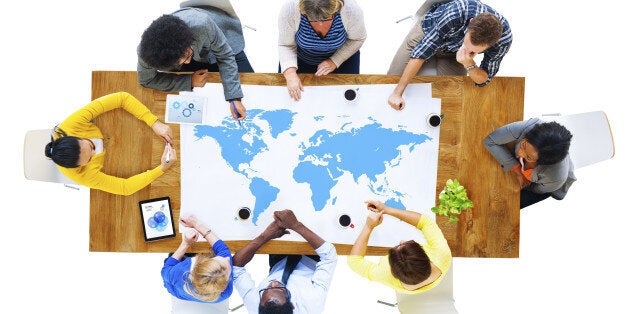 There is no question that the world is in turmoil. Every day we are bombarded with depressing news that ranges from disturbing to shocking. This endless repetition in the headlines is reminiscent of the movie "Groundhog Day."
The amazing thing we learn from history is that there are no rules. There are also no noble wars. We keep hearing about international regulations, UN condemnations and laws that are supposed to guide the conduct of nations. As I reach 91 years on this earth, I have become increasingly aware of the reality as opposed to the perceptions most people accept. I have also come to the conclusion that everything that happens around the world seems to impact everything else.
There are many reasons why hostility happens between countries and within countries. One of the primary factors is the uneven and corrupt distribution of wealth. Revolution does not spring from a happy and satisfied population. Poverty and cynicism create a breeding ground for political upheaval and terrorism, and economic issues are clearly at the heart of our current global discord.
If we are ever able to bring order to this chaos, we must rely on the pragmatists among us, the problem solvers, the entrepreneurs of the world. If we can establish internationally accepted market practices, then emerging entrepreneurs will raise the standard of living in all corners of the globe. Prosperity will foster the spread of genuine democracy and provide an effective counterweight to the motives for war. Unquestionably, financial leverage is one of the world's most powerful forces.
Of course, developing more widespread entrepreneurship won't provide a complete solution, especially in the Middle East, but remember this: Millions of young men and women in the Middle East have endured decades of dismal job prospects, and their anger finally reached the boiling point during the Arab Spring. Regional unemployment rates are currently 30 percent or higher. Young people are the dominant demographic group in many countries such as Yemen, South Sudan, Afghanistan, Somalia and the Gaza Strip where the median age is 18. Contrast this with the United States, which is 38 or Germany, which is 46, according to the Central Intelligence Agency's online World Factbook. It seems clear to me that job creation is essential to bring stability and a sense of purpose to millions of disaffected youth. Good things happen when a brighter future is on the horizon.
The job situation is not as dire here in the United States, but our young people still face daunting challenges, and after seven successful decades in business, I'm eager to help. In spite of all our faults, we are still the greatest country in the world, and there are many reasons to be optimistic. My ambition is to educate young people about the advantages and rewards that come with being successful entrepreneurs.
Since the publication of my recent book, The Evolution of an Entrepreneur, I have received five of the top awards from the Global E-Book Awards and, even more importantly, many encouraging letters from teachers of entrepreneurship as well as from students who have been using my materials to learn about valuable entrepreneurial insights. I recently came in contact with an organization called the Network For Teaching Entrepreneurship. They have been doing great work since 1987 and determined that it is of great importance to bring their teaching to inner city high schools and low-income communities. They have worked with more than 500,000 students around the country and in different parts of the world since their inception. I have now made a commitment to donate 100,000 e-book copies of The Evolution of an Entrepreneur featuring 50 of my favorite tips for surviving and thriving in business to their students. There is nothing I have ever done in business that has given me more satisfaction.
One thing that I've learned over the years is that the pace of global economic change is always accelerating, and we need to be proactive in harnessing this energy. Every day we are presented with a new data set, one that offers unique opportunities if we take the time to look. My opinion is that a major reason for the progress we make is attributable to the millions of Americans who run small businesses, provide desirable goods and services, and pay their taxes. The entrepreneur who starts his or her own company is responsible for most of the advances and rapid changes in our economy. For example, the entire digital revolution and the resulting technology have been spearheaded by individuals with the imagination and discipline to make innovative things happen.
Two of our former presidents from opposite sides of the fence, John F. Kennedy and Ronald Reagan, both believed that tariffs should be reduced and eventually eliminated, and I couldn't agree more. I made my first international deal with China in 1946 and never looked back. After starting in a tiny office 61 years ago, Jack Nadel International now has 25 offices in all parts of the country and around the world. It is vital that new businesses, both here and abroad, consider the whole world as their marketplace.
Reducing the turmoil and violence around the world is a huge challenge, and I believe that the world's biggest economy has a role to play. We should do more to help potential entrepreneurs in places where domestic economies are too weak to assist. If we give this effort a higher priority in our country's foreign policy, we can create a healthier balance of world commerce. Ultimately, this just might prove to be our best weapon for developing peaceful change.

Jack Nadel is the author of the award-winning book, "The Evolution of an Entrepreneur: Featuring 50 of My Best Tips for Surviving and Thriving in Business" - winner of five Global Ebook Awards including three Gold Awards for BEST in Business, Leadership and Careers/Employment - part of the popular Ultimate Crash Course for Entrepreneurs set, available on-demand online (www.JackNadel.com). He is the founder and chairman emeritus of Jack Nadel International, a global leader in the specialty advertising and marketing industry. Jack, founder of more than a dozen companies worldwide, is also the author of other books, including, "There's No Business Like Your Bu$iness, How to Succeed in Business Without Lying, Cheating or Stealing," "Cracking the Global Market," and "My Enemy, My Friend."
Related
Popular in the Community