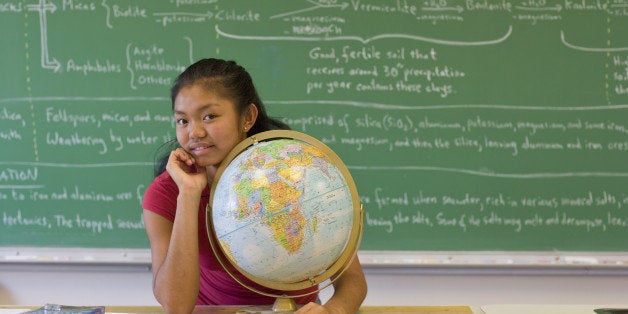 By: Amy I. Berman and Michael J. Feuer
The George Washington University
The problems of widening gaps in income and educational opportunity have been much on the minds (and tongues) of scholars, journalists, and some national politicians. But are these issues receiving the attention they deserve among candidates for high office in the coming election?
To answer this question, we looked at the websites of the candidates in four of the closest Senate races in Iowa, Georgia, Colorado and Louisiana.
We found an absence of meaningful discussion of economic inequality. While many of the candidates in these close races mention the need to improve the economy, the underlying issues of income and wealth inequality are largely not discussed. Moreover, the websites of several of these candidates omit any mention of inequalities in access to preschool and K-12 education.
Why does this matter? The simple answer is that any meaningful discussion of how to improve our educational system and strengthen our economy must include a candid consideration of the ravages of rising economic inequality. This is not a new problem: in 1966, the groundbreaking "Coleman report" documented that poor students did worse educationally than their wealthier peers and attended schools with fewer resources, fewer experienced teachers, and inferior facilities. But since then, we not only have failed to close these gaps -- in some respects, we've regressed.

A few statistics tell the story. The income gap between Americans at the 50th percentile of income and those at the 10th percentile is one and a half times larger than it was in 1967, and the gap between the 90th and 10th income percentiles is over twice as large. And the academic achievement gap has widened accordingly. Although the difference between whites and minority students has narrowed, the achievement gap between children in the lowest 10th percentile of income and the 90th percentile is 30-40 percent larger for a child born in 2001 than for a child born 25 years earlier. Students in poor communities continue to have "the lowest-performing teachers, the most run-down facilities, and academic expectations and opportunities considerably lower" than what is expected of other students, according to a report of the Equity and Excellence Commission.
Academic gaps translate directly into educational attainment gaps, and attainment gaps translate into persistent and pernicious long-term economic and social inequality -- a classic case of the vicious circle. The odds of starting college are dramatically different depending on students' economic circumstances: 16-to-24 year olds in the bottom quartile of family income are six times more likely to drop out of high school than those at the top quartile.
Inequity in college attainment has also increased. A comparison of students born in 1960 and those born in 1980 found that the rates of college completion increased by 18 percentage points for high-income students but only 4 percentage points for low-income students. Among students born in 1980, only 9% in the lowest income quartile completed college, compared with 54% in the top quartile. These gaps persist even as a changing economy demands graduates who are better prepared academically. By 2018, an estimated 62% of jobs will require some college, compared with just 28% of jobs in 1973.
These troubling disparities have not passed unnoticed. In 2013, President Obama, called income inequality "the defining challenge of our time," and in his 2014 State of the Union address he stated the need to "guarantee every child access to a world-class education." But addressing these problems will require focused attention at all levels of government. With Nov. 4th just days away, voters would benefit from knowing where the current candidates, especially those in tight races, stand on issues of income and educational inequality and whether they have specific plans to ensure a first-rate education for all children -- especially the poorer ones.
Given the extensive use of the internet, we reviewed the public face of some key campaigns -- the candidates' websites. The lack of information is rather depressing. In the Iowa Senate race, for example, candidate Joni Ernst (R) not only fails to mention economic inequality on her campaign website, but her issues page has no section devoted to education. The only reference to education on her issues page concerns the need to improve veterans' education and jobs training programs. By contrast, her opponent, Democrat Bruce Braley, addresses the need to expand the middle class on his website. He mentions programs to assist unemployed workers in their search for work, including job training, and discusses the need to address educational shortcomings (although not specific to poor students).
In Louisiana, neither incumbent Mary Landrieu (D) nor Bill Cassidy (R) makes reference to growing income inequality in their issues statements, and neither specifically addresses the plight of the poor in their treatment of educational issues. Both seem to support alternatives to traditional public schools. Cassidy highlights just three items on his education agenda: support for school choice, the need to address dyslexia, and his belief, shared by many Republican candidates in the midterm elections, that education should be an issue of local control with no federal interference.
Most of the Republican candidates in our analysis who do discuss education on their websites focus on ensuring local control of education and reducing the costs of higher education and student indebtedness. For instance, Cory Gardner (R), the House member who is running for the Colorado Senate seat, highlights the issue of college affordability and asserts that K-12 education should be left to state and local governments. David Perdue (R), a Senate candidate in Georgia who chairs the National Commission on Adult Literacy and Workforce Development, notes with pride that his parents and wife are teachers. His issue statement on education is titled Local Control of Education. Other than emphasizing the need to "dismantle unnecessary federal bureaucracy" and channel funding to classrooms, he makes no mention of how to address inequalities in education and does not discuss income inequality.

In stark contrast, his opponent Michelle Nunn (D) addresses some aspects of educational equity head-on. Indeed, Nunn is one of the few candidates in these close races to emphasize specific issues of low-income families on her website, where she acknowledges that low-income families are finding it harder to get into the middle class. She supports the Common Core State Standards while citing the need for "local flexibility." She also emphasizes the need for all levels of government to work together to provide preschool education, and promotes government involvement and private partnerships for science, technology, engineering and math (STEM) education and technical education as specific pathways to economic growth.

Democrat Mark Udall, the incumbent Senator in Colorado discusses education programs that are often touted as benefiting low-income families, but he does not explicitly mention poor children. Udall's official Senate webpage cites the need for high-quality early childhood education, improved teacher pay and access to professional development, STEM education, and college affordability, among other issues. On his campaign website, the only mention of education in the issues section concerns college affordability; he does, however, highlight support for raising the minimum wage.
The bottom line is few candidates are emphasizing economic inequality. While many of them address the struggles of the middle class, few are taking on the issues of the poorest in our society, including quality of schooling for our poorest students. These issues should matter to all of us. More education leads to higher wages, better health, and a better quality of life. Moreover, the costs of not providing good education are significant.

We face a continuing crisis, and before we cast our ballots, we should demand that our candidates share their views on these critical topics with us.
Amy I. Berman is a former senior official at the U.S. Department of Education and U.S. Department of Justice and is currently a doctoral student at the Graduate School of Education and Human Development at The George Washington University. Michael Feuer is Dean of the Graduate School of Education and Human Development at The George Washington University and President of the National Academy of Education.
REAL LIFE. REAL NEWS. REAL VOICES.
Help us tell more of the stories that matter from voices that too often remain unheard.