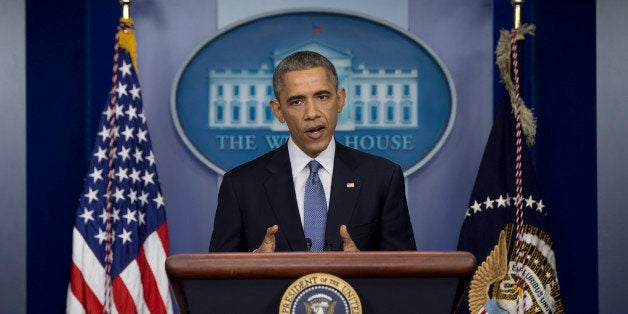 Americans see the economy looking up, but mostly for the wealthy. Many think government action could help improve the middle class, but few expect Obama's proposals to pass. And data targeting grows more vital to winning elections. This is HuffPollster for Thursday, January 29, 2015.
ECONOMIC RECOVERY SEEN AS A BOON MOSTLY TO THE WEALTHY - Suffolk/USA Today: "Americans believe that improvements in the economy over the past year have benefited the rich over the poor and middle class, and most consider U.S. economic conditions to be fair (46 percent) or poor (27 percent), as opposed to good (25 percent), according to a Suffolk University/USA TODAY poll. Sixty-six percent of the adults surveyed said that the wealthy have benefited a great deal (43 percent) or a fair amount (23 percent) from recent economic advances. A similar proportion of respondents said that the poor have benefited only a little (39 percent) or not at all (27 percent); working-class people had benefited a little (40 percent) or not at all (25 percent); and the middle class had benefited a little (39 percent) or not at all (25 percent)." [Suffolk]
Skepticism that SOTU proposals will pass - Susan Page and Martha Moore: " On this Americans agree with President Obama: The economy is getting better — for the rich. A USA TODAY/Suffolk University poll finds broad skepticism that the proposals the president outlined in his State of the Union Address last week will go anywhere in a Republican-controlled Congress, though. And that's distressing to many, who believe government action could boost their families and narrow the gap between the rich and everybody else....In the poll, nearly half predict that 'only a few' of Obama's proposals from the State of the Union Address will be enacted, and another one in five say none of them will. Most Americans do think the government could help. Just over half say the government could do a great deal or a fair amount to improve economic conditions for them personally. A similar number say the government could decrease the gap between the rich and everyone else." [USA Today]
AMERICANS THINK CURRENT TAX SYSTEM FAVORS THE RICH - HuffPollster: "Americans largely think the current tax system favors the wealthy and needs to be reformed, but not very many expect to be personally affected by President Barack Obama's proposed reforms, a new HuffPost/YouGov poll finds. The vast majority of Democrats, Republicans and independents said they agree that Congress should pass legislation in the next year to reform taxes. A full 88 percent said tax reform is at least somewhat important, with 44 percent calling the subject 'very important.' More than 60 percent said the tax system currently favors the wealthy over the middle class and poor, and just a combined 22 percent that the system favors the non-wealthy or treats everyone equally….But a majority doubt they would see much change from President Barack Obama's plan to raise capital gains taxes on the wealthy while offering new tax breaks for college students and working families. Just 24 percent said it would directly help their family, while 15 percent said they think it would hurt. While the president touted the proposal as tax relief for the middle class, Americans at all income levels had similar responses." [HuffPost]
NOT A 'HAPPY FAMILY,' BUT THINGS ARE LOOKING UP - Dana Blanton: "A new Fox News national poll released Wednesday finds that by a three-to-one margin, voters see America as a dysfunctional family rather than as the "tight-knit" grouping Obama claimed we are (73--24 percent)....There's more agreement that things are improving, as 53 percent of voters think the economy is getting better. That's up 10 percentage points from 43 percent in September -- and marks a new high during Obama's presidency. The previous high was 49 percent recorded in both October 2012 and May 2010. Still, for 36 percent of voters it feels like economic conditions are getting worse....Despite a record-high number saying the economy is improving, only 19 percent say they are better off financially now than when Obama took office. Some 28 percent feel they are worse off, while a slim 52-percent majority says their family's financial situation is about the same. Sunnier perceptions of the economy have helped Obama's job rating: 45 percent of voters approve of how he is doing, while 51 percent disapprove. While his rating is still in negative territory, this is the first time since October 2013 that approval of the president's performance has been this high. Last month, 42 percent approved and 53 percent disapproved." [Fox news]
'BIG DATA' IN TEXAS GOVERNOR'S RACE - Carl Lindemann: "When Republican Greg Abbott took to the stage last November to claim his resounding 20-point win over Wendy Davis to become governor of Texas, he might have thanked Big Data campaigning for bringing him there. By leveraging set-top-box data and an array of consumer marketing information, Abbott's campaign team assembled a tightly integrated media marketing machine that hammered the appropriate message at the appropriate time to the appropriate audience with exceptional efficiency and economy, says Republican strategist Dave Carney who recruited and managed the team...So, how did Carney's team pull it off in Texas in last year? First, WPA Opinion Research collected massive quantities of polling data on the 14 million registered voters in Texas and combined this with campaign and consumer data to build a mathematical model. That identified the campaign's overall target audience of about 2 million people that was broken down into categories like Hispanic males. WPA constantly deepened the data, surveying tens of thousands by phone monthly and combining it with everything from donor lists to Facebook data....To further refine the TV targeting, the campaign brought in Deep Root Analytics, which made heavy use of the Rentrak data...Knowing who to hit with messaging is one thing. Actually doing it is another. Here, the campaign turned to Targeted Victory, a full-service digital advertising agency, to coordinate the online effort, and Crossroads Media, a Republican media services firm, to make the TV buys." [TVNewsCheck]
-Kevin Collins (D) - Reacting to the Abbott story via Twitter: "We are seeing a slow but very imp change in how campaigns operate. Used to be multiple campaigns within single "campaign" which shared ...message but little else. Those involved a campaign on paid media (ad buyers), a campaign to reporters (comms)…a campaign to doors and phones (field), and most recently, a campaign directed at email addresses (digital). But that's changing, as ...multiple arms of a campaign work off a single database (or multiple databases that speak semi-regularly to one another)...In 2016, campaigns that don't run multi-modal campaigns from unified lists will be falling behind the curve. In 2020, they'll be a joke...The vision camp. technologists should be (and many are) striving toward is one list, w/ a set of actions each person should be targeted for....... targeting that's informed by rigorous & quantitative modeling (& when appropriate, experiments), as well a set ways to reach that voter..With guidance (from experiments) on how cost effective it is to encourage each voter to take each action by outreach via each mode." [@KWCollins via Storify]
PRIMARY VOTERS RESPONSIBLE FOR DYSFUNCTION AND GRIDLOCK - David Wasserman: "'Washington is broken' has become the biggest cliche in campaign advertising, yet the Democrats and Republicans who say those words on camera are more often than not playing a role in an electoral system that further entrenches dysfunction and rewards the extremes…Whether self-sorting or a cultural realignment is to blame, the two major political parties are more segregated on the map than they have been in many generations. In the House, where districts are susceptible to partisan gerrymandering, the impact has been especially dramatic. A FiveThirtyEight analysis conducted after the 2012 elections found that the number of "landslide" districts had doubled since 1992, while the number of "swing" congressional districts had fallen by two-thirds, to 35 from 103, making up just 8 percent of all House seats. Meanwhile, there's been a steady rise in straight-ticket voting, in which voters stick with their party all the way down the ballot. As a result, in more than 90 percent of all House seats, the biggest risk to an incumbent comes in the form of a primary. That creates an unvirtuous cycle that rewards fringe behavior and punishes those who have reached most frequently across the aisle... Increasingly, the narrowing slice of voters who do participate in primaries consists of the most hard-core liberals or conservatives. "
THURSDAY'S 'OUTLIERS' - Links to the best of news at the intersection of polling, politics and political data:
-Among Americans who heard about the Charlie Hebdo attack, most say it was okay to publish cartoons depicting the prophet Mohammed. [Pew]
-Americans split over whether it was appropriate for Congress to extend an invitation to a foreign leader at odds with the President. [YouGov]
-Sean Trende ponders the "chaotic and utterly unpredictable" Republican primary race shaping up for 2016. [RCP]
-DailyKos Elections rolls out their 2015 election calendar. [DailyKos]
-Scott Keeter explains how to access raw Pew Research survey data. [Pew]
-Data scientist Seth Stephens-Davidowitz talks to Brian Lehrer about what people say about their sex lives via Google. [WNYC via @JoshdelaRosa1]
Calling all HuffPost superfans!
Sign up for membership to become a founding member and help shape HuffPost's next chapter
BEFORE YOU GO
PHOTO GALLERY
9 Billionaires Who Don't Work On Wall Street