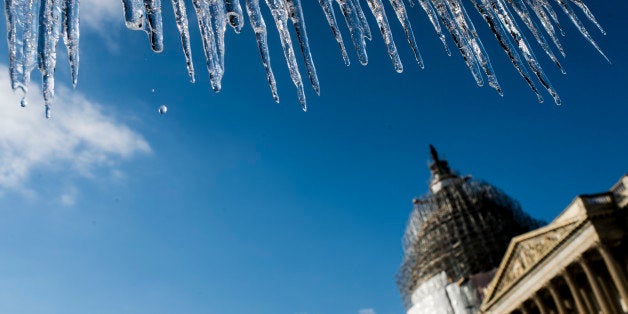 A Pew Research poll released Wednesday highlights one of the reasons for the discrepancy: most people see the government's efforts since the recession as helping big banks and corporations, not poor and middle-class Americans.
In the survey, a quarter of the public describes the economy as good or excellent, up sharply since the beginning of last year. Two-thirds of Americans now say the job situation has recovered at least somewhat, and a majority also sees at least a partial recovery in household incomes.
Yet the 59 percent of Americans who say the recession had a major effect on their personal finances remain divided on how much things have gotten better -- 29 percent say their finances have mostly recovered, while 30 percent say they have yet to do so. That's an incremental improvement at best: the percentage saying their finances have recovered is up only 1 point since 2013, and 4 points since 2011.
The recession's effects remain even more deeply felt by lower-income Americans. Thirty-eight percent of those in households making less than $30,000 a year say they've yet to recover personally, compared to just 14 percent of those making $100,000 or more.
And few think government policies are having much of a positive effect for anyone who's not wealthy -- a view that's changed little over the past five years.
In the most recent survey, 72 percent say government economic policies since the recession have done a fair amount or a great deal to help large banks and financial institutions; just 26 percent say policies have helped the middle class.
Both parties agree that big banks and corporations have benefited, but they're more divided about how individuals have been affected. Democrats are 18 points more likely than Republicans to say the wealthy have been helped by at least a fair amount, and 20 points more likely to say the middle class has been helped.
The results reflect an enduring skepticism about the government's ability to give an economic boost to lower- and middle-income Americans.
Most people don't think they'd be personally helped by the economic policies pushed by either party, a HuffPost/YouGov poll found, including ideas like a minimum wage hike, equal pay for women, and childcare funding, which President Barack Obama made cornerstones of his latest State of the Union address on "middle-class economics."
"It's just a coincidence that I have work," Brian Krueger, who found a job at an Illinois power plant after a year without work, told HuffPost in February. His unemployment benefits were cut about halfway through his unemployment, after Congress decline to renew longterm federal aid for the jobless.
In a HuffPost/YouGov poll taken at the end of last year, even those who saw an improvement in their own finances largely credited individual factors like their own hard work or a new job, rather than broader economic trends.
"I think in some areas, the economy's doing better, but at the same time, there's still a lot of people struggling and still recovering right now," Kelly Lingo, a 23-year-old in Fresno, California, told HuffPost in December. Lingo found a full-time job this year thanks to family connections and previous work experience. "And I think that our situation is kind of a stroke of luck."

Pew Research surveyed 1,504 adults between Feb. 18 and Feb. 22, using live interviewers to reach both landlines and cell phones.
Calling all HuffPost superfans!
Sign up for membership to become a founding member and help shape HuffPost's next chapter
BEFORE YOU GO
PHOTO GALLERY
9 Billionaires Who Don't Work On Wall Street