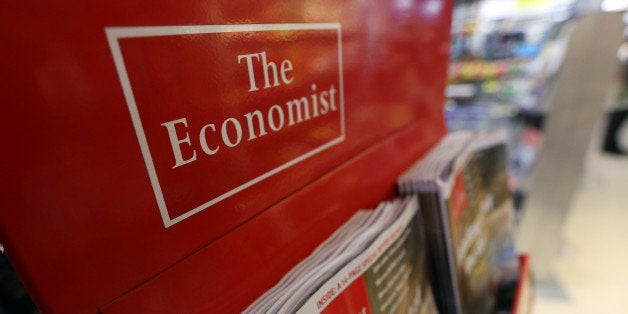 LONDON, Jan 16 (Reuters) - The Economist has removed a picture showing the cover of Charlie Hebdo, which features a cartoon of the Prophet Mohammad, from one of the British newsmagazine's editions that is printed in Singapore, a spokeswoman said on Friday.
The first edition of the satirical French journal to appear since Islamist gunmen killed 12 people at its offices in Paris on Jan. 7 has been criticized by some Muslims as offensive and provocative.
The Economist spokeswoman said that in print copies of the magazine that are sold in parts of Southeast Asia, a page now read: "In most of our editions this page included a picture showing the current cover of 'Charlie Hebdo'. Our Singapore printers declined to print it."
The message also directed readers to where they could view the image on The Economist website if they wished to.
Singapore-based Times Printers Pte Ltd said The Economist had asked them if they had any concerns about running the image, which depicts the Prophet in tears holding a "Je Suis Charlie" placard under the headline "All is Forgiven."
"We consulted and registered our concerns with The Economist magazine. After deliberation, The Economist ... sent out a replacement page to us which we have printed accordingly," the firm said in a statement.
Singapore Information Minister Yaacob Ibrahim, whose portfolio also includes Muslim affairs, said on his Facebook page he appreciated the printers' decision as the image would not have been authorized for publication in Singapore.
"Singaporeans recognize the importance of preserving racial and religious harmony in our country. I appreciate how the printer understood the sensitivities involved," he wrote. "We do not believe that freedom of expression is without limits."
In France, the "survivors' edition" of Charlie Hebdo sold out within minutes of going on sale on Wednesday. It has been robustly defended as upholding freedom of expression by many public figures as well as by the staff who produced it.
Demand for Charlie Hebdo in France remained strong on Friday for the third day in a row. The weekly has long featured cartoons lampooning Islam and other religions.
Elsewhere, about 200 Pakistani protesters clashed with police outside the French consulate in Karachi after a demonstration against the cover of Charlie Hebdo.
The Economist is half-owned by the Financial Times, a subsidiary of Pearson. (Reporting by Kate Holton in London and Aradhana Aravindan in Singapore, writing by Estelle Shirbon)
Calling all HuffPost superfans!
Sign up for membership to become a founding member and help shape HuffPost's next chapter