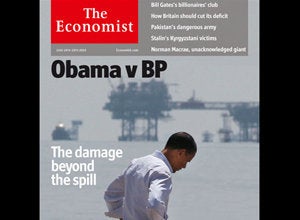 The Economist is defending photoshopping a Reuters image of President Obama in the gulf for its recent cover on "Obama v BP."
The magazine used a May 28 photo of Obama on a Louisiana beach with Coast Guard Admiral Thad Allen and local parish president Charlotte Randolph. For its cover image, however, The Economist showed only Obama, looking every bit the lonely president with his head down on the beach confronting his crisis.
Reuters has a strict policy against modifying, removing, adding to or altering any of its photographs without first obtaining the permission of Reuters and, where necessary, the third parties referred to.
But The Economist insists their intentions were pure in editing the photo, and that it was not an effort to make Obama look alone.
In a statement to the New York Times, deputy editor Emma Duncan (who made the decision), said Admiral Allen was removed by the crop and that the local parish president was removed "not to make a political point, but because the presence of an unknown woman would have been puzzling to readers."
"We don't edit photos in order to mislead," she continued. "I asked for Ms. Randolph to be removed because I wanted readers to focus on Mr. Obama, not because I wanted to make him look isolated. That wasn't the point of the story. 'The damage beyond the spill' referred to on the cover, and examined in the cover leader, was the damage not to Mr. Obama, but to business in America."
"It's an interesting explanation, and I respect Duncan's integrity," The Guardian's Roy Greenslade wrote. "But the main headline said 'Obama v BP', so am I alone in finding her answer just a little disingenuous?"
Economist cover: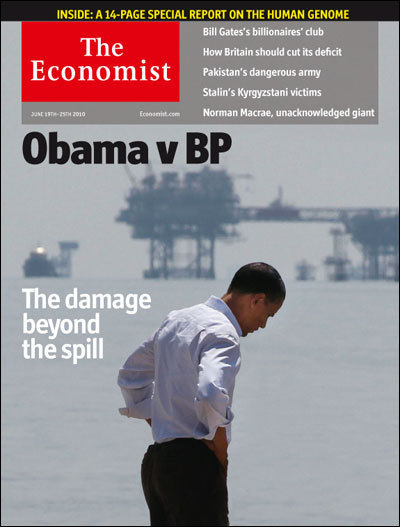 Obama with Randolph and Allen (note: the below photo is from Getty Images, not Reuters, but is near-identical to the Reuters photo used in the above cover):