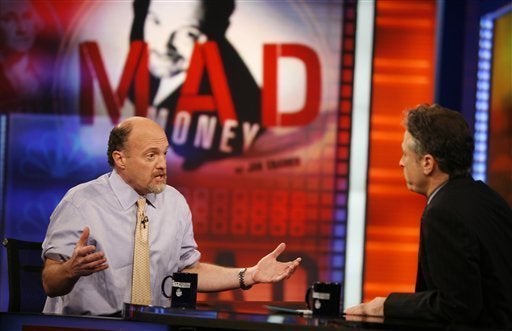 A group of leading progressives and economists have penned an open letter to CNBC demanding that the network publicly change its mission to focus more on Wall Street accountability.
Building off of the momentum from last week, in which CNBC personality Jim Cramer was subjected to an embarrassing lecture by the Daily Show's Jon Stewart, the group is launching, alongside its letter, a website: http://fixcnbc.com/.
"Americans need CNBC to do strong, watchdog journalism -- asking tough questions to Wall Street, debunking lies, and reporting the truth," the letter reads. "Instead, CNBC has done PR for Wall Street. You've been so obsessed with getting 'access' to failed CEOs that you willfully passed on misinformation to the public for years, helping to get us into the economic crisis we face today. You screwed up badly. Don't apologize -- fix it!"
The letter is signed by, among others, Dean Baker of the Center for Economic Policy Research; Doug Henwood, author of Wall Street and After the New Economy; Lawrence Mishel of the Economic Policy Institute; Linda Jue director of the G.W. Williams Center for Independent Journalism; Robert Borosage of Campaign for America's Future, Todd Gitlin, a professor of journalism at Columbia University; Adam Green, Co-founder of Progressive Change Campaign Committee; Rick Perlstein, author of NixonLand; and Chris Hayes of the Nation.
While all are progressive figures to some extent, the group members insist their cause is about substance, not politics.
"[CNBC is] bringing on people who are cheerleaders for Wall Street," said Baker. "It wasn't good economic reporting, it was trying to get people to buy stock... [host] Larry Kudlow says we are for free enterprise and free markets, and it is fine that there are shows like that. But there is very little effort to give the other side. And obviously it was a big deal. We had a disaster that should have been foreseeable and for some of us it was foreseeable."
The goal of the www.FixCNBC.com effort -- officials say the group will follow up the letter with phone calls and a delivery event at the network headquarters -- is to persuade the CNBC brass to prioritize investigative financial journalism over Wall Street "access." The network, in interviews defending its coverage, has noted that they were not alone in missing or underestimating the current economic troubles, that they have aired comprehensive segments on the housing bubble and subprime mortgage crisis, and that they were, essentially, lied to by business leaders who were touting the market's solvency.
But those rejoinders, signatories of the FixCNBC petition say, miss the forest for the trees. Complaints about the station, as Mishel sees it, are as much about culture as coverage.
"The anchors and the reporters and their approach to economics are far outside the mainstream," he said. "They can have all sorts of shows. But in the end, they were tools of the industry and haven't shown any contrition and reflection or a desire to move to a broader role. This isn't about putting a few progressive economists on shows. It is a much deeper evaluation of what the basis of the network's failures were."
Popular in the Community