As we approach the end of 2011, more and more attention will be applied towards answering the profound question: why is this year different than any other year (or why was it the same)? To facilitate this scrutiny, I've called upon Architecture Research Office (ARO) and Gustafson Guthrie Nichol (GGN), the recently announced Architecture Design and Landscape Architecture winners, respectively, of Cooper Hewitt's National Design Awards. There's no doubt that the economy and technology continue to pressure the design discipline at large, and in my opinion, emerge as the unrivaled energies (again) of the year. I'd like to share responses from ARO and GGN on this matter.
PHOTO GALLERY
Cooper Hewitt's National Design Awards, ARO and GGN
Jacob Slevin: We're undeniably living in a very distinct time defined in large part by a struggling global economy and shifting modalities of information consumption. Is there anything about your current body of work that you feel responds to this particular context and played a role in your winning the award this year?
ARO: As a part of a boom in information consumption today, there's a broader appetite for architectural ideas. Design--whether defined in terms of individual products, information, experience, or architecture--is now in the consciousness of the general public. And it's increasingly understood as a driver of change.
If you look at the material ARO created for Five Principles for Greenwich South and MoMA's Rising Currents exhibition, we've tried to get good ideas out there in clear and compelling ways. Both projects were crafted to engage the general public as well as policymakers or other architects. Both projects also address questions of sustainability, energy consumption, and climate change--subjects architecture is well equipped both to describe to the public (through clearly presented data and information) and to provide leadership on.
If ARO does stand out from past winners in the architectural field, it has to do with a desire to work with ideas across a range of scales. Take sustainability, for instance. While we were working on Rising Currents, which looked at adapting New York City's infrastructure to respond to higher sea levels brought on by a changing climate, we were also doing R-House, a competition-winning affordable housing prototype designed to meet the Passive House Standard that was built last year in Syracuse. (A passive house can be between 70% and 90% more energy efficient than a conventional home but it is also very low-tech and affordable to construct.) Both projects were also collaborations with other designers, something else ARO believes in strongly. When the Alliance for Downtown New York asked us to do a long-term master plan concept for 41-acres of Lower Manhattan, we proposed a strategic framework that could engage leaders in many different communities and the general public. We then commissioned a dozen artists and architects to test and illustrate the opportunities we had found. Then, to capture the public's imagination, the Alliance released Five Principles for Greenwich South: A Model for Lower Manhattan as a book and as an exhibition at Zuccotti Park. And the Greenwich South we conceptualized is a 24/7, live-work, highly sustainable neighborhood. So, looking back on 2009-2010, ARO worked simultaneously on a house, a neighborhood, and an urban infrastructural system--each exemplifying a unique approach to sustainability.
This range of scale in our work is something ARO strives to maintain. At present, ARO is designing a new 80,000-sf dormitory on Tulane University's campus; a new performing arts center for the Flea Theater on Thomas Street in Lower Manhattan; a private house in Minnesota; and we're also consulting to the General Services Administration and the National Endowment for the Arts on expanding design quality throughout the Federal government.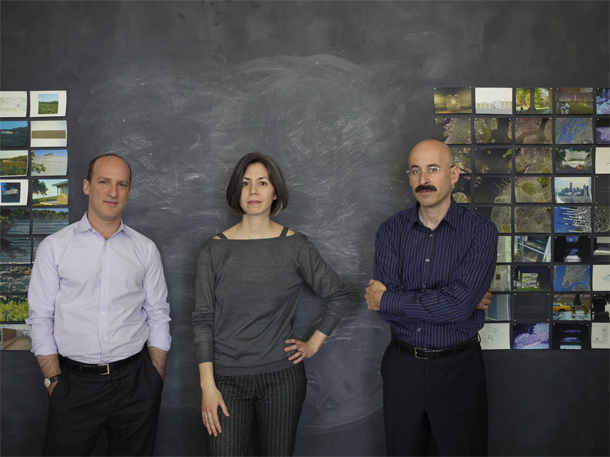 Stephen Cassell, Kim Yao, and Adam Yarinsky of ARO. Photo courtesy of Lajos Geenen.
GGN: We have seen a positive trend in the current interests of our clients and of the public - a return to recognizing the beauty and unselfconscious of practical problem-solving with elegant, efficient design. GGN's body of work, which dates back to our founding in 1999, reflects this kind of approach to landscape architecture. The recent shifts of culture in response to the economic climate have actually suited our natural work methods well and, if anything, have increased our activity and the recognition of our body of work.
We believe our landscapes have been recognized for creating spaces that often appear simple, serene, or intuitive while embedding all of the complex functions of a place for modern life.
We have always been fortunate to have clients who, in any economic climate, enjoy our process of solving the complexities of each site in the most refined, clear, and unapologetically remarkable landform that we can develop for that purpose. However, we are certainly seeing an increased appreciation for both more aesthetic refinement and more technical integrity and endurance in landscape designs. This suits our natural process, as our work is about integrating solutions into the form of the land rather than relying on graphic pattern applications or on displaying raw "systems" to promote the functionality in an unnecessary manner.
Our body of work can be seen as representative of the all-encompassing design process of the landscape architect - not only exposed "systems" and not only smooth "design," but both, creatively and often quietly integrated into the land. This fully integrated process, which embeds complex functions into deceptively simple landforms and spaces, is the process upon which the profession of landscape architecture was originally founded. Olmsted's work set a bar for this integration without a gimmick of invented arguments between form and function.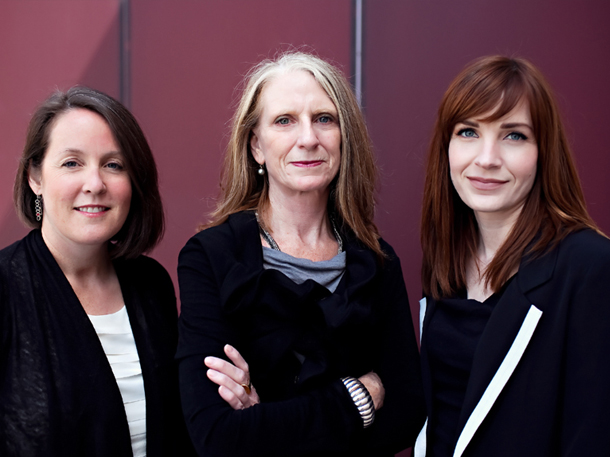 Jennifer Guthrie, Kathryn Gustafson, and Shannon Nichol of GGN. Photo courtesy of Julie Harmsen.
Calling all HuffPost superfans!
Sign up for membership to become a founding member and help shape HuffPost's next chapter