 "For the record, Ted Strickland totally emailed those one-liners to me, and I rejected them. #DNC2012" @InvisibleObama tweeted last night, referencing the former governor of Ohio's remarks labeling GOP presidential nominee Mitt Romney as an outsourcing Santa.
Strickland's pointed remarks were closer in tone to last week's Republican National Convention speeches, which attacked President Barack Obama twice as frequently as they praised Romney, than the rest of the Democrats' speeches. The first night of the Democratic National Convention saw a line-up that praised Obama more in one night than Romney was mentioned all last week. Strickland was followed by Health and Human Services Secretary Kathleen Sebelius, Chicago Mayor Rahm Emanuel, Massachusetts Gov. Deval Patrick and actor Kal Penn, whose speeches embraced the party's new motto, "Moving America Forward."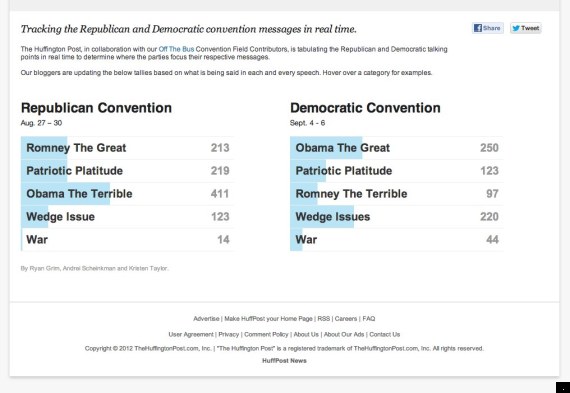 HuffPost Off The Bus bloggers used the new Convention Mention Meter to track talking points in real time, showing that the main focus of Tuesday's remarks was the economy. The term was mentioned over 100 times in total, dropped into almost every speech and often discussed along with the need for a "robust" middle class. Newark Mayor Cory Booker mentioned the economy seven times, wrapping it into the platform motto in the first line of his speech: "Our platform, crafted by Democrats, is not about partisanship but pragmatism," he said, "not about left or right, but about moving America and our economy forward."
The wars in Iraq and Afghanistan were mentioned 44 times on Tuesday, a stark contrast to the RNC speeches that rarely mentioned them and Romney's acceptance speech, which ignored them completely. Women's issues and immigration, meanwhile, were mentioned almost as frequently as Obama was.
Calling all HuffPost superfans!
Sign up for membership to become a founding member and help shape HuffPost's next chapter
BEFORE YOU GO
PHOTO GALLERY
Obama Rocks Democratic Convention