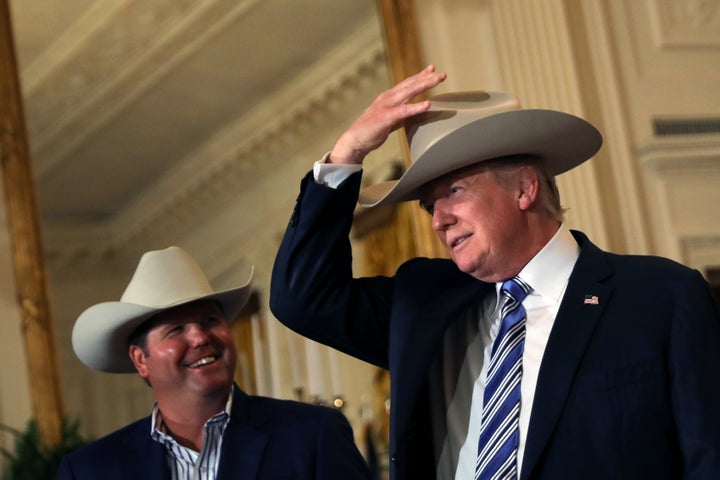 There's little good news for President Donald Trump in a blizzard of new polling data published over the last few days.
Nearly half of respondents think the U.S. has become a weaker world leader since Trump took office, according to a Washington Post/ABC News survey published on Sunday, with most saying they don't trust the president to negotiate with other leaders, including Russian President Vladimir Putin.
Just under one-third of people polled by Monmouth University say Trump has spent a lot of time focusing on issues important to average Americans. According to data released on Monday, most respondents say they're concerned about the Trump administration's attitude toward Russia and say they support further investigation into Russian election interference.
And most Americans surveyed disapprove of Trump's work as president, not to mention his specific handling of health care, immigration and international relations, according to a Bloomberg news survey conducted by Selzer & Co. and also released Monday. A majority, 56 percent, say they've become more pessimistic about Trump since he was elected, with few believing he'll be able to live up to his promises to build a border wall, reform the tax code or revive the coal industry.
"If you take the president's scores out of this poll, you see a nation increasingly happy about the economy," pollster J. Ann Selzer told Bloomberg. "When Trump's name is mentioned, the clouds gather."
About the best news for the president is that his numbers have remained relatively stable since June. While the demise of the first round of the GOP's unpopular health care bill appeared to take a toll on his numbers, the latest debate has shown little sign of doing so. The ongoing controversy over the Trump administration's relationship with Russia has also done seemingly little to move the needle.
"Donald Trump's job rating has basically held steady amid another round of supposedly damaging news," Monmouth University's Patrick Murray noted. "Most Americans disapprove of his son and other advisers meeting with a Russian lawyer during the 2016 campaign, but that hasn't really moved the needle on any other public opinion metric related to the president."
Trump's ratings have, however, dropped since earlier in his presidency. His net approval stood at about -8 at the beginning of May, and -3 at the beginning of February. The downward shift isn't unusual, as FiveThirtyEight noted Monday ― presidents tend to see their numbers fall off as they delve further into their first terms ― but the ratings themselves are historically bad for a modern-day president.
Trump took office with substantially lower approval than his predecessors, and the intervening months have done nothing to improve that difference. Although his ratings remain high among Republicans, the president saw very low numbers from Democrats and independents during his first quarter in office. Some of that disparity appears to be part of a trend toward more partisan approval ratings: Barack Obama, George W. Bush, and Bill Clinton all also saw far lower ratings from the opposition party than did their predecessors. But Trump has taken the partisan gap to a new level, while also failing to attract much support from those identifying with neither party.
"Trump's perceived character shortcomings appear to be the primary basis for why Americans disapprove of the job he is doing," Gallup's Jeffrey M. Jones noted. "As such, much of the opposition to Trump is more fundamentally rooted in who he is, rather than how he is doing his job, which suggests negative opinions of him will not change easily."
Dislike of Trump's demeanor may not always be enough to sour his supporters on him. Trump was also historically unpopular when he was elected president ― and, as HuffPost noted earlier this month, 19 percent of voters who didn't believe he had the temperament to serve as president voted for him anyway. But Trump's approval rating could have an impact on his party's chances in the 2018 midterms: In recent midterm elections, the sitting president has generally outpolled his party as a whole.
Bloomberg Politics and Selzer & Co. surveyed 1,001 adults between July 8 and 12. Monmouth University surveyed 800 adults between July 13 and 16. The Post/ABC poll surveyed 1,001 adults between July 10 and 13. All three used live interviewers to reach both landlines and cell phones.
Popular in the Community