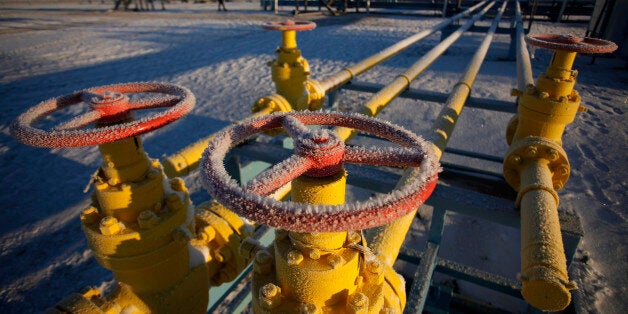 Mohamed A. El-Erian is the former CEO/co-CIO of PIMCO, the global investment management firm. He is chief economic advisor at Allianz and member of its International Executive Committee, chair of President Obama's Global Development Council and author of the NYT/WSJ bestseller "When Markets Collide." Foreign Policy named him one of the world's "Top 100 Global Thinkers" for 2009, 2010, 2011 and 2012.
Can good old-fashioned economic self-interest provide temporary relief for what now seems to be an intractable crisis in the Ukraine? The answer is yes it can; and, more importantly, may well eventually and temporarily do so. . .by incentivizing a de-escalation of mounting tensions, but failing to durably resolve underlying problems that will likely re-emerge down the road. The crisis in Ukraine pits multiple parties against each other, both domestic and foreign. Each of them is operating with a different set of internal and external constraints, along with contrasting interpretations of the past and present -- and of course, the future. As recent developments vividly illustrate, none of the parties involved is strong enough to impose its will and interpretation of events on the others. Because of this complex reality, the crisis has already taken quite a few surprising and precarious turns, including this weekend's referendum. Concurrently, various attempts to find some "circuit breaker" -- no matter how imperfect, small and temporary -- have proven frustratingly ineffective. Over the next few weeks, however, another reality is likely to gradually impose itself -- and this one in which rational economic considerations could gradually dominate geo-political ones. In a rational content, it would only be a matter of time before it becomes abundantly clear to all major parties involved -- yes all, internal and external -- that the path that the Ukrainian crisis is currently on is detrimental to both their individual and collective economic interests. Indeed, the actual and prospective economic losses are likely to be so large as to seriously overwhelm any real or perceived geo-political victory. Ukraine itself is in the worst position of all. The country is on the verge of significant economic and financial disruptions. Already, it urgently needs tens of billions of dollars just to stabilize its shaky finances, limit shortages, avoid crippling inflation and sidestep international default. Capital flight is a problem notwithstanding controls. Reports of people standing in line to take money out of ATMs are adding to the general anxiety. Ukraine's urgent need for large exceptional external assistance does not stop at immediate stabilization requirements. The country will require even more funding and debt relief to support the implementation of multi-year reforms aimed at generating high growth and adequate job creation. As messy as the Ukrainian situation sounds -- and it is very messy -- its standalone systemic implications could theoretically be contained from both a regional and global perspective. After all, with a GDP of around $175 billion, its economy is small on the global stage. Other than a conduit for Europe's energy supplies from Russia, it does not influence important global supply chains and demand patterns. And its role in international capital markets is very small. This would be good news for the rest of the world, especially as Ukraine's internal social and political divisions are unlikely to be resolved in a durable fashion any time soon. However, having said that, Ukraine is indeed systemic for a simple yet powerful reason: its messy political crisis entangles Russia, western European countries and the United States. To this point, these external parties have not been able to trigger a circuit breaker, let alone negotiate a longer-term compromise or, even better, a durable resolution. Neither the calls between Presidents Obama and Putin nor the face-to-face negotiations among their foreign ministers and the United Nation meetings have yielded anything substantive. Instead, the rhetoric continues to heat up; and the stakes keep on getting bigger. This weekend's referendum in Crimea was yet another step away from de-escalation, as was the understandable tone and content of last week's G-7 statement that included strong legal and moral condemnation of Russia together with the west's reminder that it has suspended "participation in any activities related to preparation" of the G-8 meeting scheduled to be held in Russia. Needless to say, Russia's response was equally harsh. And the cycle goes on. . . Indeed, wherever you look, the momentum would seem to call for a further escalation of the crisis. But, importantly, there may be an important and rational twist out there that could become more apparent and relevant over time: Neither Russia nor the West can avoid the serious economic damage that would accompany a continued deterioration at the current rate.
"Neither Russia nor the West can avoid the serious economic damage that would accompany a continued deterioration at the current rate."
Consider the Russian situation. The minute President Putin moved on Ukraine, international markets immediately jacked up the risk premiums on the Russian sovereign bonds, quasi-sovereigns (such as Gazprom), banks and companies; and it has kept the at these elevated levels. The result is higher borrowing costs for all Russian entities, along with more limited access to international capital. Markets also put immediate pressure on the Russian ruble, making it the second worse performing currency in the world this year -- and this despite the central bank using tens of billions of dollars in international reserves to soften the blow. The financial pressures will likely be amplified by the prospects of higher capital outflows and lower inward flows of foreign direct investments. As a result, and in addition to the hit to economic growth, ordinary Russians would be paying higher prices for a wide range of imported goods in their consumption basket. Given that Russia is the eighth largest economy in the world (with a $2 trillion GDP) and is quite integrated in the global financial system, Russians are not the only ones that would suffer from a further escalation of the Ukrainian crisis. The rest of the world would be impacted, starting with Europe. Europe accounts for almost 40 percent of Russia's trade. As such, western firms would feel pain from the reduction in Russian sales while others would be impacted by possible disruptions in supplies from Russia. And the last thing that Europe needs right now is less demand and higher input uncertainties. Already, the region's emergence from recession is proving both muted and tentative. Meanwhile, the fall in prices of Russian financial instruments has already translated into mark-to-market losses for global investors and international banks. If the selloff continues -- which will happen if the Ukrainian geo-political crisis continues to escalate -- it is only a matter of time before this contaminates the financial standing of some western entities, starting with banks that are heavily exposed to Russia. The economic consequences for both Europe and Russia would be significantly worse if a complete breakdown in the dialogue on Ukraine were to lead to generalized trade and financial sanctions and boycotts, including a disruption in Russian energy supplies to the West and in Russian banks' access to international payments and settlement services. Such an outcome would send Europe and Russia into recession and, most likely, reignite global financial instability. Of all the major parties, the U.S. is in the best relative shape. Its direct economic and financial linkages to Russia and Ukraine are limited. Its domestic demand component is a much more effective stabilizer. And its financial institutions are less exposed. Yet even the United States cannot totally sidestep the adverse contagion emanating from eastern and western Europe. It would likely experience some economic collateral damage from the combination of recessions in Europe and Russia and renewed global financial market turmoil. As recognition mounts of these "lose-lose" dynamics, look for economic interests to gradually serve as an incentive to push each of the major parties to a messy compromise -- one that is far from optimal but still attractive because it avoids a much worse outcome in the short-term. And while such a compromise, as rational as it seems, is far from guaranteed, it would become a more possible outcome over the next few weeks.
"As recognition mounts of these "lose-lose" dynamics, look for economic interests to gradually serve as an incentive to push each of the major parties to a messy compromise."
So what could a compromise look like? It would probably be anchored by two things: - First, the West would tolerate substantive and pervasive Russian influence over Crimea and parts of eastern Ukraine (including by acknowledging that Russia has a "legitimate interest") while Russia "commits" to respect the de jure territorial integrity of Ukraine; and - Second, for its part, Russia would tolerate (indeed, support) a major IMF program for Ukraine which, in addition to providing significant immediate financial assistance, would (to quote the recent G-7 statement) "be critical in unlocking additional assistance from the World Bank, other international financial institutions, the EU, and bilateral sources," Russia could even acquiesce to deferring some of what Ukraine owes it in debt service and other payments (including for energy supplies). Such a compromise would reduce immediate economic and financial risks while providing time for all parties involved to iterate to a more sustainable outcome. But it would only partially address some key issues while completely ignoring others. As such, its durability would be limited. Over the next few weeks, good old-fashioned economic self-interest is likely to start dominating geo-political considerations and could help to de-escalate a Ukrainian crisis that has already gone well beyond what most people would have expected. However, this far-from-linear process will not resolve the crisis in any durable and sustainable fashion. For that, Ukraine requires the combination of a strong home-grown solution and a supportive external power that is influential enough to impose itself on other external players. Neither of these possibilities seems likely, at least for quite a while.
REAL LIFE. REAL NEWS. REAL VOICES.
Help us tell more of the stories that matter from voices that too often remain unheard.