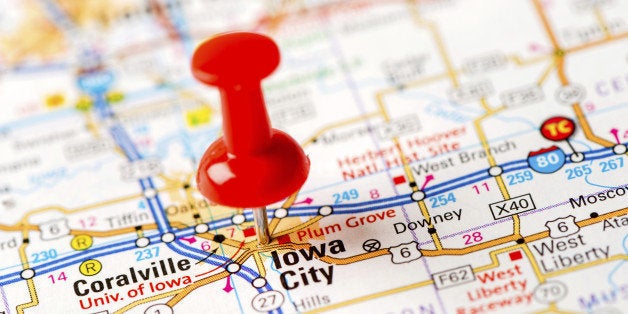 As cities launch aggressive climate action initiatives, including the Compact of Mayors' agreement, how are artists playing a key role in re-envisioning urban planning with new stories and narratives, bringing together diverse communities for lively conversations, and galvanizing local action?
On Friday, March 25th, musician Katie Roche and her Awful Purdies band will take the stage at the historic Old Capitol Senate Chambers in Iowa City with a new show, "An Evening at the Ecopolis," to demonstrate how artists can be creative risk takers beyond today's boxes and silos, as well as active participants in shaping an urban agenda in an age of climate change.
"I think it's a shame when the arts are an afterthought or used simply as a tool to attract crowds," Roche recently told me. "The arts are a reflection of our humanity and can amplify a conversation about almost anything, if brought to the table during the planning process."
Along with being a musician in two bands, Roche has served as a writer, television producer, festival organizer and arts administrator in Iowa and New York City. Both off and on stage, she has played a unique role as a cultural broker and communicator.
Celebrating their 10th anniversary, the Awful Purdies band has released three albums deeply rooted in the land and people, with lyrics that spring from personal stories and challenges, backed up with beautiful harmonies and irresistible music grooves. The Purdies' most recent album, "All Recipes Are Home," drew from regional food and farm traditions, as part of a yearlong theatrical production with Sean Lewis of Working Group Theater.
I caught up with Roche last week to discuss the role of artists in the regenerative city, and the Purdies' own approach to storytelling and music in changing communities today.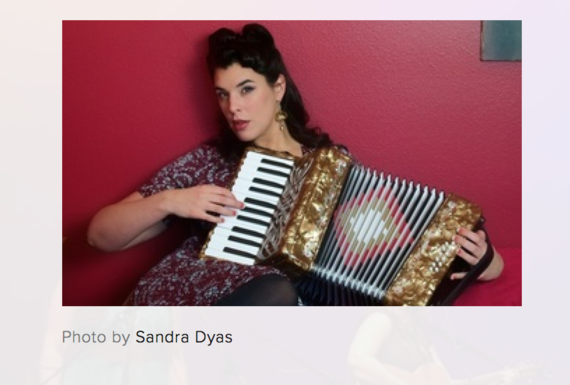 Jeff Biggers: Tell us a little about the Awful Purdies, and your own work with other bands and arts projects in Iowa City and beyond.
Katie Roche: In December of 2016 Awful Purdies will have been together for 10 years, so we are spending this year marking that accomplishment through performances, reflection and with a renewed desire to continue to make music together throughout our lives. We had a few wonderful original and founding band members move on, but for most of band's life Awful Purdies has consisted of the current five: Nicole Upchurch, Marcy Rosenbaum, Katie Senn, Sarah Cram and me.
Awful Purdies was really formed with a simple question in mind: what would it be like to be in an all female band? We've been on an amazing journey, answering that question through friendship and making folk music. In 10 years we've made three albums, been featured in a bunch of compilations, TV shows and movies, collaborated on multiple theater pieces, been funded by the Iowa Arts Council and National Endowment for the Arts, added 2 husbands, 5 children and 3 grandchildren to our families, lost one of our mothers, suffered from injury and illness and have devoted ourselves to our craft by developing a completely democratic band that empowers us both as musicians and as women.
Awful Purdies is comprised of five songwriters, who are all multi-instrumentalists. We take turns stepping up as songwriter and lead singer, so we've had to figure out how to sort through all of the ideas and ways that a song can come to life. We've all had to do a lot of growing up and figure out how to balance our determination to craft a song with our desire to make sure that we are each heard in the process. When writing music, the goal is to end up with a great song for the band, but along the way it's important for us to consider or experiment with each of our ideas, while hearing and offering critique in a way that is constructive and supportive. Every song is living map of the care we put into crafting it.
I've been singing in bands since I was 18 years old, for over half my life, and consider writing and performing music to be one of the most important acts of self care that I practice. Every member of Awful Purdies is the kind of musician who must write and perform in order to be living a happy and well rounded life. It's remarkable to be a part of something that feeds us all in such an essential way. It's more than a band. It's a sisterhood. Annie Savage, who formed the group and now lives and performs in Colorado once dubbed us "a secret coven working for social change". That's always resonated with me, from the start, but now it's really become that, minus the witches brew.
I've also been singing Jazz since 1999 and currently serve as lead singer for a Jazz band called The Dandelion Stompers, which mostly plays 1920's tunes. I get to belt in that band and I think of it as "exercising my demons". Some people run, some people meditate, some people listen to Shellac really loud (which I highly recommend), and I sing prohibition era jazz. It keeps me happy and energized.
JB: Artists and musicians tend to be invited at the tail end of urban planning events, often like window dressing. How do you see artists playing a role in shaping the narrative and vision of city events and urban planning designs?
KR: I think the arts or artists are brought in as an afterthought or a late addition because we all know that the arts attract a broader demographic to urban planning. Think of Millenium Park in Chicago.That park was planned around art and had a ton of energy and buy in as a result. I think it's a shame when the arts are an afterthought or used simply as a tool to attract crowds. The arts are a reflection of our humanity and can amplify a conversation about almost anything, if brought to the table during the planning process. I think that artists should be a part of every conversation about improving the places we live. Often a performance space or public art can be the anchor that's needed to make a place vibrant. If you start with that kind of energy, and plan in tandem with that energy, you're going to be more successful.
Outside of playing in bands and outside of being an artist, I'm an arts advocate and fundraiser. I'm always thinking about how the arts can help shape the future, make communities more inclusive and bring a community together. The arts don't exist in a vacuum. They emerge from humanity, a reflection and amplification of our humanity and the arts have always played a huge role in shaping how we think about the problems facing us. Think of the role that music played in the anti-war movement in the 60's. Music was an enormous catalyst and messenger, a unifying force for those opposing the war. It's important for people to understand that the arts and artists are not just entertainment or for the elite. The arts and humanities can penetrate across party lines, across socioeconomic boundaries, across race and across time. Art historians know how deeply influential the arts were in their time, but in the moment it's often hard for people to grasp the significance of music or street art, or say, a piece of theater and how it can change the world.
I like to think of the arts and the humanities as existing on a matrix with every problem facing us today. The arts and humanities are the columns and all of the problems facing our cities, all of the things we need to take into consideration to improve our lives for future generations are the rows. So, how can spoken word help with food insecurity? How can theater address racial inequality? How can music help with climate change? How can a museum help with voter apathy? How can the arts help us to better understand and solve the issues facing us today?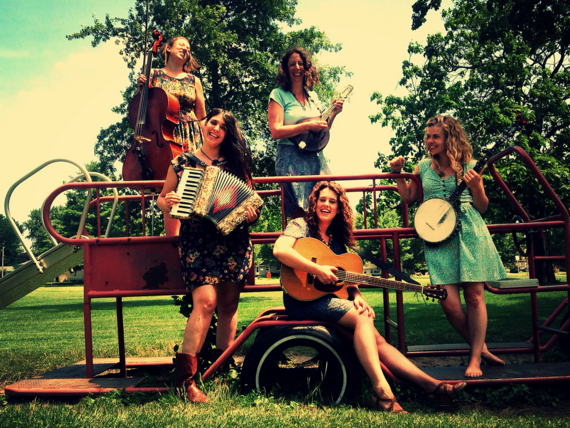 Photo courtesy of the Awful Purdies

JB: Can you give us a little background on the Purdies' last album, All Recipes Are Home, and your collaboration with an Iowa City-based theatrical production?
KR: As folk musicians, telling the stories of our lives and the lives of the people around us is right in our wheelhouse, so when we were invited by playwright Sean Lewis of Working Group Theater to spend part of 2014 and 2015 writing five songs for a new play called "All Recipes Are Home" about food and farming we decided to make a full album and agreed it would be better for us to write songs that came out of stories from real people. So, with the help of a grant from the Iowa Arts Council and the Iowa Department of Cultural Affairs (who receive their funding from the National Endowment for the Arts) we set out to gather source material from farm/food production workers from around the state.
Our method for gathering stories was simple: bring together the people we want to hear from to hear us play some of our music, and then sit in a circle and talk. We ask questions, they tell stories and we listen. We've also posted an online survey at awfulpurdies.com, sent essay questionnaires to the vendors at farmers markets around the state and we each spent time pursuing people who might be able to shed some light on a subject that we don't know much about, like meat production. We've written music that we'd never have written if we had not heard from people like Lois Pavelka; a song, an ode to hard work came spilling out of her letter. And themes emerge from talking to so many people, themes like how isolating it can be to work the land when you are from another land, how quiet a life on the farm is, how children leave and don't return, how other peoples children arrive and want to farm, and how important recipes are in helping us remember our families.

In the spring of 2015, "All Recipes Are Home," the play, toured the state, first playing a state-of-the-art performing arts center, then an open field equipped with lights and sound and finally a barn at a county fairground. It was super Iowa! We released the album later that summer as a download card attached to a packet of heirloom seeds from the nonprofit company Seed Savers, out of Decorah, Iowa. By the end of that summer our fans were eating watermelon and listening to our music and the stories of Iowans who feed us with their hard work.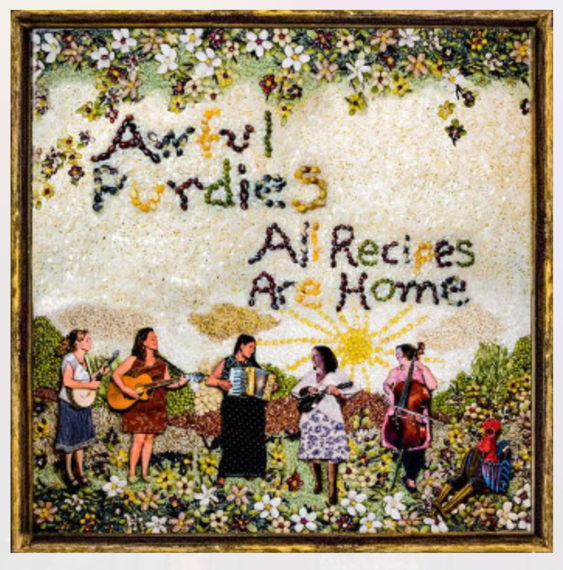 All Recipes Are Home, courtesy of Awful Purdies
JB: You and the Purdies performed at the first Ecopolis event, two years ago. Since then, you've been vital to a local school initiative for solar energy, among other projects. How do you see the Ecopolis songs and stories changing and spreading to other cities, like Dubuque or Cedar Falls or even Chicago?
KR: I love the device of story telling and music to bring people into a conversation and make it relevant to them. There is this great show called Maria's Voice that deals with domestic violence through tap dance, poetry and music to transform one woman's personal story of violence into a story of resilience of the human spirit to survive. Most people would not willingly sit through two hours of a speech about domestic violence, but if you deliver this information lyrically, through imagery, poetry and movement, they'll not only sit through it, but they'll cry, they'll leave changed, they leave with a new resolve.
An "Evening at the Ecopolis" does this with the story of climate change. It helps us to realize that the moment of crisis is now, not 20 years from now when it will be too late. It helps us to realize that we have to do something and that there are certain things that we can and should do. It helps take the fear of what might happen and turn it into action. The story changes for each city, making it undeniably relevant to each audience. This isn't about the end the world in some vague far off way, it's about the end of our way of life, by choice, to make a better tomorrow.
Working with this project inspired me to commit real time and effort to trying to convince our local school board to install solar power throughout our district. As we work to serve our increasingly more diverse student population, solar makes it possible to generate our own power, thereby freeing up funds to serve the ultimate mission of our schools: to educate our youth. And having solar on our campuses has the added benefit of demystifying solar, making it normal and attainable. We're not there yet, but as solar advocates say, the answer rises every day! So, everyday is a new opportunity to adopt more sustainable energy practices.
Calling all HuffPost superfans!
Sign up for membership to become a founding member and help shape HuffPost's next chapter