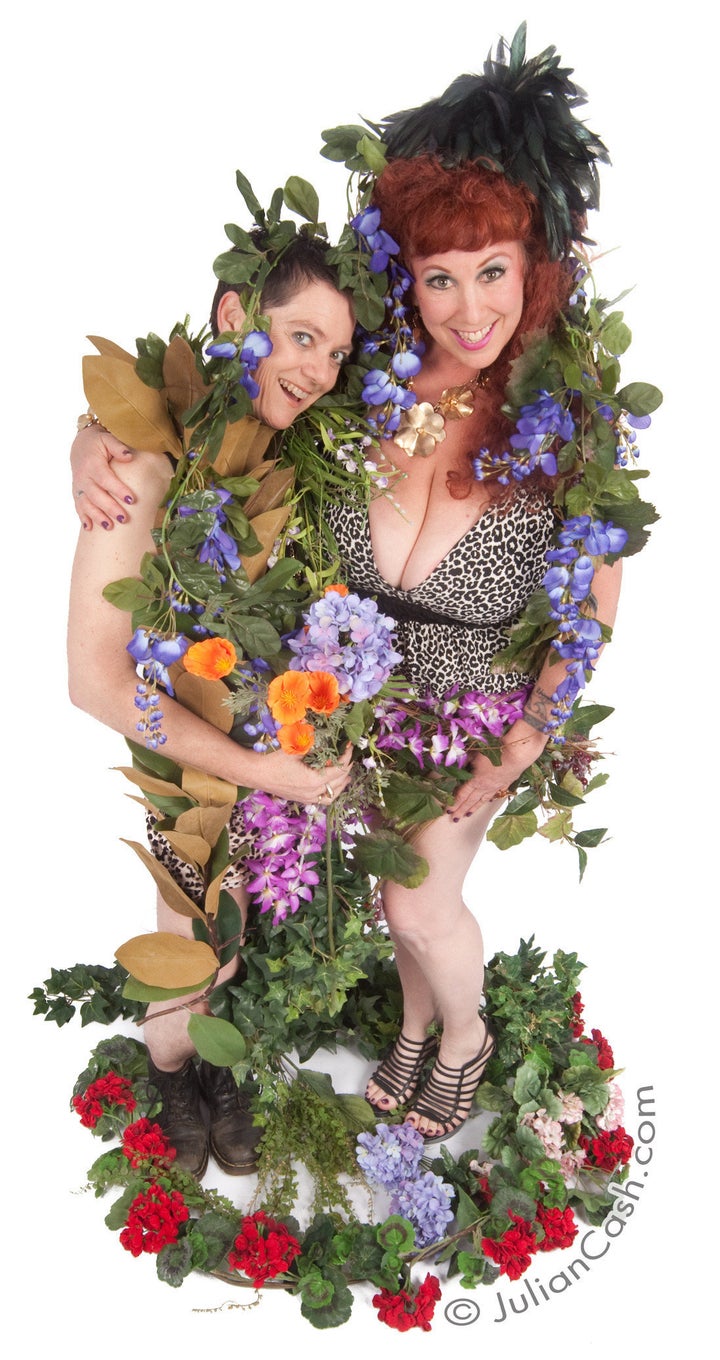 A small number of pioneers are taking their love of nature to the next step and calling themselves "Ecosexuals."
The term is fairly new and you won't find it used clinically just yet. However, there are enough people happy to come out of the closet about their "ecosexuality" that a three-day symposium is taking place in San Francisco June 17-19 so that members of this blossoming community can discuss their garden variety sexual orientation.
The event is officially titled "The Ecosex Symposium II," and takes off from a similar event last October. It is being organized in part by Elizabeth Stephens, an art professor at the University of California at Santa Cruz, and former porn actress-turned-sexologist Annie Sprinkle, Ph.D.
The two are partners and collaborators, but Stephens said they realized they were truly "ecosexual" in 2008 after participating in a group marriage ceremony where they married the Earth.
"There were 450 of us and we all married the Earth," Stephens told AOL Weird News. "And I have never been the same since."
A term like "ecosexual" might sound esoteric at first, but Stephens says, once you understand it, it's quite, er, natural.
"Ecosexuals realize they are part of nature and that nature is, in itself, sensual and erotic," she said. "We see no separation between humans and nature -- there is no human exceptionalism going on here."
According to Stephens, the sexuality part of the quotient can be expressed in a variety of ways.
"You could make love in a field or do a little tree hugging," she laughed. "I know some people who are very turned on watching a campfire."
Lest you think the ecosexual concept is just something some San Francisco kinksters dreamed up for kicks, Stephens says there is a method to the madness.
"This is something we feel, but it is also a strategy to engage people in the environment in a fun way," she said. "Otherwise, people can get depressed by the state of the environmental state."
Sprinkle sees ecosexuality as a way for people to have a mature, adult relationship with nature.
"People talk about Mother Earth, but we want to make this sexy so people will take care of their lover instead of mother," Sprinkle said.
She and Stephens take their love seriously. Besides the Earth, they've married the moon, the Appalachian mountains and snow in Ottawa. And when they go to Spain later this summer, they plan to marry some hunks of coal in the city of Gijan.
Stephens admits the whimsical nature with which she and Sprinkle approach their "treedonism" or "vegisexuality" (some of the alternative terms they use) sounds strange at first, but she is gratified by how her beliefs are translating to people from other sides of the political and sexual spectrum.
"We were in West Virginia recently and we got a very positive reaction from people you wouldn't expect," she said. "We'd hear things like, 'I don't know if I'd put it that way, but it makes sense.' "
The symposium set for this weekend will feature a variety of projects, including a dance piece about conflict, genocide and olive trees in the Middle East, a lecture by former porn actress Sharon Mitchell on the ecstasy of gardening and a discussion by porn actress/artist Madison Young on how the adult industry can become more green.
"I plan on addressing how nature can inspire erotic film making as well as how we can create less of a carbon footprint in our day to day productions of our erotic filming and distribution," Young said.
Some of her tips including having performers swap clothing, catering sets with organic, locally grown produce and including sexy eco-friendly characters into the porn plots, such as having handy men that are installing solar panels on an energy-efficient house instead of the stereotypical pizza boy.
Young hopes that the people who attend the three-day event walk away from this exhibit with a new perspective on art, love, sexuality and the environment.
"Hopefully this body of work will be a catalyst for discussions around how we can make a difference as individuals and as a community, in taking care of our collective lover, the earth," she said. "For some people that might be asking for a compost bin at their work place, planting a roof garden at their apartment building or maybe only using eco-friendly vibrators."
Related
Popular in the Community