My husband Brad and I were married in our small church two and a half years ago in a ceremony that included just the priest and two witnesses who were volunteers from the church. Yet, despite its small size, the wedding was a monumental experience, made much more so that it was held within those church walls where we worshiped, and where our love was considered sacred and our vows were understood to be binding before one another and God.
Yet, we were painfully aware that outside the walls, our vows could be legally evaporated merely by crossing a state boundary. In a very real sense, it was within our church where we felt most fully human and beloved by our community and by God. To many in the outside world, our love was a fiction that they could erase with a wave of an official hand.
So, on this day, I am thankful to God for the Supreme Court's decision and to the American people, who are so rapidly recognizing that our love is no longer debatable. It hard for people who have not had the right to marry whom they love to understand what it means to have your government change its mind, after so long, to finally think of you as 'human enough' to enjoy the full benefits of citizenship.
For Brad and me, and now for our son, the decision by the Supreme Court to legalize gay marriage across the country is like a gate being opened and entrance granted into the hereto guarded sanctum of being considered fully human.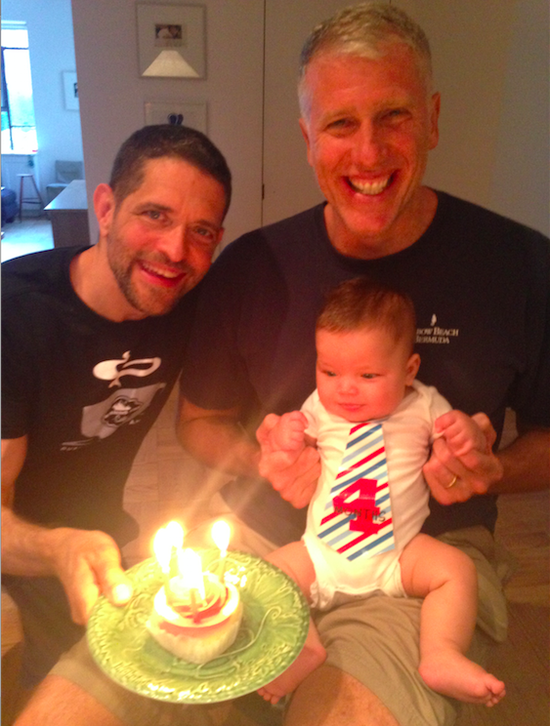 And so I am rejoicing today, and ecstatic that in the years to come, the love that I share with Brad and the love that millions of other LGBT Americans experience will be honored and that LGBT people will have gained dignity and justice at last.
And yet, today, my heart is also despairing. On this great day of celebration, there is also a funeral and great mourning of the loss of the life of Rev. Clementa Pinckney and eight other African-Americans who were shot in Charleston.
For those nine African-Americans, the church was also their sanctuary. And Mother Emanuel AME was a church where, throughout its history, African-Americans were afforded full human dignity when the outside world wanted to enslave them. That sacred sanctuary was brutally violated just days ago by a twisted, sick shooter and today, we mourn the loss of "The Beautiful Nine."
In a legal sense, African-Americans gained the long fought and centuries overdue recognition of their humanity in the Supreme Court and in the Congress a few decades ago. Despite this, the last year of police brutality in Ferguson, New York, Cleveland, Baltimore and now Charleston shows us the limits of these rulings. And the Supreme Court itself gutted some of those same civil rights in a recent ruling. African-Americans still live within a deeply racist America that now has invaded the sanctuary of the church.
Despite this, anyone who watched the church service at Emanuel AME last Sunday knows that the Church may have been broken into, but it is anything but broken. That sanctuary has a strength and will not be diminished by sin and hate, but will ultimately grow stronger.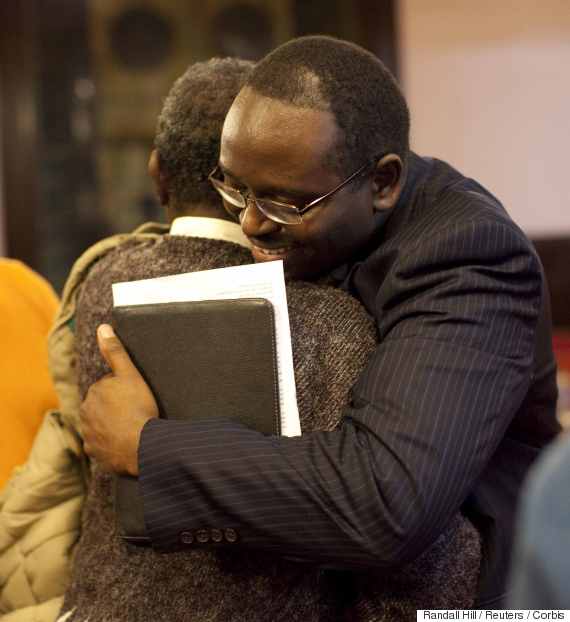 Senior Pastor, Rev. Clementa Pinckney, hugs a church member after the Watch Night service at Emanuel African Methodist Episcopal Church in Charleston, South Carolina January 1, 2013.
The church that performed my wedding to Brad and Emanuel AME church are two very different places, but both are important reminders of the role church must still play in the world.
No matter what the Supreme Court ruled today, it will still be dangerous for Brad and I to even hold hands in most of America, must less embrace or kiss. For African-Americans, just walking down the street or driving can be a cause for racially-motivated harassment or violence.
In a world that continues to diminish and discriminate, the church, if it is to mean anything at all, must be a sanctuary for all people to be fully themselves and feel the dignity and pride in who God made them -- whatever race, gender, sexuality, culture, religion or size.
On this day of celebration and mourning, let the church lead the calls for continued justice, compassion and love for all of humanity. Remembering American martyrs like Rev. Clementa Pinckney and the Beautiful Nine as well as those Americans who have died as the result of anti-queer violence, let us all work together towards that great day when we can wipe away all the tears of oppression and discrimination and join hands as one people, free at last.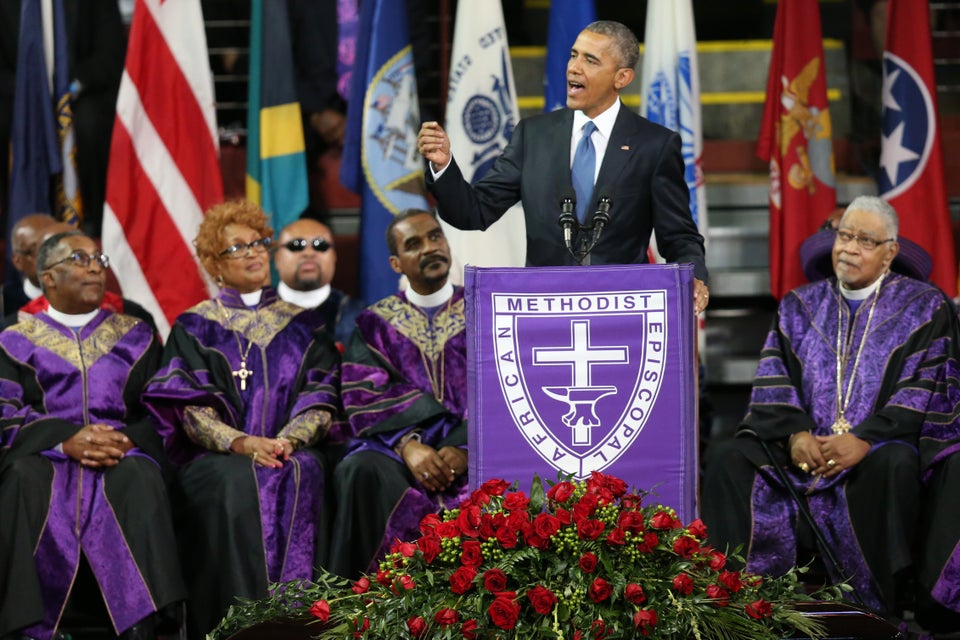 Images of Joy and Sorrow
Related
Popular in the Community