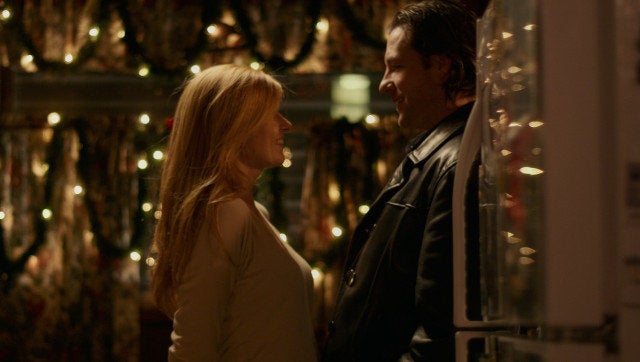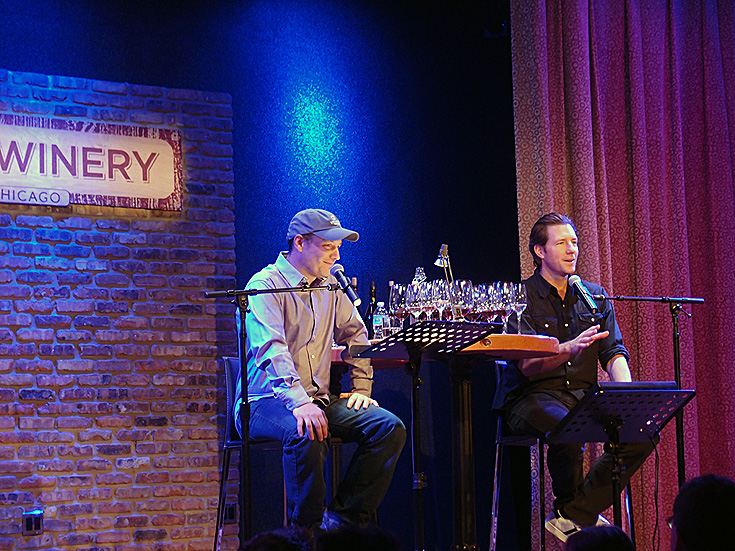 Photo by Lauren Drell; Writer-director Ed Burns (right) and City Winery Founder Michael Dorf (left) discuss the scene and the wine they're about to uncork.
Ed Burns recently hosted the sold-out "Evening of Wine and Film" last month back-to-back at both New York City and Chicago's City Winery. The writer-director, who also happens to be a super nice guy, worked with the wine (music) venue's founder Michael Dorf, selecting eight wines to pair with eight scenes from a variety of his films including, She's the One, Nice Guy Johnny, Newlyweds, Sidewalks of New York and his latest, The Fitzgerald Family Christmas, which is similarly spirited to his 1995 breakout film, The Brothers McMullen, and follows a working-class Irish-American family, even featuring two of the same actors, including Burns' longtime friend Connie Britton who's now starring in the ABC series Nashville. This was the second time that Burns has worked with Dorf, the two first marrying the art of film and wine at a similar event in the fall 2010, where tickets sold-out faster than the duo ever anticipated. Throughout the night, servers delivered a different wine before the showing of each movie clip; glasses were filled generously with wines ranging from a lighter sparkling (Roederer Estate Brut NV) to a bold Cabernet (2010 City Winery Cabernet Sauvignon), giving folks a rare opportunity to listen to candid stories directly cast from Burns' lips while they sipped. It was pretty clear that by glass number eight, the buzz inside the Winery was only growing.
I caught up with Burns at Chicago's City Winery over a glass of Grenache Rose before he took the stage, where, in his charming way, he discussed how the "Evening of Wine and Film" came to fruition, his favorite scene and wine of the evening, his recent new wine discovery and working again with his good friend Connie Britton.
I understand that this is the second time you've worked with City Winery founder Michael Dorf creating this event, "Evening of Wine and Film," where you've selected eight wines to pair with eight scenes from a variety of your films, tonight's which includes your latest movie, The Fitzgerald Family Christmas. How did this idea come to fruition?
You know, I met Michael three years ago when we were promoting a film called Nice Guy Johnny and Michael was good friends with a friend of mine and they had this idea that, let's try and come up with an event at City Winery where we could help promote that movie, and the original idea I think was we were going to screen the film and have people have dinner and drinks, and then at some point, Michael came up with this great idea: Well, why don't we do a wine pairing where we'll pick scenes from the current film, in that case, Nice Guy Johnny, and tonight, The Fitzgerald Family Christmas and let's pick four scenes from the older films and we'll use it as an opportunity to just have some fun with the idea of the pairings.
Like tonight, we open with a scene from She's the One and you know, it takes place at the beach and it's light and bubbly and it's the summertime, so we went with a sort of a bubbly champagne. There's another scene that takes place on Long Island, so we went with a Long Island wine (2011 Shinn Estate White). So those are kind of the ideas behind the pairings, but I've always had a lot of fun going to film schools and doing Q&As with students and also going to film festivals, and I kind of like being in front of an audience and telling those stories, so, we thought: well, let's incorporate that in it as well, so I'll tell a funny story or a poignant story about the making of the film or working with a particular actor and then we'll open it up to a couple of questions and we did it last night in New York and it really is the best event that we do.
You get a really eclectic mix of folks, everything from the kids who are fresh out of film school who want to ask about the process to like a long-time fan who just wants to hear about your acting career and then everyone in between. You know, we had a couple last night in New York who flew in from Texas to be a part of things because they heard the last one went so well. It's mostly fun and hopefully some small pearls of wisdom get thrown in there.
Some people pair wine with food. You pair wine with movies. That's pretty nifty. How do you go about selecting the particular wines to pair with each scene? Is there a process you go through? It seems to me it's almost like an art form, isn't it?
You know, I pick the scenes and then Michael picks the wines and then we get together and he'll usually have three to four options for each particular scene. He'll come up with his basic take on the scene and think, 'All right, here we got a scene' -- and there's a scene from Fitzgerald where you've got these two very different complex characters and I forget the specifics, but he says, 'Given that we have a red wine that's a blend of two different grapes, they're also very complex, so that might be a nice pairing.' So, you know, again, some of it is more thoughtful and some is a little tongue and cheek 'let's have a little fun,' especially the scenes that are lighter and more comedic, instead of finding a funny angle into why we're going to pair that particular scene with this particular wine.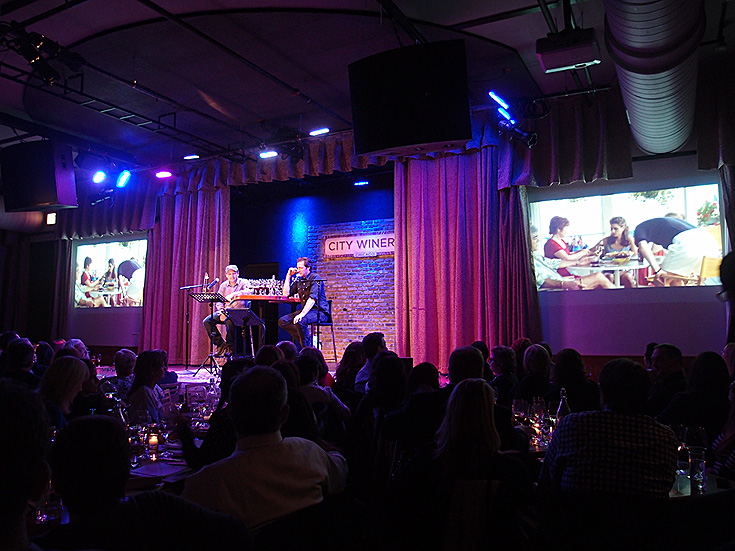 Photo by Lauren Drell; writer-director Ed Burns and City Winery Founder Michael Dorf show a scene from She's the One.
I read that that you're a big fan of a bold Cabernet and that you became an amateur "wine geek" after a trip to Napa Valley seven years ago. Did that trip change or refine your palate and if so, how?
Yeah. I think it was just I had finally gotten some education into sort of identifying what I liked and I guess why I liked it. So now, given that that the California Cabs are my favorite, I like that hunt to try and discover a new one that I haven't had and I just came across a great one called Rudd that's now my current favorite and it's one I hadn't had before. It's fun finding the new ones.
How did you discover Rudd?
My wife [model Christy Turlington] and I have a group of friends actually through the kids and we do rotating dinner parties at friends apartments and part of the thing is you want to introduce your friends to the good new wine that you find out about and a friend of mine brought the Rudd and it went down that night as the bottle of the night.
I'm going to have to check it.
Oh yeah. It is delicious.
What do you hope people walk away with tonight? Are there one or two main takeaways?
(Sips wine.) Maybe a little peek behind the curtain into, I guess, not only my creative process, but also sort of the mechanics of how films are not only made, but how they now are sold and distributed. I've always been interested in the behind-the-scenes of the movie business and it's fun to talk about and I like to share the highs and the lows. So, I think they also probably get a pretty good look at who I really am, especially because when there's wine involved and when you hit your eighth glass, you're probably a little bit more honest than I am with you right now (laughs).
Out of the scenes that you're showing tonight and the wines that were selected, do you have a particularly favorite?
City Winery's Cab that they produce is my favorite wine that they have here and it's a really nice robust Cab and we paired that with probably my favorite scene from Fitzgerald's. That's the final wine and scene of the night, which is a scene between Connie Britton and I where our characters sort of first connect. Connie was in my first film Brothers McMullen and is a longtime friend.
She's great in Nashville.
She's great in Nashville. She did me a great favor by remaining loyal to me. You know, I'm making this little movie and Connie is very busy and very much in-demand and this was a smaller part and I said, 'I wrote something with you in mind, can you give us a week?' And she goes, "I've got a week in January when we're not shooting, I will be there." So, it's good to have friends like that.
The Fitzgerald Family Christmas trailer.
Since we're talking about Christmas and movies and wine, what are your plans for the holidays? Will there be wine involved?
There's always wine involved. We're actually going to the East Bay area where my wife is from for Christmas. The great thing about going to the suburbs of San Fran and Oakland is you go to the supermarket and the wine selection is out of this world and those wines that you're used to spending, let's say $50 for in New York, you're getting at a fraction of that cost because it's their backyard.
"The Fitzgerald Family Christmas" is available On Demand and on iTunes.
Popular in the Community