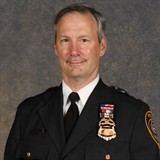 I was surprised to see that the Democrats chose Milwaukee Police Chief Ed Flynn to champion their cause at today's gun control hearings in Washington. I'm generally in favor of gun rights, and oppose most gun control. But I also think the gun rights movement can get overheated and paranoid with its rhetoric.
That said, of all the people gun control advocates could have asked to testify today, Flynn was a really poor choice. It certainly won't do much to assuage fears among gun owners that Democrats and the White House are about to wage war on them. A few years ago, Wisconsin Attorney General J.B. Van Hollen affirmed that Wisconsin residents were legally permitted to openly carry in public. Here's how Flynn responded:

"My message to my troops is if you see anybody carrying a gun on the streets of Milwaukee, we'll put them on the ground, take the gun away and then decide whether you have a right to carry it."

It was a pretty astonishing thing for a police chief to say. Police chiefs don't make the laws, nor do they interpret laws. They enforce laws, whether they agree with them or not. A chief has discretion to prioritize some laws over others. But he does not have the option to make an activity illegal when it is legal. Flynn was openly boasting that he had instructed Milwaukee police officers to harass, assault, and willfully violate the rights of Milwaukee citizens when Flynn knew they weren't violating any laws. Were we talking about just about anything other than guns, there would have been calls for Flynn to be investigated for conspiring to violate civil rights. That he was never really held accountable for his comments is bad enough. That he's now being put forward as a spokesman for gun control is really pretty awful.
One other thing about Chief Flynn's comment. Police officers are not "troops." They're civil servants. Peace officers. There are important differences between cops and soldiers. That Flynn doesn't appear to appreciate those difference speaks volumes about why he would instruct his cops to assault and detain the citizens they serve first, then determine whether or not those citizens have actually broken any laws.
Calling all HuffPost superfans!
Sign up for membership to become a founding member and help shape HuffPost's next chapter
BEFORE YOU GO
PHOTO GALLERY
U.S. State Capitol Buildings