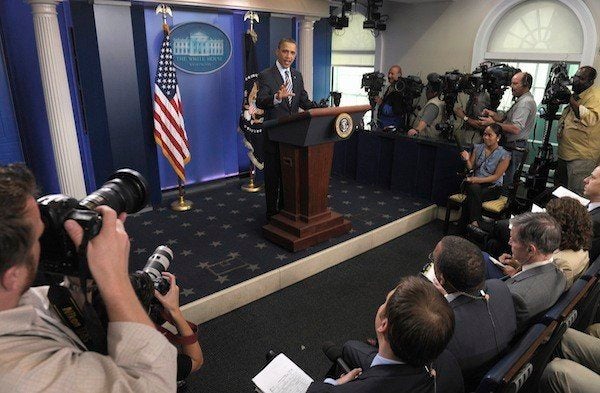 NEW YORK -- The game of White House briefing room musical chairs continued Monday with another high-profile TV journalist grabbing a new seat in the prestigious front row.
And there's yet another change coming to the seven-seat front row. A CNN spokesperson tells The Huffington Post that the network will announce a new chief White House correspondent "in the coming days," leading to speculation among staffers about who'll get the prominent position.
Inside CNN, sources expect that national political correspondent Jessica Yellin is likely to replace Henry. Yellin, who joined CNN as a Capitol Hill correspondent in 2007, had previously covered the White House for ABC News. Yet while most bets are on Yellin, some sources say CNN executives may also consider the network's two other White House correspondents, Dan Lothian and Brianna Keilar, for a promotion to the more senior role on the beat.
The last major shuffle of chief White House correspondents took place right after the 2008 campaign, as all five broadcast and cable networks -- which get the best seats in the house along with the AP and Reuters -- chose new chief correspondents to cover the Obama White House.
White House reporters often start rotating out of the briefing room frequently in the months leading up to a presidential election, as the hotter story brews on the campaign trail. But it's unusual to see nearly half the front row change in a single week, about a year-and-a-half out.
A White House Correspondents' Association board member, Henry spoke in favor of Fox News getting a front row seat last summer when several news organizations were vying for the rare open spot which opened up after Helen Thomas retired amid controversy. While the AP ended up getting Thomas' middle seat, Fox News beat out news organizations like Bloomberg News and NPR for a spot in the front row.
Henry, whose contract recently expired at CNN, said on Twitter that he would finish up at the network this week and then take some time off before starting at Fox News.
O'Donnell, who's now wrapping up her tenure at NBC and MSNBC, takes her place in the front row early next month.
Calling all HuffPost superfans!
Sign up for membership to become a founding member and help shape HuffPost's next chapter