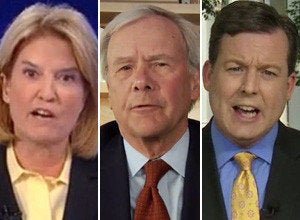 Brokaw caused a strong reaction when he said on Sunday's "Meet The Press" that it was "time to rethink" the annual dinner, which reliably causes a controversy every year. While some consider it a light-hearted chance for the press to mingle with politicians and celebrities, others see it as a troubling symbol of the closeness between reporters and the people they are supposed to cover.
Brokaw was bitingly in his comments. "If there's ever an event that separates the press from the people that they're supposed to serve, symbolically, it is that one," he said.
On Monday, Ed Henry, the Fox News White House reporter who is also the incoming president of the White House Correspondents Association, responded at length on Twitter. While saying that Brokaw was a "legend," he complained that the NBC News icon had failed to mention that the dinner raises money for charity, something he said the media ignored in favor of celebrity news.
"Overall I think #whcd is fun night, raises TON of $ for needy kids who might not get into journalism w/out help," he wrote. "But can always do better."
Van Susteren — who caused a stir by bringing Kim Kardashian and Linsday Lohan to this year's festivities — responded on her blog. She said she would be happy to forgo the celebrities if he would agree to help her highlight certain issues.
I am game to give Tom Brokaw's idea a try next year – no more celebrities for our one big social night in Washington (WHCD) – but here is my request: in exchange, how do we get our colleagues in the media's attention to such issues as genocide in Sudan? does he have ideas? and could he help?
She said that, while many had written about Kardashian and Lohan, there was little to no interest in a recent trip she took to Sudan.
Below, see Ed Henry's tweets about the subject (including his response to HuffPost's Tim Stenovec).
Related
Popular in the Community