San Francisco Mayor Ed Lee died early Tuesday, ending a decades-long career in city politics and activism and sending shockwaves across the city.
Lee, 65, was the city's first Asian-American mayor. His cause of death was not immediately released, but former San Francisco Mayor Willie Brown told local media that Lee had suffered a cardiac arrest.
"It is with profound sadness and terrible grief that we confirm that Mayor Edwin M. Lee passed away on Tuesday, December 12 at 1:11 a.m. at Zuckerberg San Francisco General Hospital," city officials said in a statement. "Family, friends and colleagues were at his side. Our thoughts and prayers are with his wife Anita, his two daughters, Brianna and Tania, and his family."
Board of Supervisors President London Breed will become acting mayor, effective immediately, but the board may vote to replace her at any time. The city will hold an election on June 5 to name a mayor to finish out Lee's term.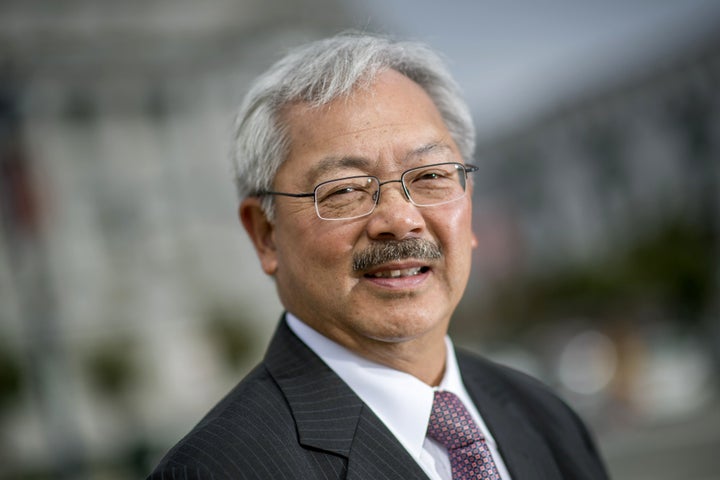 "Ed was a true champion for working people and epitomized the California spirit," California Gov. Jerry Brown said in a statement. "He'll truly be missed."
Lee, the child of Chinese immigrants, was born and raised in Seattle and moved to the Bay Area to attend law school at the University of California, Berkeley. As a student, he became involved in advocacy by working for the civil rights group the Asian Law Caucus.
"As the son of immigrants who became mayor of one of America's largest cities, Ed broke down barriers and blazed a trail for future generations to follow," Sen. Kamala Harris (D-Calif.), former district attorney of San Francisco, said Tuesday. "And at this inflection moment in our country when some have promoted hatred and division, Mayor Lee has been an outspoken advocate for diversity and inclusion."
Lee began working for San Francisco in 1989 as an adviser to then-Mayor Art Agnos. He held various positions within the city government until he was appointed city administrator in 2005. When then-Mayor Gavin Newsom was elected California's lieutenant governor in 2011, the San Francisco Board of Supervisors appointed Lee as the city's new leader. He won re-election in 2015.
"His intellect, unshakable integrity, boundless optimism and contagious love for San Francisco elevated the City to greater heights," Newsom said in a statement Tuesday. "He steered San Francisco with an unshakable hand, an indomitable spirit, and a great sense of humor."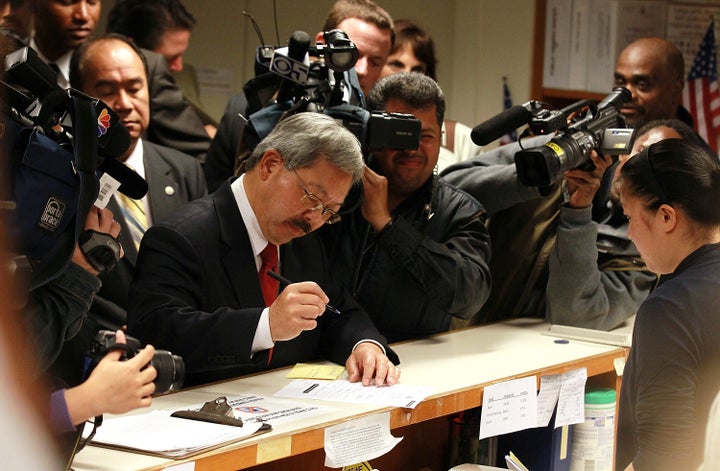 Lee was also instrumental in raising San Francisco's minimum wage in 2014, making it the highest in the country at the time.
Before entering city politics in the 1980s, Lee cut his teeth in San Francisco activism by advocating for the city's large Chinese-American population. As a lawyer, he famously sued the San Francisco Police Department over height requirements that excluded many Asian-American candidates and sued the San Francisco Fire Department over racial hazing.
He was also a fierce advocate for residents of the city's Chinatown, the oldest such neighborhood in the U.S. and one of the largest Chinese enclaves outside China. In 1978, Lee famously went after the city over unlivable conditions at the neighborhood's Ping Yuen public housing complex and organized a successful rent strike.
Advocacy for fair and safe housing would become part of his legacy as mayor, too. Just the day before his death, Lee announced legislation that would recoup costs from landlords illegally housing people in unsafe buildings.
But his term has not been without controversy. Lee has been criticized for poorly managing the city's growth, which was triggered by the rise of the region's tech industry and subsequent influx of high-paid tech workers.
That growth ballooned beyond what Lee could have imagined when he first took office. The boom resulted in higher housing prices, congestion and traffic issues, and social tensions due to rising income disparity. Lee's efforts to increase housing were often stifled by the city's strict zoning regulations, building height restrictions and NIMBY activism.
In an effort to revitalize the city's blighted Mid-Market Street corridor, Lee introduced a tax break for companies that moved into the neighborhood. The 2012 incentive, which became known as the "Twitter Tax Break," proved controversial when it was revealed that it helped companies avoid $34 million in city taxes in 2014 alone.
That tax break helped earn Lee a reputation for being business-friendly to a fault, but he often emphasized that such moves were part of his overall mission to help struggling neighborhoods.
"We need to continue to make sure this is the city for the 100 percent," he often repeated in public statements.
Willa Frej contributed reporting.
Popular in the Community