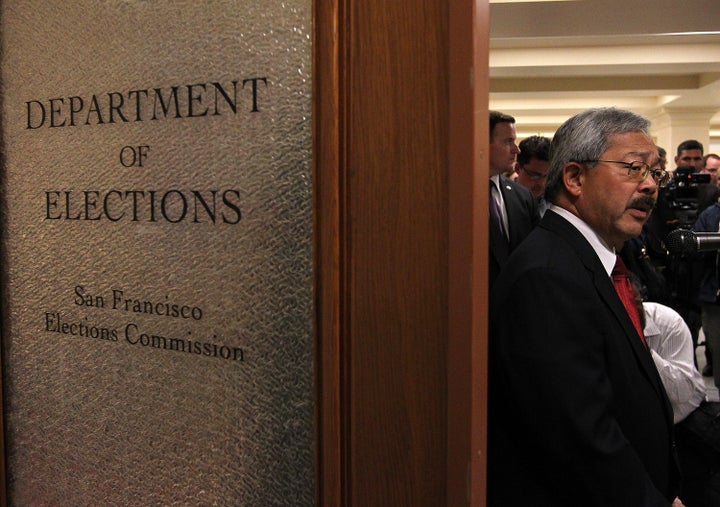 On Friday, at a makeshift Chinatown voting area set up by an independent expenditure committee supporting Mayor Ed Lee, witnesses reported seeing evidence of possible voter fraud.
A witness told SFGate that workers wearing Ed Lee T-shirts were "assisting" residents -- mostly senior citizens who did not speak English -- by marking absentee ballots for voters, or placing a stencil over ballots that only allowed voters to select Lee.
"I was so freaked out by the whole thing," said witness Malana Moberg to SFGate. I thought, 'Oh, how weird, someone is looking at the ballot with them,' then I was like, 'Oh my god, they are actually marking it in.'"
The Bay Citizen also covered the story and reported that, when workers at the voting area were approached by a Bay Citizen photographer, they "quickly put ballots back into envelopes and covered up the stencils with sheets of paper." Workers told the reporter that they were not filling out ballots, and that the stencils were only tools to assist those with poor vision.
But Roland Salvato, an independent management consultant, told The Bay Citizen that he witnessed workers filling out ballots for voters. "They were actually filing out ballots for people, but I saw the other people filling out ballots for themselves," he said.
A staffer from a rival campaign shot a video of the scene and submitted it to SFGate and the Elections Department. John Arntz, head of the city Elections Department, reviewed the video and said that the evidence presented did not prove fraud, but it didn't look good.
"On its face, it doesn't look good," said Arntz. "But if a voter walks up to someone and says, 'I need help marking my ballot' and they get a stencil, that's the voter's choice." Arntz submitted the video to the District Attorney's office for further investigation.
Lee's campaign stated that the mayor had nothing to do with the unaffiliated group at the voting site. "We don't have anything to do with that group," said spokesman Tony Winnicker to SFGate, "They don't represent anything about Mayor Ed Lee's campaign. They should cease and desist immediately from any activity that undermines confidence in this election or the voting process. The right to vote is too important."
But Lee opponents including mayoral candidates David Chiu, Dennis Herrera and Leland Yee have expressed outrage over the incident, calling it the latest episode in a string of fraud allegations against Lee. Earlier this month, the District Attorney launched an investigation into Lee's campaign contributions.
"It is imperative that the Elections Office, Ethics Commission, Secretary of State, District Attorney, Attorney General and the U.S. Attorney immediately investigate these various illegalities," said Yee's campaign manager Jim Stearns in the release. "Ed Lee and his comrades are already under investigation by the DA and U.S. Attorney; it is now time for him to come clean for the good of San Francisco.
CORRECTION: An earlier version of this article stated that Roland Salvato is a consultant to The Bay Citizen. However, Salvato is an independent management consultant, and is unaffiliated with The Bay Citizen.
Watch the video from the scene from SFGate below:
Related
Popular in the Community