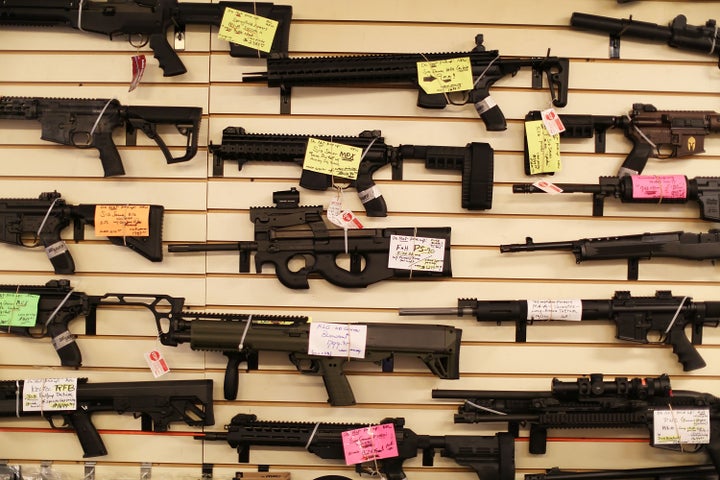 WASHINGTON -- Despite a shortened calendar year, and the 2016 presidential election looming large over Congress, Senate Democrats plan to pressure Republicans into a debate over a 20-year-old ban on using federal funds to research gun violence.
A 1996 appropriations bill included a provision declaring taxpayer dollars could not be used by the Centers for Disease Control and Prevention "to advocate or promote gun control," effectively putting a freeze on research. In 2013, President Barack Obama issued a memorandum reversing the ban, and directed the CDC to begin researching the causes and effects of gun violence -- but lawmakers have yet to approve funding for it.
On Thursday, a handful of Senate Democrats, joined by three gun violence researchers from universities across the country, raised the issue again. Sen. Ed Markey (D-Mass.) called on Congress to pass legislation that would authorize $10 million annually, for six years, in the CDC's budget for such research.
"For gun violence, which kills more than 33,000 Americans a year, the CDC's budget is zero," Markey said. "That is wrong, that is unacceptable, that is immoral."
Earlier this month, Markey, joined by 17 other Democrats, urged Senate Appropriations Chairman Thad Cochran (R-Miss.) to hold a hearing on the effectiveness of gun violence research. Markey told reporters on Thursday that he has not received a response from Cochran, or Sen. Roy Blunt (R-Mo.), who chairs the relevant subcommittee under appropriations.
In December, House Democrats led by Minority Leader Nancy Pelosi (D-Calif.), tried to get a provision directing money toward gun-related research into the massive omnibus spending package, but Republicans wouldn't bite. A string of high-profile gun violence incidents last year -- including a shooting at a historic black church in South Carolina that left nine dead, and one on a college campus in Oregon that left ten dead (including the shooter) -- catalyzed members in Congress to revisit the ban.
"We are a nation that values science and innovation," Garen Wintemute, director of University of California Davis' Violence Prevention Research Program, said. "We've proven that with motor vehicles, we've proven that with cancer, with heart disease, and we are in the process of proving that with the current epidemic death from opioid abuse -- firearm violence has been the exception."
Wintemute lamented that while a response to gun violence began in the early '90s it was subsequently "choked off."  
Markey admitted Thursday he has yet to receive a response from Cochran or Blunt about a possible hearing on the issue, but noted Democrats are going to try every avenue available.
"Ultimately we have the option of bringing an amendment to the Senate floor, at the right time, but we intend on having a debate on this public health crisis in America this year," Markey said. "Hopefully it happens at the committee level but on the senate floor we are definitely going to have the debate before the end of the year."
Pressed on the realities of passing such a provision in the middle of a heated national debate over gun control and the second amendment, during a presidential election year unlike many seen in recent history, Markey insisted it would reach the chamber floor.
"We will have the debate this year. It's January, we have until October," he said. "We will have plenty of opportunities before the end of this year to ensure that this discussion is held on the floor of the senate."
Democrats will likely try to attach such language to one of the 12 appropriations bills Republicans are eager to pass this year. Still, the limited legislative calendar will make it harder to have substantive debates in either chamber and leaves little time for both parties to compromise.
PHOTO GALLERY
Pivotal Moments In The U.S. Gun Control Debate
REAL LIFE. REAL NEWS. REAL VOICES.
Help us tell more of the stories that matter from voices that too often remain unheard.