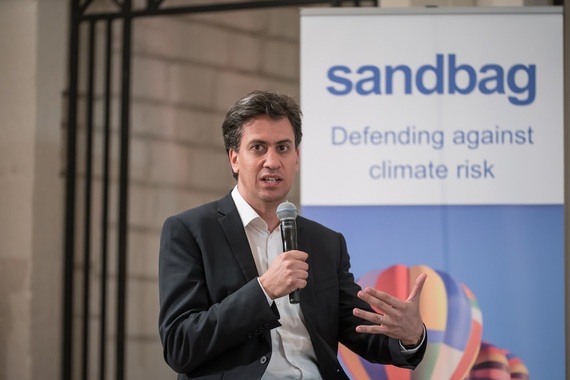 "At this stage there is less sense of that movement and a lesser sense of urgency"
Ed Miliband, the former leader of the UK Labour Party and very first secretary of state for the Department for Energy & Climate Change (DECC) gave his perspective on the run down to Paris, the role of politicians and the public at an evening of discussion from the crypt of St Pauls Cathedral hosted by Baroness Bryony Worthington.
Earlier this week St Pauls Cathedral played host to the summer celebration and re-launch of Sandbag, a campaigning organisation focussed on emissions trading which is headed up by Baroness Bryony Worthington a passionate climate change campaigner.
The cathedral itself seemed a fitting place for such a carbon discussion as the rebuilding of the iconic London landmark after the devastation of the Great Fire of London in 1666 was financed by a coal tax.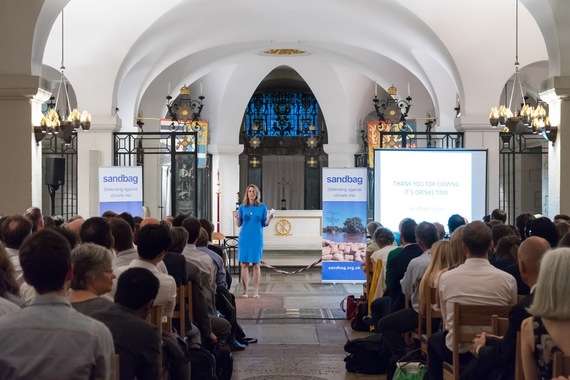 In the discussion Bryony Worthington asked Ed Miliband about his past work on climate change and his reflections on what has changed since he held the position in 2008. To which he replied about his pride and the work of DECC and the Baroness in establishing a pioneering piece of legislation, the UK Climate Change Act 2008, to cut UK emissions by 80% by 2050.
After focusing on this success at domestic politics he commented on the disappointment at the infamous UN Copenhagen conference in 2009, in which a climate deal was not reached.
Looking back to Copenhagen and forwards to Paris, Mr Miliband then commented that he felt that there was a lesser sense of urgency and political pressure amongst people now than there was six year ago when it came to concern about climate change.
One factor that can be seen in the demise of climate change from frontline politics since the Danish conference appears to be the focus on short term economic fixes which have gripped the main political stage and longer term economic rationale has been sidelined. However, as we now turn that corner to recovery we ought to be more forward thinking and consider climate change as the economic risk which it is in order to consolidate future prosperity.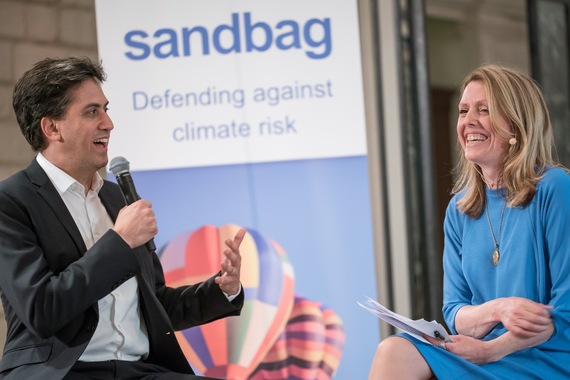 Ed Miliband commented that David Cameron and Amber Rudd, the current Energy & Climate Change Secretary, ought to feel a lot more public pressure in order to ensure that they don't walk away from Paris this year without a strong agreement.
During the entertaining evening Ed Miliband made a quip about 'flood tourism' in reference to the submersion of Somerset last year and the host of visits by politicians in wellies, himself included. He went on to remind the audience about the short term nature of political promises and media attention during climate change linked events like these.
"I remember Cameron said after [The Somerset Floods], 'Money is no object'. And pretty soon everyone forgets that and the caravan moves on."
"It is the job of everyone in this room to make sure that the caravan doesn't move on"
In the lead up to Paris this December it is more important than ever to be an active voice for action on climate change and ensuring policies are ambitious and aligned with achieving a sustainable economy.
The full discussion between Ed Miliband and Baroness Worthington from Sandbag along with commentary from other speakers can be seen at:
Photos via: Sandbag and Graham Lacdau, St Pauls Institute.
Calling all HuffPost superfans!
Sign up for membership to become a founding member and help shape HuffPost's next chapter