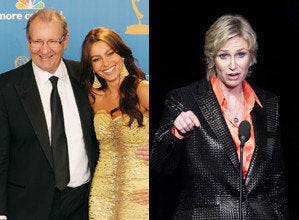 Ed O'Neill decided to pick a fight with Sue Sylvester. The 'Modern Family' star told TV Guide that while he enjoyed Jane Lynch's portrayal of the surly gym teacher on 'Glee,' he didn't think it deserved the Emmy it earned her.
"I love Jane, honestly I do," he told the magazine. "I'm dying to star in one of Christopher Guest's movies alongside her, but I don't think she should have gotten the Emmy for that part. (Sue Sylvester) is just a one-note character."
As for who he thought was deserving of the win? None other than on-screen wife, Sofia Vergara.
"Sofia is just so, so funny," O'Neill said. "I don't think people realize how hilarious she is. She's so sharp with her wit, it's amazing."
Popular in the Community