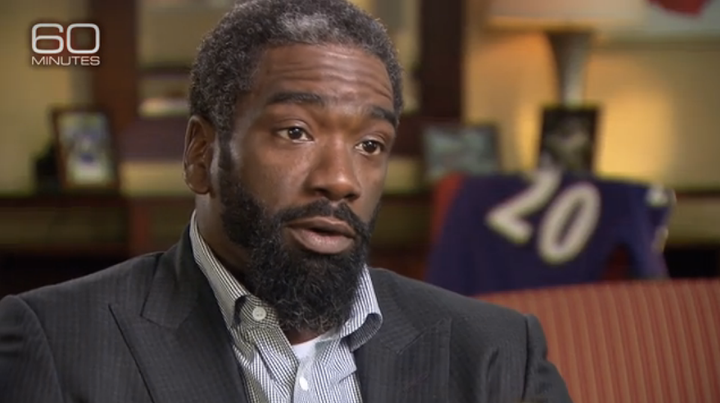 CBS' "60 Minutes" aired a segment about the NFL on Sunday, an update on where the league stands more than a decade after Bennet Omalu discovered the brain disease chronic traumatic encephalopathy (CTE) in former Pittsburgh Steelers center Mike Webster.
The segment covered a number of topics surrounding the the sport: The revelation that smaller repetitive hits to the head could contribute to brain disease even if they don't cause concussions. The obligatory conversation with Roger Goodell about what the NFL has done to make the sport safer. An eye-raising talk with the NFL's senior vice president for health and safety about the league's hope that it can "disrupt the helmet industry" -- a hope that ended in embarrassment for the NFL once before.
But perhaps most interesting was a conversation between correspondent Steve Kroft and Ed Reed, a former NFL safety who retired in May after more than a decade in the league. Reed told Kroft that he had had three or four concussions that he could remember during his career. He told him that he was worried about the result of a career's worth of such head impacts. 
But asked if he would have subjected himself to a test during his career that could diagnose CTE in living players, Reed was adamant: The answer is no.
Steve Kroft: If they'd had a [CTE] test when you were playing, would you have wanted to take that test?

Ed Reed: If they're going to give me this test and this test is going to be a negative towards me as a player and I gotta go home now and I can't play this game anymore, no. I don't wanna know till after. I don't wanna know until when I'm retired. No guy would want that. No player would want it.
As of now, no such test exists. CTE can only be definitively diagnosed after death. But Robert Stern, Director of Clinical Research for the BU Chronic Traumatic Encephalopathy Center, told Kroft that he believes such a test will be available in the next five or 10 years. It's a test that could help scientists better understand the disease and perhaps help treat it. But it's also a disease that would likely lead to shortened careers and less money for NFL players, seeing as it's hard to imagine the league allowing a player with a CTE diagnosis back on the field.
Together, those two realities are what makes Reed's comments simultaneously disturbing and not all that surprising. Reed knows the dangers of what he's done to his head. But that doesn't mean he would have wanted his career shortened as a result. 
Ed Reed: Now that I know the dangers? Yes, I still would do it again. Why? 'Cause look at me. Look at my family. They're able to eat, they're able to have food and shelter over their head. Would I play football again? Yes.
Reed owes so much to the sport that put him in danger. It pulled him out of St. Rose, Louisiana, a small town that has developed a startling number of NFL players. And it is the means through which he gave back to his hometown -- a football camp for hundreds of kids.
That is what makes the prospect of a CTE test for the living so fraught with potential conflict. Creating such a test would be an unambiguous victory for science and physical safety. When it comes to a CTE test and players' financial safety, however, it's not hard to imagine the test causing a war. After all, few people want someone else messing with their paycheck. 
PHOTO GALLERY
Amazing Sports Photos
REAL LIFE. REAL NEWS. REAL VOICES.
Help us tell more of the stories that matter from voices that too often remain unheard.