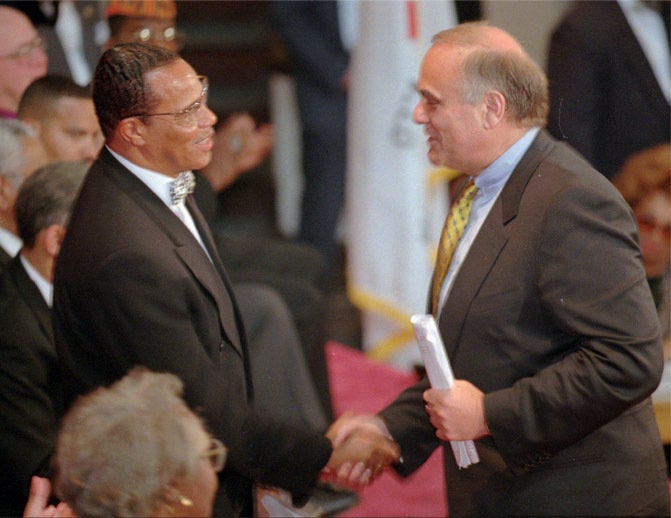 At last Tuesday's Democratic debate, Sen. Hillary Clinton drew out her objections to Sen. Barack Obama's relationship with his former pastor Reverend Jeremiah Wright, saying that what troubled her was not just Wright's incendiary language, but his past praise for Louis Farrakhan, the controversial head of the Nation of Islam.
"It is clear that, as leaders, we have a choice who we associate with and who we apparently give some kind of seal of approval to," said Clinton. "And I think that it wasn't only the specific remarks but some of the relationships with Reverend Farrakhan, with giving the church bulletin over to the leader of Hamas, to put a message in."
But if an association to Farrakhan troubles Clinton, she may need to focus her attention and criticisms on one of her most prominent Pennsylvania supporters.
In April 1997, Ed Rendell -- then the mayor of Philadelphia and currently the governor of Pennsylvania and a major Clinton surrogate -- delivered a passion-filled speech lauding the work of Farrakhan and the Nation of Islam.
"I would like to thank the Nation of Islam here in Philadelphia," Rendell said to the crowd, as Farrakhan looked on approvingly. "To thank you for what you stand for and what you stand for all the good it does to so many people in Philadelphia. And if there is anybody out here... who doesn't know, this is a faith that has as its principles, the family. This is a faith that doesn't just talk about family values, it lives family values. This is a faith where men respect their women and children and they manifest that faith by staying in the home with them. This is a faith that doesn't just talk about being against drugs but is out there every single day and night fighting against drugs. This is a faith that just doesn't talk about the value of education, it imbues in their children and schools that education is the way to opportunity."
Those words strike a similar tone to the compliments that Wright himself bestowed upon Farrakhan in a Trumpet Magazine article in November and December of 2007.
"When Minister Farrakhan speaks, Black America listens," said the Reverend. "Everybody may not agree with him, but they listen ... His depth on analysis when it comes to the racial ills of this nation is astounding and eye opening. He brings a perspective that is helpful and honest... Minister Farrakhan will be remembered as one of the 20th and 21st century giants of the African American religious experience."
Of course, Clinton's issue with Farrakhan is not merely that the Nation of Islam leader has a relationship to Obama's old pastor and church. It's that Farrakhan himself has publicly praised the Illinois Democrat. But when Clinton held this over Obama's head during a late February Democratic debate, she again used words and phrasing that could very well apply to Rendell.
"There's a difference between denouncing and rejecting," she said. "And I think when it comes to this sort of, you know, inflammatory -- I have no doubt that everything that Barack just said is absolutely sincere. But I just think, we've got to be even stronger. We cannot let anyone in any way say these things because of the implications that they have, which can be so far reaching."
At issue is Farrakhan past remarks which have been widely criticized as anti-Semitic, including calling Judaism a "gutter religion." Obama has both "denounced and rejected" Farrakhan's praise for his candidacy. While, in contrast, Rendell, back in 1997, touted the need to reach out to the Nation of Islam so as to bridge the cultural and racial divides within cities.
"There were many people," Rendell proclaimed, "who [said] we were running a great risk by sharing this platform with the National of Islam. But you know, I know and everyone here knows the terrible toll that racism has taken in our city. And we know that the real risk is not being able to talk about our differences and try and make progress. And if everyone cares about ending racism and I believe they do, if anyone cares they should have been here. They should have been ready to talk and they should have been read to listen."
Popular in the Community