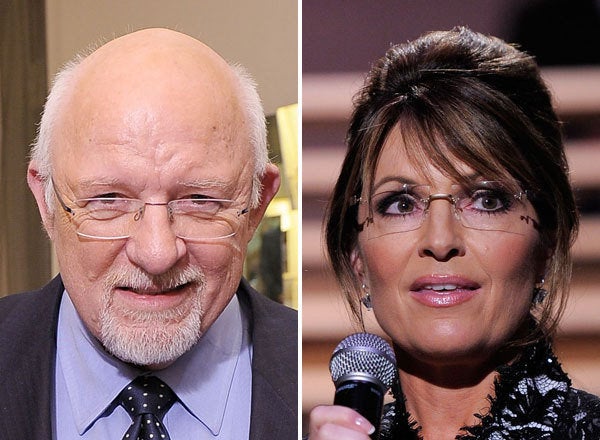 CNN contributor and former Reagan campaign director Ed Rollins has a clear message to Sarah Palin: "You're no Reagan."
Rollins wrote in a Wednesday op-ed for CNN that the former Alaska governor is seriously overstepping her bounds by attempting to draw comparisons between her and the one-time California governor-turned-president.
"I know you were only two when Ronald Reagan was elected by a landslide to the first of two terms as governor of California in 1966, but I would have hoped somewhere along the way through the five colleges you attended that you would have learned a little history," Rollins writes. "And I can tell you being governor of the most populous state is a lot tougher than being governor of one of the least populous ones."
Then Rollins puts a rhetorical dunce cap on Palin:
"If you want to be a player, go to school and learn the issues. Put smart people around you and listen to them. If you want to be taken seriously, be serious. You've already got your own forum. If you want to be a serious presidential candidate, get to work. If you want to be an imitator of Ronald Reagan, go learn something about him and respect his legacy."
Rollins, who served as national campaign chairman and senior adviser to Mike Huckabee's 2008 presidential campaign, is the latest in a growing string of Republicans who have decided to respond to the increasing stirs of Palin's presidential ambitions by dispatching sharp criticism tempered with at-times condescending advice, especially when it comes to her treatment of former GOP heads of state.
Reagan speechwriter Peggy Noonan called Palin a "nincompoop" last month for her downplaying of the Gipper's political legacy.
MSNBC host and former congressman Joe Scarborough slammed the former Alaska governor this week for insulting the Bushes and for drawing parallels between herself and Ronald Reagan.
But while some former GOP officials have reacted negatively to Palin, the man that birthed the political career of the "mama grizzly," Sen. John McCain (R-Ariz.), has compared her to Reagan.
"I think anybody that has the visibility that Sarah has is obviously going to have some divisiveness," explained McCain to CNN's Candy Crowley last weekend. "I remember that a guy named Ronald Reagan used to be viewed by some as divisive."
Popular in the Community