 There's no living artist cooler than Ed Ruscha, whose five-decade career as a pop icon is only intensifying. A remarkable 50-year retrospective that opened at the Hayward Gallery in London in October 2009 (before traveling to the Haus der Kunst, Munich and the Moderna Museet, Stockholm), was followed by "Ed Ruscha: On the Road," an exhibition that debuted at the Hammer Museum in Los Angeles. For "On The Road," Ruscha took his inspiration from Kerouac's seminal 1955 novel, which the artist first read at age 20, at which point he had already hitchhiked across the U.S. and back from his native Oklahoma.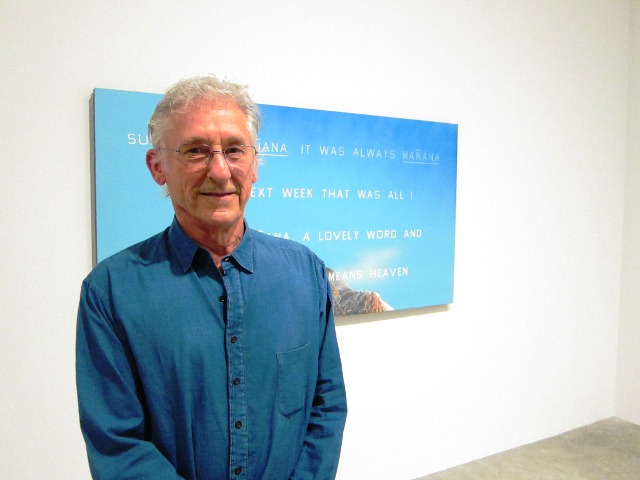 Artist Ed Ruscha at his "On the Road" exhibit
The laid-back Los Angeleno --looking incredibly youthful and fit at age 75 (which he attributes to eating small meals and outdoor exercise) -- kicked off his "On the Road" exhibit at the Museum of Contemporary Art in North Miami with a personal appearance that drew an impressive crowd of art supporters, including collectors Irma and Norman Braman, MOCA board member Jill Spalding, artists Sheila Elias and Ollie Sanchez, and MOCA Executive Director and Chief Curator Bonnie Clearwater.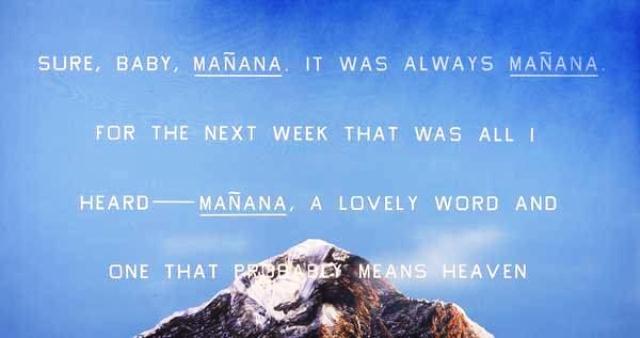 "Manana," 2009. Acrylic on canvas. Photo courtesy of The Hammer Museum website
The exhibition, comprised of six paintings on canvas and 10 drawings on museum board, employs signature Ruscha all-caps wordplay-over-landscape, with text taken from passages of On the Road, such as Manana's "SURE, BABY, MANANA. IT WAS ALWAYS MANANA. FOR THE NEXT WEEK THAT WAS ALL I HEARD -- MANANA, A LOVELY WORD AND ONE THAT PROBABLY MEANS HEAVEN." How very Miami.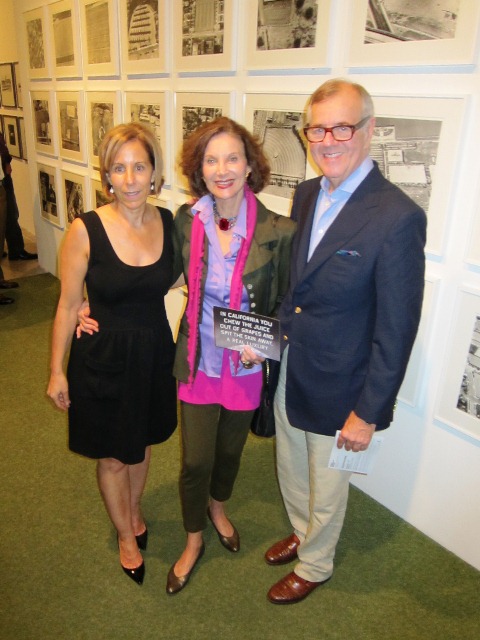 Bonnie Clearwater, Jill Spalding and Alfred Moncella
"Ruscha was always interested in the romance of the road," MOCA's Bonnie Clearwater has said. The two first met in 1988 when Ruscha was working on a series of murals -- eight 16-foot-long panels -- for the rotunda of the Philip Johnson-designed Miami-Dade Public Library in downtown Miami. The murals, his first public installation, set a well-known line from Shakespeare's Hamlet -- "Words Without Thoughts Never to Heaven Go" -- against an ethereal sunset sky. Purchased at a bargain price of $140,000, Miami's Art in Public Places got a steal -- and Miami a treasure.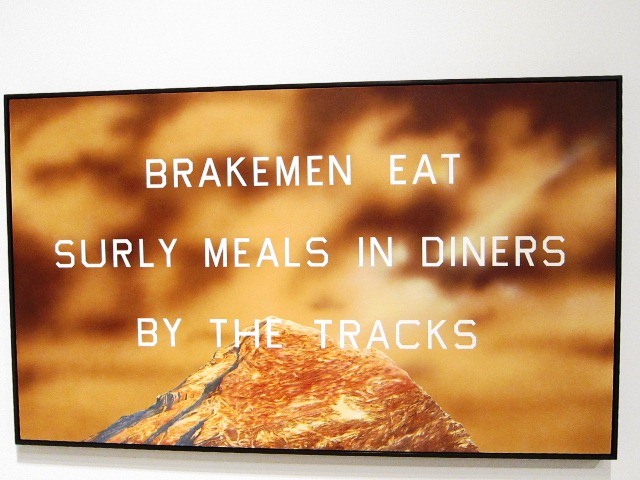 Ruscha's "Brakemen Eat," 2010. Acrylic on canvas. Private collection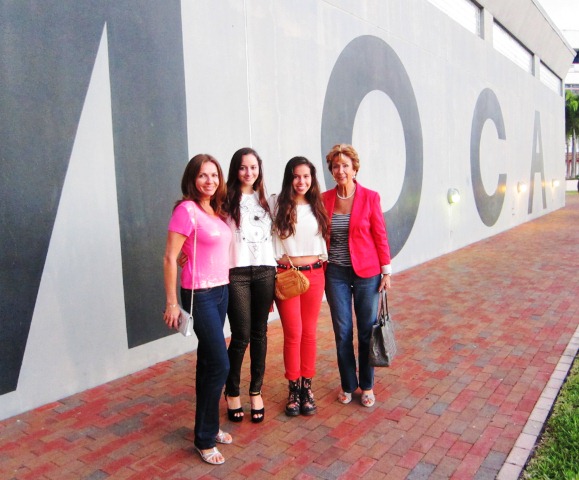 Monica Hoppenstein, Simone Sutnick and Margarita Samudio
Ruscha trained at the Chouinard Art Institute, had his first solo exhibition in 1963 at the Ferus Gallery, and began showing his work at art world legend Leo Castelli's New York gallery in 1973. He has been the subject of numerous national and international museum retrospective over the decades, and currently shows with Gagosian Gallery in Los Angeles. Highly recommended reading: Richard Marshall's Ed Ruscha, the first comprehensive monograph on the artist, published by Phaidon in 2003.
"Ed Ruscha: On the Road" will be on display at the Museum of Contemporary Art in North Miami through September 2, 2012. For more information, visit www.mocanomiorg.
Tara Solomon: In 1954, at 16 years old, you packed a suitcase and hitchhiked 1,250 miles from your hometown of Oklahoma City to Miami. That was the year before Kerouac published On the Road. You did it again after you graduated from high school, driving to Los Angeles to study painting and photography. You spent the summer of '61 traveling through Europe. How did you incorporate the experience of crossing the country and, in your case, beyond, at such a young age, its challenges and romance into creating your On the Road exhibit?
Ed Ruscha: Traveling to Europe and traveling in the USA was a much different experience. On the Road exemplified everything glamorous that was happening on this side of the planet. The book puts off some kind of sweet melody -- part hope for the world, part nostalgic.
TS: You moved to Los Angeles in 1956, rising to prominence in the late '50s. Coincidentally, the '50s and '60s are a huge part of pop culture right now. Does the experience of being an artist during that time hold true to the glamour that's currently being portrayed in entertainment, in shows like Mad Men, Pan Am and Magic City? What was it like being an artist during that era?
ER: The world of culture was a little more starched in those days -- but very rich products were being created in art, music and everything else. Cars moved at slower speeds back then, but energies in the arts were fired up.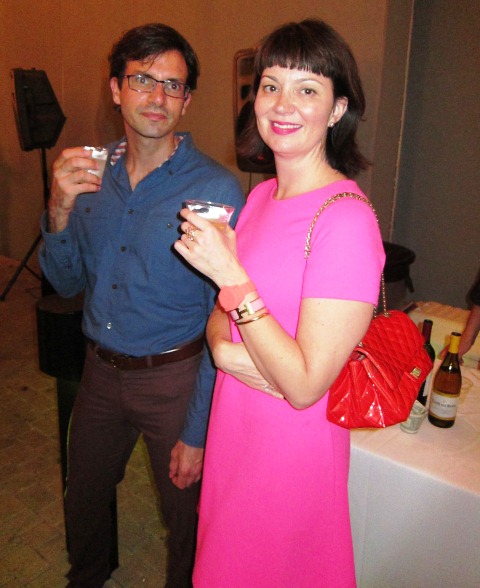 Edward Martinez Arriola and Sarah Gavlak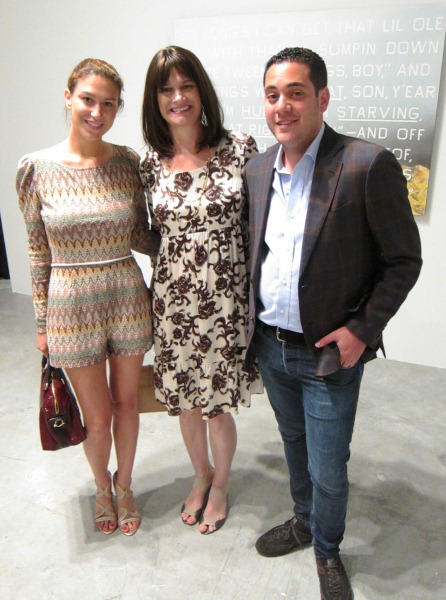 Evrona and Shulamit Katzman with Shlomo Nasser
TS: Your exhibition combines landscapes with words and lines from Kerouac's most famous novel. When did you first read On the Road?
ER: I first read it in 1958 and felt an immediate connection to the vision of the characters in the story. They were like ambassadors of optimism. They were jumpy and impulsive and they loved the highways.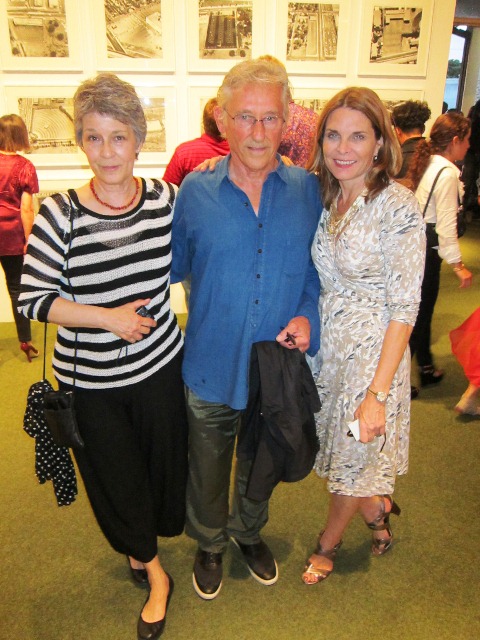 Mary Dean, Ed Ruscha and Valerie Grace Ricordi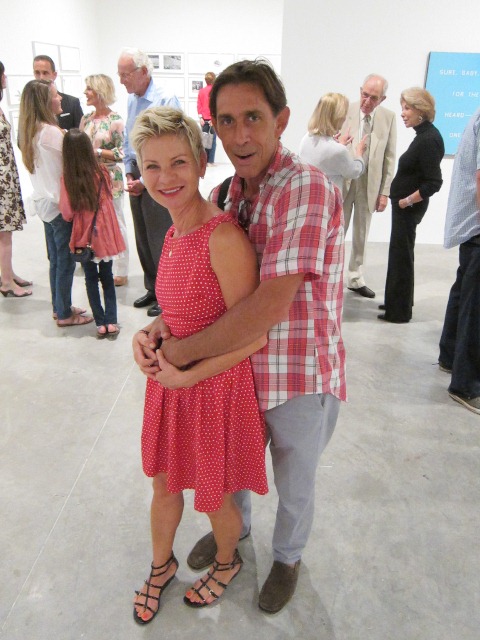 Min and Ollie Sanchez
TS: Do you note any major similarities or differences between yourself and Kerouac as artists?
ER: He gobbled up all words, mixed them, and spewed them out as literature. I watch all the words, wait my turn, and pick out maybe one almost as if by using a pair of tweezers.

"Green-vell Muzz-sippy," 2010. Acrylic on canvas. Collection of Peter Morton
TS: Your career spans five decades. How have your works changed with the shifts in pop culture, from the psychedelic sixties to the digital age of today?
ER: Nothing's changed except the dates on the newspapers. I'm in my same skin thinking the same old thoughts. The difference between psychedelia and digitalia ages will seem like a smooth blending in years to come and will be a mere blip on the screen.
TS: It's been said that social media is the new art gallery. How do you view social media artists who use social media sites such as Facebook, Twitter, Instagram and YouTube as platforms for their works?
ER: I don't do social media of any kind. If I did, I may as well join Scientology.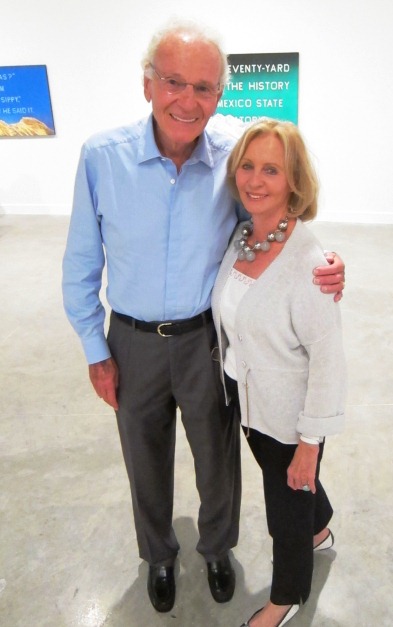 Norman and Irma Braman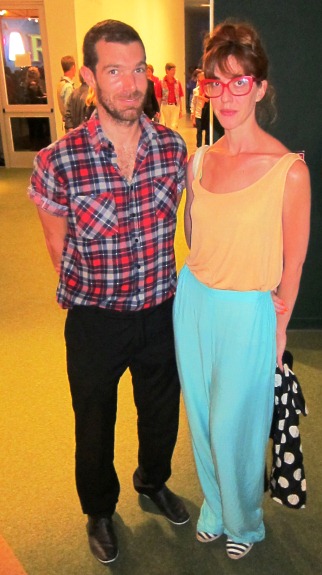 Hannes Bend and Katie Stirman
TS: Your favorite things to do in Miami?
ER: Driving all over and anywhere around. Going to the Wolfsonian Museum. Actually swimming in the ocean. I may be wrong, but it seems to be the cleanest, clearest water touching the USA. Dining at "Little Havana" in North Miami Beach.

"The Luminous Breath of the Human Spirit: Donna Karan and Philippe Dodard" exhibition in MOCA's lobby gallery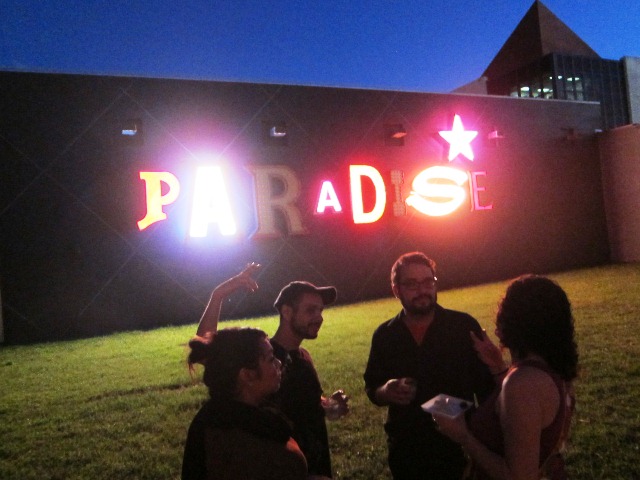 Jack Pierson's "Paradise" neon lights
Popular in the Community