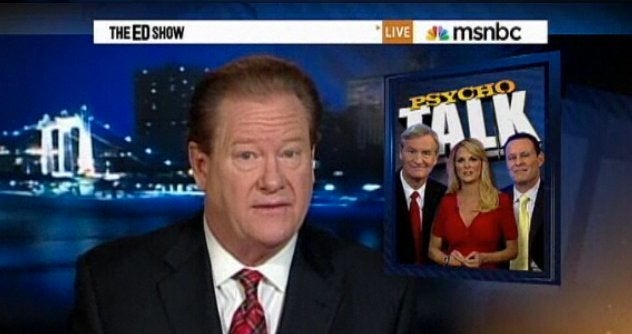 MSNBC's Ed Schultz tore into Fox News' morning show for, according to Schultz, "exploiting Christmas."
Schultz was referring to a Talking Points Memo article about the "Fox and Friends" Friday morning show. Hosts Steve Doocy and Brian Kilmeade warned that it might cost more money to plug in Christmas lights next year. Doocy and Kilmeade were referring to the Environmental Protection Agency's enforcement of tighter regulations on coal-fired power plants, which could potentially increase electrical costs.
Doocy also hosted a segment called "How Not To Get Sued Over Christmas," where Fox News' resident lawyer Peter Johnson, Jr. urged individuals to purchase insurance since, according to Johnson, Jr., one dozen deaths are caused by Christmas trees each year.
"According to Fox and Friends, you'll be lucky make it through the holiday season without dying, killing someone, or getting sued," Schultz said. He added that the "Fox and Friends" hosts typically defend the holiday "to the point of insanity." After Friday's show, Schultz criticized the hosts for their unseasonable "nonstop negativity."
Watch Schultz's video below, and the Fox News' "How Not to Get Sued Over Christmas" segment below.
REAL LIFE. REAL NEWS. REAL VOICES.
Help us tell more of the stories that matter from voices that too often remain unheard.