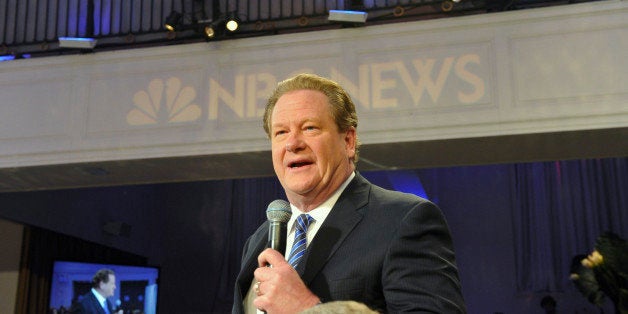 NEW YORK -- MSNBC host Ed Schultz has backed out of speaking at a Florida Democratic fundraiser next month, according to a network spokeswoman.
Schultz was slated as the keynote speaker at the Broward County Democrats Unity Dinner on March 15, a gathering the Miami Herald described as the "main fundraising event for county Democrats" and "an unofficial kickoff for activists to gear up for the 2014 election."
The Huffington Post first contacted MSNBC last week regarding Schultz's scheduled appearance at the dinner. Representatives for the network said they needed time to get a firm answer about the event. An MSNBC spokeswoman responded Monday that Schultz's team had notified the group's chairman, Mitch Ceasar, that he would no longer be attending and had not realized that the event was a fundraiser when he had agreed to appear.
But that came as news to the Broward County Democrats. Their event has been billed by local press as the biggest fundraiser of the year. As of Monday morning, Schultz's face was still splashed across the Broward County Democrats' site. Meanwhile, Tamara Ayon, the group's executive director, told HuffPost that Schultz was still appearing at the event.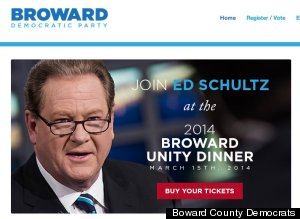 While MSNBC hosts can clearly advocate for political positions on air, the network has clamped down in the past on donating to campaigns. In November 2010, MSNBC suspended both former primetime host Keith Olbermann and "Morning Joe" co-host Joe Scarborough following revelations that they'd given money to candidates.
Fox News also made a stand that year in drawing a line between advocating for a political group or cause and doing political fundraising. In April 2010, Fox News executives prevented Sean Hannity from headlining a tea party fundraiser that would be broadcast on his primetime show.
But, as HuffPost reported last week, Hannity now helps fundraise for the Tea Party Patriots. Following questions Wednesday morning regarding Hannity's relationship to the Tea Party Patriots, the Fox News host disclosed on-air that night how the conservative group is a "partner" on his radio show.
Fox News did not respond last week to HuffPost's questions about the network's current policy regarding hosts' fundraising efforts.
However, an unnamed person at the network claimed to TVNewser that Hannity's involvement with the Tea Party Patriots -– whose president, Jenny Beth Martin, has appeared six times on Hannity's Fox News program over the past year -– relates only to his radio show.
Related
Popular in the Community