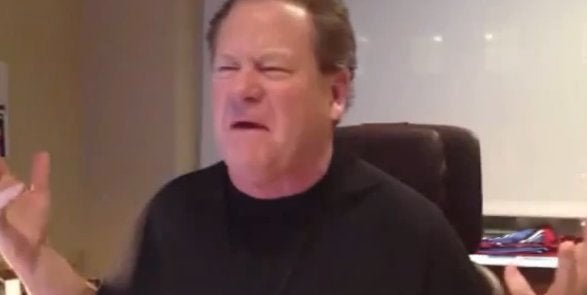 Ed Schultz posted a heated YouTube video on his MSNBC show's blog Wednesday night, to respond to viewers who have criticized his analysis of GOP candidate Rick Santorum.
Schultz traveled to Iowa the week before the caucuses to interview Santorum. He described the candidate as "impressive," and skilled at "retail politics." While Shultz said that he did not agree with any of Santorum's positions, he did think that Santorum was gaining more momentum in Iowa than his poll numbers indicated. During MSNBC's coverage of the Iowa caucuses Tuesday night, Schultz further commented on Santorum's growing appeal to voters.
Schultz took to his blog to address critics who, according to Schultz, accused him of "eating Santorum's salad," and calling him a "turncoat."
Schultz had a simple response: "shut up!" Schultz seemed frustrated by the criticism and said he went "as an objective reporter" to find out what was happening on the ground in Iowa. "Whether you like it or not," Shutlz said, "Santorum is as good as President Obama with a crowd."
Schultz said that the criticism "kind of pissed him off" but did not get "under [his] skin." Shultz asked, "are we at the point now on the Ed Show, that I can't go out and do an objective story?"
Schultz's facial expressions were quite animated during his heated message to critical viewers. After the video, view a slideshow of some of Schultz's facial expressions.
WATCH:
Calling all HuffPost superfans!
Sign up for membership to become a founding member and help shape HuffPost's next chapter