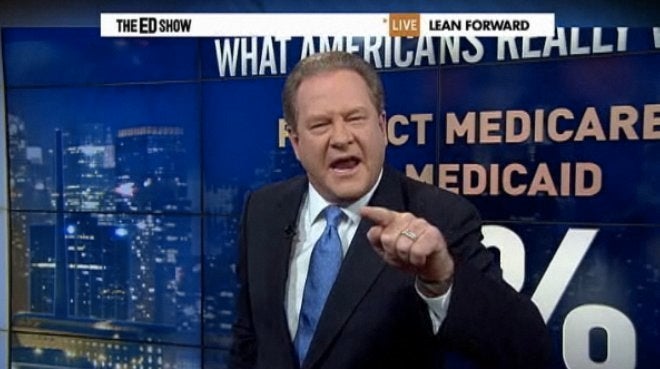 Ed Schultz let forth with a nearly 14-minute, highly emotional rant directed at Republican Sen. Marco Rubio on his Thursday show.
The monologue was the latest in the feud between Schultz and Rubio. It began when Rubio made a speech about Social Security, Medicare and Medicaid, saying they had "weakened our people" by making the government, rather than family or society, the dominant provider for senior citizens. Schultz criticized the speech on his show. In response, Rubio used the attack to go after Schultz (as well as Rachel Maddow) in a fundraising pitch, calling him a "liberal extremist."
Schultz was clearly outraged by the fundraising attempt, and he unloaded on Rubio. He started by saying that he had invited the senator to come on his show, but that Rubio had refused. Schultz called Rubio a "political coward" without the "guts" to debate his views. Then, he turned to Rubio's speech.
"This man is suggesting that there is a generation of Americans that care less about their parents because of Social Security, Medicare and Medicaid," Schultz said. "This may be one of the most offensive things I have ever heard a United States Senator say about the people of this country."
He talked about his mother and father, who both benefited from Social Security and Medicare. He said his mother was a high school teacher and his father was an engineer who was "not dependent on anyone else because he worked his ass off throughout his entire [life]." He also said that his sister had cared for their mother through her final years as she battled Alzheimer's, and used this to reject Rubio's assertion that people had been "weakened" by the programs.
"You owe my family at least an apology," he said, "or at least be brave enough to give an explanation in front of the camera to explain what the hell you're really talking about."
He said Rubio was "so stupid he doesn't even know he's offensive," and that he "didn't give a damn about any of the Americans."
"You're nothing but a damn political phony, Senator," he summed up. "I don't know how the hell you got into office."
WATCH:
Calling all HuffPost superfans!
Sign up for membership to become a founding member and help shape HuffPost's next chapter