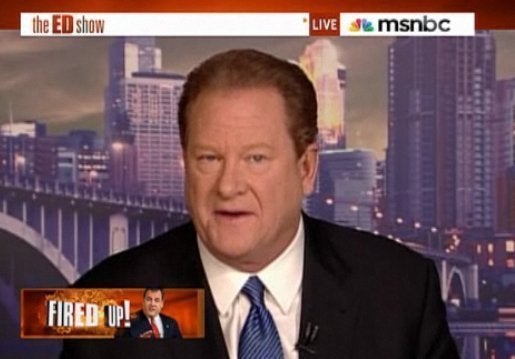 MSNBC president Phil Griffin has reportedly reprimanded Ed Schultz over his comments about New Jersey Governor Chris Christie.
Last week, Schultz referred to Christie as a "cold-hearted fat slob" on MSNBC's "Ed Show."
Now, TV Newser reports, his boss has given him a talking-to for the second time in as many months.
You know, Christie, he was treating those people in the crowd like a pack of rats, like saying, hey come follow me, I'm the big rat on the block, I'm gonna get in this guy's face and I'm gonna point at him and that'll be signal for all of you to back me up on this. It's the body language and of course he's got a lot of it. Now, I've (laughs), I've been enjoying the blog traffic over the weekend because I'm fat too. I ain't as fat as him! You know?! (laughs) Anybody who's fat can speak with authority.
Wednesday night on "The Ed Show," Schultz referenced the remark by discussing his own weight.
"There was a time in my life when I was 263 pounds, but I've really worked at it and I'm down now to 247," he said. "But I want all of you to know that I'm not only fat, I have red hair. And growing up they really picked on redheads where I came from, and I'm not offended by any of you who think that I am a fat slob."
WATCH:
Related
Popular in the Community