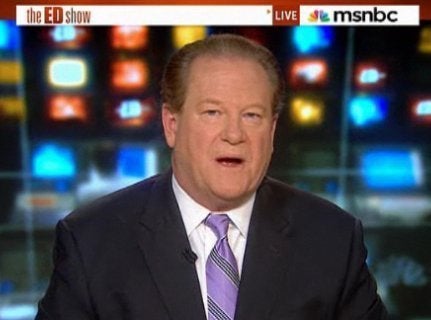 MSNBC's Ed Schultz is being sued by an NBC News employee who claims he helped Schultz break into TV—and was then stiffed out of his rightful share of earnings.
Michael Queen, an engineer in NBC's Washington bureau, filed a federal lawsuit against Schultz for at least $100,000—the amount Queen says he is owed as a portion of the profits from "The Ed Show." Queen claimed in a press release that it was his idea to get Schultz on television, and that Schultz said, "any TV deal will obviously involve you." MSNBC President Phil Griffin turned the idea down, Queen alleges, only to change his mind a year later—when, according to Queen, Schultz went ahead without him, and cut him out of any financial windfall from the deal.
"We pitched the TV idea to various network executives, produced a TV pilot, secured an apartment in D.C. for Ed and his wife Wendy and even gave them a car to drive free for three months," Queen said in the release. "We picked them up at the airport, and went shopping for them – all while helping them become millionaires, and we received nothing for our efforts!"
Jeffrey Landa, Schultz' lawyer, told TVNewser that the suit is bogus, since the two never signed any contract, and that Schultz paid Queen "every cent" he was owed.
"There is one email that Ed sent years ago that basically said if Queen got him the show on WUSA, he wouldn't do the show without him," Landa said, adding that, since the show was never made, Queen was not entitled to anything.
Popular in the Community