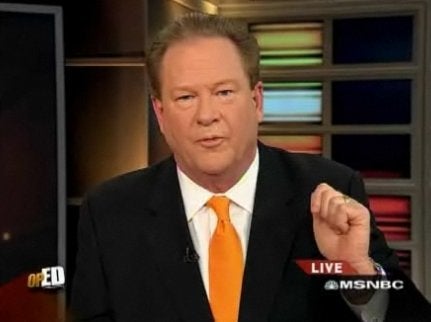 MSNBC's Ed Schultz had some choice words for White House Press Secretary Robert Gibbs during a recent off-air conversation -- an extension of their contentious televised exchanges.
"I told him he was full of sh*t is what I told him. I mean I did." Schultz told an audience in Minnesota over the weekend. "And then he gave me the Dick Cheney f-bomb the same way Senator Leahy got it on the Senate floor."
Schultz continued: "I told Robert Gibbs, I said 'And I'm sorry you're swearing at me, but I'm just trying to help you out. I'm telling you you're losing your base. Do you understand that you're losing your base?'"
The MSNBC host sparred with Gibbs on his cable news program last week, and has repeatedly accused the Obama administration of giving up too much ground to moderate and conservative Democrats as well as Republicans on health care reform.
"We have to get these people who have infiltrated the Democratic progressive movement, and get them the hell out," Schultz said.
Schultz disclosed the details of his private discussion with Gibbs at the Blue State Bash, a gathering organized by the Minnesota radio station AM 950.
At the event, Schultz said once again that he would not be a candidate for U.S. Senate in North Dakota, but declared that if he did he would "kick their ass."

Watch video of Schultz's appearance:
Calling all HuffPost superfans!
Sign up for membership to become a founding member and help shape HuffPost's next chapter