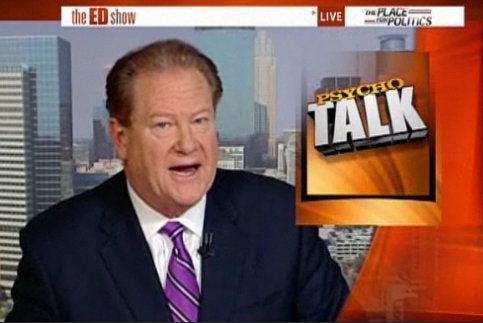 The host of the network's 6PM show reportedly freaked over the lack of promotion the network gives him and his show.
"I'm going to torch this [bleep]ing place," Schultz is quoted as saying on a phone call in the studio. "[Bleep]ers!" he is said to have shouted upon slamming the phone down.
According to a Page Six source, Schultz "was furious the network was running election-night promos and he wasn't in them." He was "immediately dragged in for a meeting" with his bosses, NBC News President Steve Capus and MSNBC President Phil Griffin, who told him that he would be fired if he did that again. Schultz is said to have broken down crying.
Earlier this week, the MSNBC studio was closed to film new promos, according to two reports. Keith Olbermann also tweeted on Monday that he was "Shooting promos today," and uploaded a photo via Twitter of himself "Hard at work on the new MSNBC promo."
An MSNBC spokesperson told the Post, "The only thing that's on fire are Ed's ratings, and the only people crying are at CNN."
This is the second Fox News-style MSNBC PR statement in as many days; on Wednesday, an MSNBC spokesperson responded to a tweet from a CNN spokesperson by saying, "CNN should spend less time tweeting and more time figuring out how to stop their continued slide into irrelevance."
Fox News spokespersons are known for their biting retaliatory statements, which usually invoke the network's strong ratings while putting down someone who had spoken out against the network.
The most recent example: the network responded to a challenge from a Democratic official who complained that Fox News wouldn't book him to discuss News Corp's $1 million donation to the Republican Governors Association with the following:
"We understand [his] desire to get face time on the most watched news network. And when he can offer insight on a legitimate news story instead of conducting a dishonest publicity stunt, we will consider having him on as a guest."
Calling all HuffPost superfans!
Sign up for membership to become a founding member and help shape HuffPost's next chapter