If you're someone who cries while listening to Ed Sheeran's music, this story is for you. 
″When I first met Ed, I was like, 'This guy's cool or whatever.' And then I started reading his lyrics and hearing his music and he actually made me cry," the "Artist of the Month" creator said. "I don't know, I kind of lost it one day. He was performing, just Ed and his guitar, live on the radio, and I just felt a tear in my eye. I don't know why but I guess he was really just giving this incredible gift to our listeners by just performing and being himself and being honest."
"I'm so moved in my line of work more than ever," he continued, "because I'm now just discovering how important these artists are."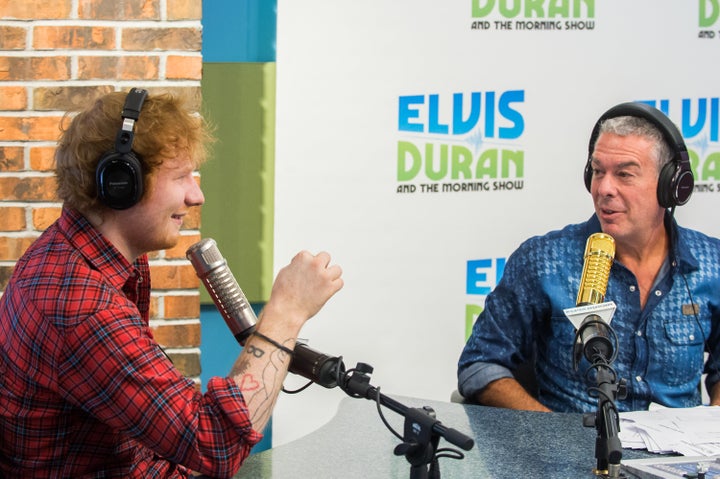 Duran, who's watched the likes of Lady Gaga, Katy Perry and Justin Bieber blossom into superstars, is very impressed by the talent these days, especially stars like 18-year-old Shawn Mendes.
"He's 20 years old, maybe? You look at his lyrics and it will blow you away," Duran said. "When I was a 20-year-old, I was too busy trying to find out how to get my next bong hit. Shawn Mendes, his lyrics are really deep. I look at him like, 'Really? You wrote that?'"
"I'm just amazed at the performers writing their own music," he added. "To get into their heads and find out, 'How do you write a song?' There really is something there, they can each teach you something different because there's no one way to write a song." 
"A lot of people didn't take her seriously because she was naked swinging on a wrecking ball, but she knows [it was a phase] and she recognizes that," he explained. "Miley Cyrus now, her music is so, so fantastic. She is actually so honest. She's turned into the person you hear in her music. It's really great." 
To hear more about Elvis Duran's experience in the radio business, watch his full Build Series interview below. 
REAL LIFE. REAL NEWS. REAL VOICES.
Help us tell more of the stories that matter from voices that too often remain unheard.
BEFORE YOU GO
PHOTO GALLERY
Billboard Music Awards 2017