At the core of personalized learning is an adaptive approach. But as the recent EdSurge guide on adaptive learning made clear, the definition of "adaptive" within the ed tech industry is amorphous at best, and at worst, an overused buzzword.
The EdSurge guide goes on to define three variations of adaptive technology: adaptive content, adaptive assessment and adaptive sequence. You could, in fact, say that the industry is adapting, or modifying, its own definition of "adaptive"!
Does each of these three concepts deserve equal weight? Should we strive to be equally focused on adaptive content, adaptive assessment and adaptive sequence, especially when it comes to helping our young learners love to read?
Let me approach the question using my experience with Habitat for Humanity as an example. I was in Poland to help build a series of homes, and for me almost every step of the construction process was a learning experience. The building content (e.g., bricklaying, cement pouring, paint layering) and the assessment (e.g., physical strength, detail orientation, design creativity) varied greatly depending on me as an individual learner, but the sequence I was asked to follow (e.g., laying the foundation, erecting the walls, stacking the chimney, tiling the roof) did not vary at all.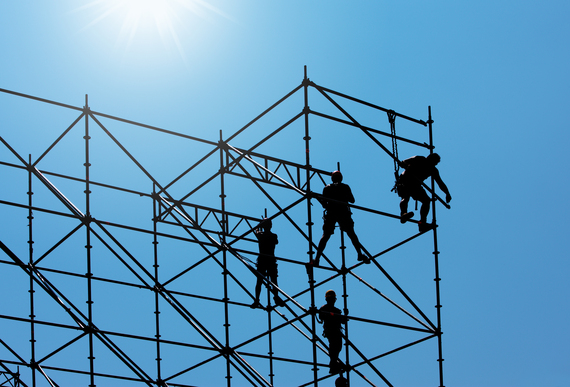 In fact, the sequence was the exact same for the entire team, because it was a proven model for building a strong house that could weather the elements and stand the test of time. We couldn't build the roof before we had the walls up.
At the ed tech company where I work, Istation, we treat the scaffolded sequencing of reading skills the same way. Both the content and the assessment are highly adaptive, but the sequence, or layering of skills, is developed based on years of proven research.
According to WIDA Prime, there are five levels of English language proficiency: Entering, Beginning, Developing, Expanding and Bridging. These levels outline the progression of language development in the acquisition of English.
Istation's approach to reading instruction provides the necessary scaffolds to ensure that students understand what they are reading. Entering-level students are taught vocabulary with the use of illustrated words displayed with corresponding pictures. Activities also include animated phonics with decoding rules and teaching of auditory, visual and kinesthetic representations of words.
The philosophy behind a sequenced, scaffolded approach comes from Lev Vygotsky's work on Zone of Proximal Development. As Vygotsky said, "What a child can do in cooperation today, he can do alone tomorrow," meaning that independent proficiency is best achieved by providing support in the early stages of learning.
To that end, the Istation Reading program builds upon background knowledge through the use of common and universal concepts. The program's activities increase with difficulty as a student's proficiency level increases. Books are leveled to move from simple sentences and questions to compound subjects and objects, prepositional phrases, compound sentences, and embedded clauses. As students develop their English language skills, their reading becomes less dependent on visual scaffolds.
Throughout the program, scaffolding supports are provided to allow students to advance within a proficiency level. For example, for students at the Entering level, activities are explained by the narrator and then modeled by characters whose mouths are clearly illustrated for students to imitate; meanwhile, the vocabulary or phrase is printed on the screen and each word highlighted as the narrator speaks. Lastly, students are asked to interact with the activity on their own.
While the content offered to emerging readers is highly varied based on each student's personal learning path, and the assessment similarly adapts depending on a student's proficiency, the overall scaffolding, scope and sequence remain rooted in the foundations of literacy.
Adaptive sequencing may be more relevant in other subjects, such as math or history. In the case of literacy, several core building blocks (like phonemic awareness and vocabulary) need to be well-established before moving on to higher-order concepts like cause and effect.
So when it comes to adaptive sequencing, let us not get so caught up in this innovative concept that we put the proverbial cart before the horse. As we teach our students to read, let us think about building their foundations in literacy as we would a great house: let's enable content and assessments that are fully adaptive to the emergent reader, but let's also ensure that the building blocks of literacy are laid in a sequence that establishes stability and longevity.
Related
Popular in the Community