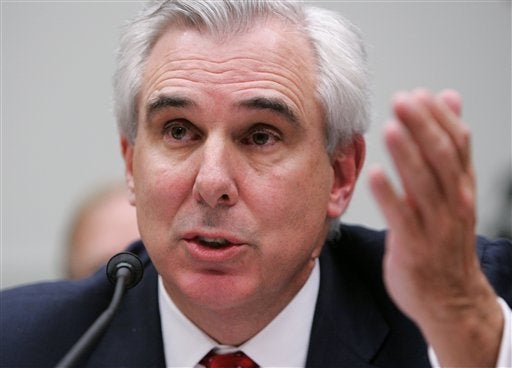 As the American Bankers Association gathers for its annual convention in Chicago amid hundreds of protesters, and sets off to kill or at least defang new proposed federal financial regulations, there's one thing you should keep in mind about its leader, Edward L. Yingling: He's been consistently wrong about some of the biggest banking issues of the past four years.
At the height of the housing bubble in 2005, Yingling penned an op-ed for American Banker, titled "Regulators Shouldn't Make Boards Micromanage," in which he argued that "asking boards of directors to analyze specific loan activity... runs counter to good governance." At the time, the "trend [was] for regulators to require board members to become even more involved in fundamental management responsibilities," he wrote. But "boards have limited time and can't possibly know every aspect of managing a complex banking organization. Nor should they."
Since then many have pointed to inadequate internal governance at banks as one of the chief reasons behind the out-of-control lending and lax underwriting that marked the boom, and the eventual bust.
Testifying on Capitol Hill in 2006 Yingling "urge[d] Congress to permit the regulators to continue doing what they do best, namely, rigorously apply safety and soundness principles in an environment that permits banks to grow and serve their communities."
Three years later, consumer advocates and members of Congress point to incompetent and indifferent bank regulators as a major cause of the financial crisis because of the lax attention that was paid to things like subprime home loans and no-documentation mortgages.
Testifying on credit card practices in 2007, Yingling said "the highly competitive nature of the [credit] card market puts consumers in the driver's seat. For example, we have seen that features that are unpopular with consumers often are competed away." But it took an act of Congress this year to finally rid the industry of unfair fee traps and arbitrary interest rate increases.
Indeed, Yingling has consistently defended the banking industry's most egregious practices -- such as retroactive rate increases, late-fee generators and crushing overdraft fees -- by making spurious arguments, including that they're ultimately in consumers' best interests.
In a November 2007 letter to the Treasury Department arguing that the structure of financial regulation should not be changed, Yingling wrote that despite the "current problems in the subprime mortgage markets... they do not warrant a fundamental overhaul of the basic regulatory structure. Banking regulators... have since responded in a coordinated and measured way to preserve both confidence and liquidity in the banking system." This was seven months after Congress began hearing about burgeoning delinquencies in subprime mortgages.
In that same letter, Yingling continued to praise federal banking regulators, writing that the system "works."
In addressing criticisms that the rulemaking process takes too long because of the multitude of regulators, Yingling wrote that the "multiplicity of voices in an interagency rulemaking typically improves the final product and minimizes the likelihood that any one agency will act unilaterally in an inappropriate manner."
It took federal agencies until 2007 -- well after problems arose -- to put out comprehensive guidance on subprime mortgages, something consumer advocates point out as a good argument for creating a dedicated consumer protection agency.
In a December 2007 statement regarding a Federal Reserve proposal to curb shady home lending practices, Yingling urged that specific products not be banned. At the time many argued that no-documentation loans and other types of products weren't in lenders' or borrowers' best interests. Yingling, however, disagreed.
"The abuses took place in practices more than in products," he said. "We worry that some of the product restrictions could make it harder for bankers to tailor products for their customers and communities and result in some creditworthy customers not being able to obtain a loan."
This past June, in response to a question from Rep. Maxine Waters (D-Calif.), Yingling did an about-face, testifying before Congress that "there are products that should be banned."
Not surprisingly, Yingling is quoted in today's New York Times, opposing an expected Democratic legislative proposal to rein in banks that are "too big to fail": "Of course you want to set up a system where an institution dreads the day it happens because management gets whacked, shareholders get whacked and the board gets whacked," he tells the Times. "But you don't want to create a system that raises great uncertainty and changes what institutions, risk management executives and lawyers are used to."
"How can anyone take these people seriously after they nearly wrecked the economy?" asks Heather Booth, executive director of Americans for Financial Reform, a coalition of nearly 200 groups pushing for reform in the banking and financial services industry. "[Yingling] is speaking for the people and institutions who nearly wrecked the economy, created the foreclosure crisis with a casino economy that bet on how many people would default and had no concern for the consequences, destroyed pension funds and jobs," Booth said.
"He is speaking for the people who took our taxpayer bailout money and are still paying out...historic bonuses, while unemployment is approaching 10 percent for the rest of the country--and they are not lending. He is speaking for the institutions that are using our taxpayer bailout money to lobby against reform of the financial institutions."
Yingling declined to be interviewed for this article. A spokesman pointed to Yingling's testimony from this past June before the House Financial Services Committee.
Yingling grudgingly acknowledged: "Certainly, there were deficiencies under the existing regulatory structure; and banks, bank regulators, non-bank overseers, and policymakers all share some responsibility for the financial and economic problems that developed."
Related
Popular in the Community