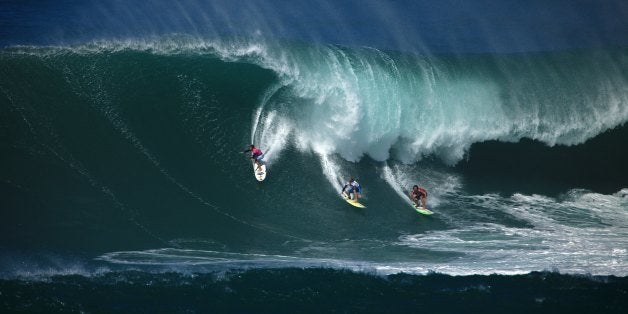 It's a phrase you're sure to see or hear not long after arriving in Hawaii and, for many, it's a creed by which to live.
Held at Waimea Bay on Oahu's North Shore, the contest commemorates the life of Eddie Aikau, Hawaii's revered waterman who tragically yet heroically died in 1978 after the Polynesian vessel Hokulea capsized in stormy waters. Aikau set off paddling on a surfboard to get help for his crew members and was never seen again.
Yesterday, a ceremony was held at Waimea Bay to celebrate the beginning of the waiting period for the contest. Competitors wait for the contest, colloquially known as "the Eddie," because the event cannot be held without a minimum of 20-foot waves. If the conditions are never met, the competition doesn't happen that year. (The competition has only happened 8 times since its inception in 1985/1986; most recently in 2009.)
In Hawaii, wave height is traditionally measured from behind the wave, so wave faces for the contest can actually exceed 30-40 feet. In one of the most dangerous sporting events in the world, a bad wipeout at the Eddie can mean bouncing down a cement-like wave face, then being plunged underwater and being held under a maelstrom of churning water.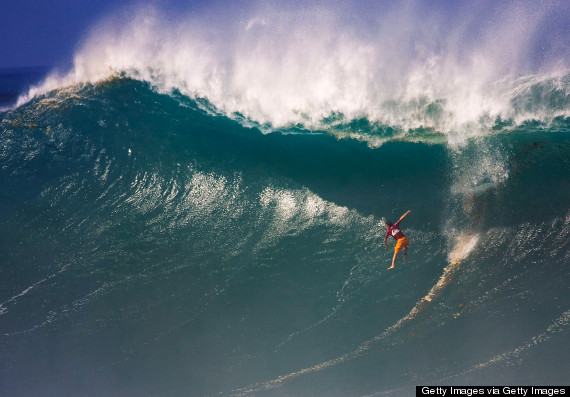 Aikau was known for riding gigantic surf. His younger brother, Clyde, loves to tell the story of a historic day in 1967, when the surf at Waimea was so big the earth shook as the waves came crashing down. Clyde cut school and rushed to Waimea just in time to see his brother cascading down an enormous wave. He says it was the biggest wave ever ridden there.
Aikau was also the first lifeguard at Waimea Bay, which during a winter swell can create incredibly dangerous swimming conditions. Aikau made hundreds of rescues without ever losing a life.
The term "Eddie Would Go" comes from the second time the contest was held, back in 1986. As Stuart Coleman describes in his biography of Eddie Aikau, contest organizers were debating whether to hold the contest in light of huge and treacherous wave conditions. Surfer Mark Foo casually commented to a cameraman, "Eddie would go." And so they did. (Clyde Aikau won the contest that day, and dedicated his victory to his brother.)
This year, the waiting period for the contest began Dec. 1 and will go on until Feb. 28. When there's a chance that conditions will be right, contest director George Downing looks out onto the Bay and decides whether to call it. If he does, surfers have as little as 24-hour notice to get to Hawaii to compete.
The competing surfers must be invited, and the contest is unique in that the invitees are voted in by their peers. Eleven-time world champion Kelly Slater is among them, but so is Aaron Gold, a local, unsponsored surfboard shaper who at 31-years-old has been invited to compete for the first time.
At the opening ceremony yesterday, pastor Billy Mitchell blessed the surfers and reminded them that they were not just there for their surfing prowess. "You voted for each other for your values," Mitchell said. The surfers chose their peers "based on their attitudes" and their ability "to represent dignity and boldness."
"Life can be lived with Aloha," he told the hundreds who gathered to watch the ceremony. "These guys are putting their lives on the line to spread that message."
While "the Eddie" comes with a $55,000 first prize, competitors are quick to point out that it is less a contest than an opportunity to commemorate and emulate how Aikau lived. Says his brother Clyde, who still surfs in the competition at 64 years old, "You know, you can win the event ... it's a tremendous honor to win the Eddie Aikau. But I think what is even more monumental is that feeling of being together, to enter the water, to ride the biggest waves in the world, and to know that if something goes wrong, your partner in the heat is going to be there to help you out, because that's what Eddie is all about. He gave his life to save others, gave his life to save thousands of people at Waimea Bay, helped people he never knew. So carrying that throughout the event goes a long, long way."
Invited surfers paddled out to the restored Polynesian vessel Hokulea in Waimea Bay yesterday to kick off the waiting period for The Quiksilver In Memory of Eddie Aikau Competition.

Related
Before You Go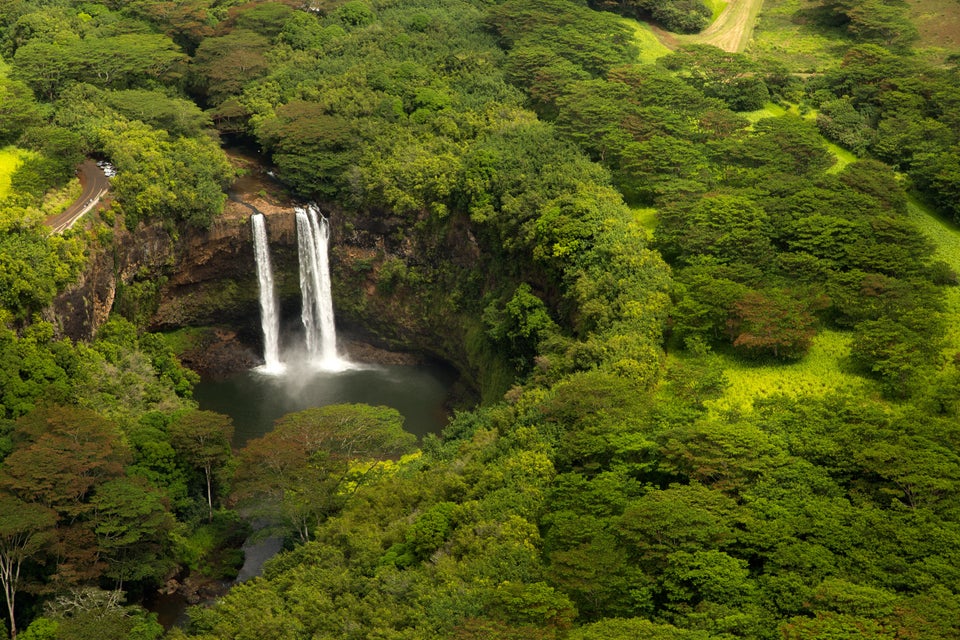 Hawaii In Photos